Over the past few months, WeWork has dominated the headlines in the coworking and flexible office industry, and sentiment has mostly been negative.  Our take: WeWork's experience can teach the rest of the industry a lot.  In this post we explore what WeWork can teach coworking and flex office operators about acquiring customers.
What WeWork can Teach Coworking Operators about Acquiring Customers
A 2019 Upsuite survey revealed that acquiring new customers / members is the most significant concern affecting their business.  When asked "What is your business' most important need today," 100% of coworking and flex office operators said that finding new members is very or somewhat important.
Customer Acquisition Number One Need Among Coworking Operators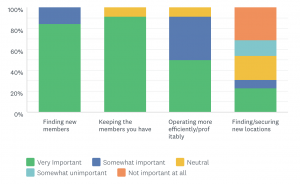 How WeWork Acquires Customers
Once one of the world's most high flying startups, WeWork operates in the red, yet that hasn't stopped it from becoming one of the most visible companies in the world. WeWork's business model has been cast in recent months as more of a conventional real estate leasing operation, renting flexible desk space to entire floors and everything in between. WeWork allows businesses of all sizes, including solopreneurs, startups, and even large corporations, to solve the problem of finding flexible office space that grows with the company.
Caution:  WeWork's Customer Acquisition Costs Are High
One word of caution with WeWork:  Savvy critics of WeWork's IPO filing have pointed out concerns with WeWork's business model, and in particular, it's customer acquisition costs. While it's hard to work out exactly what WeWork's customer acquisition cost is, Triton CEO Rett Wallace estimates that a tenant needs to stay in place for 13.5 years, on average, before reaching WeWork's break-even point. WeWork's sales and marketing costs also total 20% of revenue, which is very high compared to the overall real estate sector, and in comparison to other industries.
How WeWork is Trying to Reduce Customer Acquisition Costs 
1. WeWork has attracted larger teams that stay longer.
To reduce customer acquisition costs, the organization is first shifting to acquire higher-leverage prospects, such as large business enterprises looking to stay in place longer and offering room for growth. By all accounts, WeWork has been successful with this strategy, with an estimated 33% of their members coming from enterprise customers, according to their IPO filing.
2.  WeWork knows it's competition.
WeWork has been aggressive in targeting members at competitive spaces to grow. The company has been accused of sending representatives to other coworking spaces to recruit members directly, and has offered broker incentives to relocate members from specific competitors. Though aggressive, these tactics are certainly present in any fast growing, competitive industry, and should be expected.
3.  WeWork engages online and traditional brokers.
WeWork has been purposeful about working with a number of large online and traditional CRE broker partners, in cities across the world. According to a company representative, 95 out of the 100 largest transactions that the company has completed were introduced by brokers.  To deepen this strategy, WeWork has hired hundreds of employees from the brokerage ranks, including one of the best in the business, Beth Moore, formerly of CBRE, who heads WeWork's broker development program.
4.  WeWork works its funnel.
WeWork is very focused on actively managing its sales and marketing funnel. The company responds quickly to any referrals, has an automated system to relay status of a referral in it's system, and has a very committed group of in-market and Enterprise sales teams to move members through to becoming a WeWork member.
Conclusion: How Coworking and Flexible Office Providers Can Keep Customer Acquisition Costs Down
There has been much to learn from observing WeWork over nearly a decade. Here are some of our top recommendations for coworking providers to keep customer acquisition costs down.
Acquire longer-term members
Signing members who will stay in your space longer than one to six months means focusing on larger teams. You can do this by converting open areas to suites in order to optimize the space for teams.
Know the competition
Get to know the established industries that are interested in coworking and flex office in your market. Make sure your pricing is competitive.
Grow your network of referring online and traditional broker partners
Coworking deals are a small part of a broker's income so it's essential to make sure they are well aware of your space's availability. Target the 20 to 30 percent of brokers who specialize in coworking deals in your market, and designate a few key players. Because brokers don't get paid until a transaction is signed, up front risk is minimal.
Use data to activate your marketing funnel
Depending on the size of your coworking business, target teams of three to 20 people in your marketing and sales efforts. Optimize your marketing efficiency by understanding your sales funnel. Are you getting enough tours, but not converting to sales? Are you losing at the finish line? Figure out where you're struggling to convert, and focus your sales and marketing efforts on resolving that pain point.
Want to acquire members more efficiently?
Click here to register with Upsuite and ask about our Verified Operator Partner program today.
Upsuite Verified Operator Partners gain access to a steady stream of the most interested companies and corporate teams, all at no risk and minimal upfront cost.
Working with Upsuite maximizes your revenue, minimizes your sales and marketing risk, and ensures that you will have the kind of profitable members who will help your coworking business thrive.