Enterprises are looking for solutions that will help them keep pace with a highly dynamic business environment, allowing them to pivot when demand shifts or competition stiffens. When it comes to the backbone of nearly every organization – its office space – flexible workspaces have become a critical component of that ever-important agility, providing a new sense of flexibility that is every bit an asset as the line items on a balance sheet.
For decision-makers and their organizations just putting a toe into the flexible workspace pool, we wanted to provide some insight on this unique office space solution, how it differs from traditional space, and who can benefit from it most. As you'll see, flex space isn't just for freelancers and startups anymore.
What Are Flexible Workspaces?
The term flexible workspace is a bit difficult to define, not because it's such a complex topic, but due to a quickly evolving market. At Upsuite, we broadly define flexible workspace according to agreement lengths, with virtually any office space being "flexible" as long as the agreement terms are shorter than three years. Naturally, this definition encompasses a wide range of office types, including shared coworking space, private suites, or even traditional leased office space as long as the lease is shorter than three years.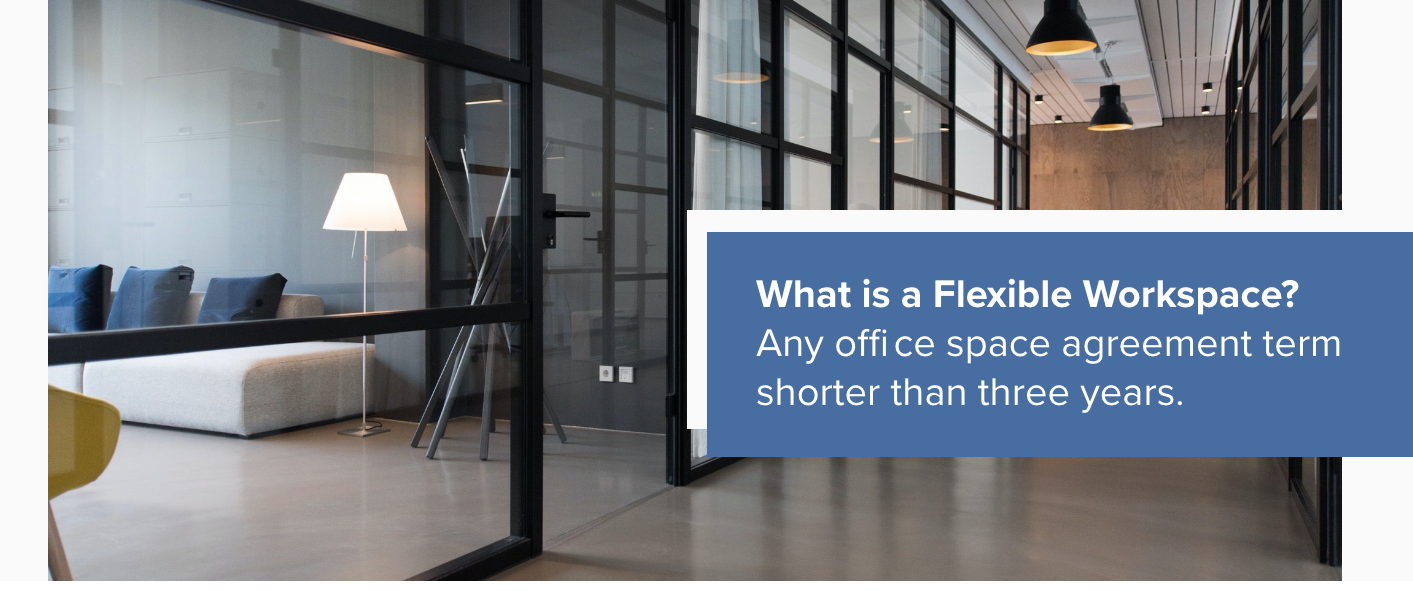 Given the different varieties of flex office space, it's vital for companies to not only identify a flexible solution as the best choice, but also to choose the type of flex office space that will best fit their needs. For instance, as we've discussed in the past, coworking space is flexible in agreement terms while providing distinct advantages from other types of flexible space in amenities, cost efficiency, and culture.
The Growing Flexible Workspace Trend
The concept of professional shared workspace dates back to the 1960s, adopting the moniker "flexible workspace" in the late 1990s. However, it was really the rise of the internet, the telecommuting trend, and startup culture that weaved flexible workspace into today's business zeitgeist.
30% of all workers will work from some type of flexible space in the next decade.
Looking forward, research indicates that 30% of all workers – both freelancers and company-employed – will work from some type of flexible space in the next decade. Obviously, such a statistic proves that flexible space is much more than a rising trend but, instead, a permanent shift in how and where people work.
Why Is Flexible Space So Popular
Enterprises gravitate towards flexible space for a variety of reasons. First and foremost, it provides more agility for organizations, helping them seamlessly expand or contract over time. Shorter agreement terms carry less risk for an organization, whereas a complex, multi-year lease can essentially act as an anchor when mobility is a critical need for most enterprises.
Benefits for Businesses
Besides agility and mobility, the different types of flexible space also provide a range of benefits for businesses that longer-term, traditional leases lack.
Lower costs/overhead
Convenient scalability
Fully furnished spaces
Fast solutions to enter new markets
A sense of community that can benefit innovation, networking, and culture
Amenities, ranging from free coffee bars to soundproof phone booths to workout gyms
Custom buildouts & office design at little or no cost to the tenant
Flexible Workspace Benefits for Operators & Landlords
Flexible space doesn't just benefit businesses, however. Flexible space operators are also finding advantages in flexible space, most of which revolve around the relationship between the operator and landlord. Those relationships typically come in three different arrangements.
Building owners or landlords lease the space to the operator. This is the most common arrangement.
The landlord operates the flexible space on their own. This arrangement is the least common.
The landlord and operator enter into a partnership and share the profits. This hybrid arrangement is gaining in popularity as the marketplace is now starting to question the financial viability of the first option.
No matter the arrangement, using flexible space within a property helps the landlord fill unused space. They can also build a shared space within a traditional office building, commonly referred to as amenity space, to provide, for instance, a nicer common area or additional conference rooms for current tenants.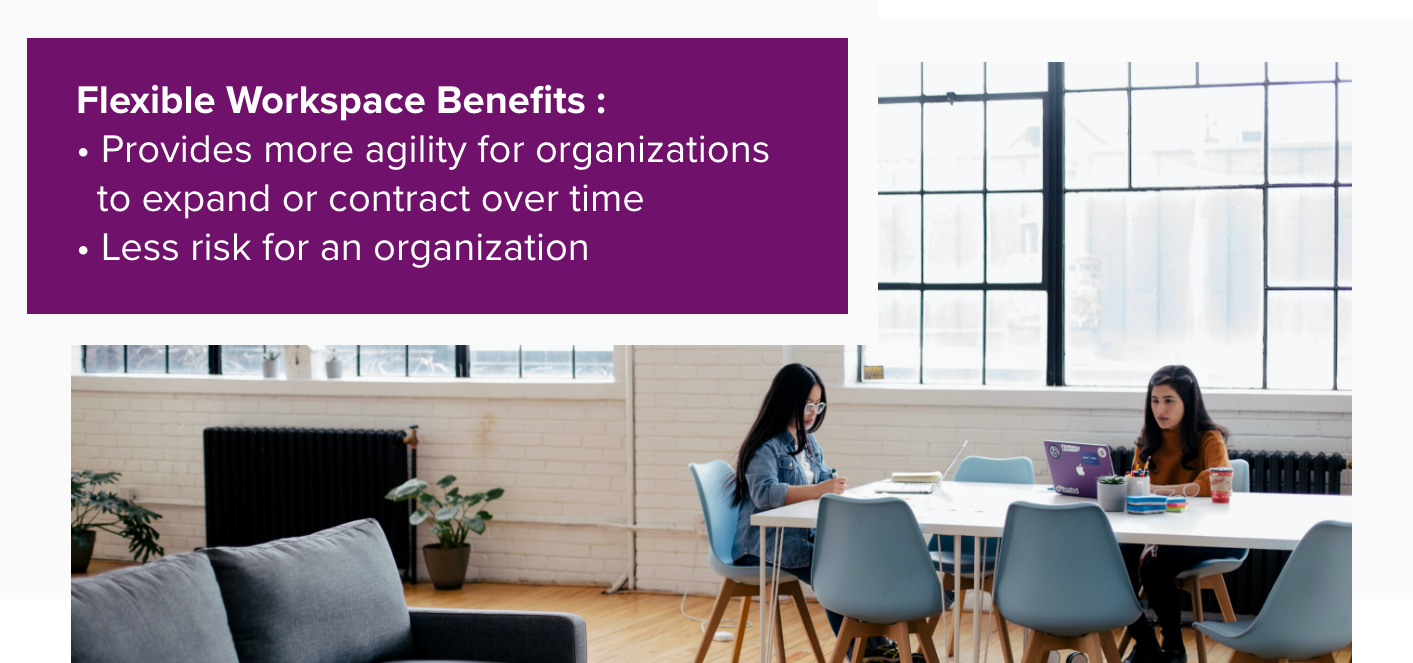 Likewise, an owner or landlord can use that designated flexible space within the property for coworking. This allows them to target future tenants that might not be able to sign a long-term lease yet but could very well in a few years. This way, the landlord and tenant can grow the relationship into something potentially beneficial for both.
Types of Flexible Workspaces and How They Work
Again referencing our broad definition of flexible space, there are several different types to choose from. All of them, however, fit within our main parameter – terms shorter than three years.
Traditional office space – While lacking many of the benefits that other types of flex office space provide, traditional office space still fits within the definition of flexible office space as long as the lease terms are within three years.
Shared office space – Shared space is another term that is changing quickly with the times. While the original forms of shared space still exist – informal sharing agreements and subleasing a portion of another organization's office space – shared space has expanded in recent years to incorporate coworking space as well.
Coworking space – Drilling further down into the flexible space categories, coworking is a subgroup of shared space, where virtually everything except a dedicated desk or office suite is shared with other companies, teams, or individuals. While we've discussed the topic in-depth in the past, the basic types of coworking space include:

"Floating" or shared desks
Dedicated desks
Private offices in a coworking space (previously referred to as executive suites)
Office suites in a coworking space (multiple offices)
Custom buildouts by a coworking provider, also called a flexible headquarters
Read Next: What's Coworking Space? Who Uses It? & How Does it Work?

Key Differences Between Flexible & Traditional Office Space
The commercial real estate market remained essentially unchanged for decades, where traditional office space with longer-term leases dominated the marketplace. While those types of leases are certainly still prevalent today, organizations now have many more types of office space to choose from. Since the majority of these newer offerings fall under our definition of flexible office space, we thought it would be useful to look at the major differences between the variations of modern flex office space and more traditional, old fashioned office space.
Terms
As discussed, flexible office space uses agreements shorter than three years in duration, often month-to-month to provide maximum agility. Depending on the market, traditional office space usually starts at three years and can go for as long as ten years or more.
Shared Space
Although a flexible workspace isn't always a shared space, this particular subgroup has become synonymous with the many benefits people associate with the different forms of coworking space. Between designated desks, private offices, and a wide variety of amenity areas – coffee bars, workout facilities, conference rooms, soundproof phone booths, and more – this type of flex office space provides far more perks and benefits than a traditional space can.
When Traditional Office Space Makes More Sense
None of this is to say, however, that traditional office space doesn't have its time and place for particular enterprises. Companies that require specialized security, a more sedate environment, or belong to a specific industry like manufacturing have usually been better suited for traditional space. In these cases, shared coworking spaces haven't been a good fit for their particular needs.
This dynamic is changing, though, as operators are now far more willing to provide companies with custom buildouts. This feature can create private office suites with customized branding that are quiet and less busy than a typical shared space. Put another way, many operators will tailor flexible space to the unique needs of an organization.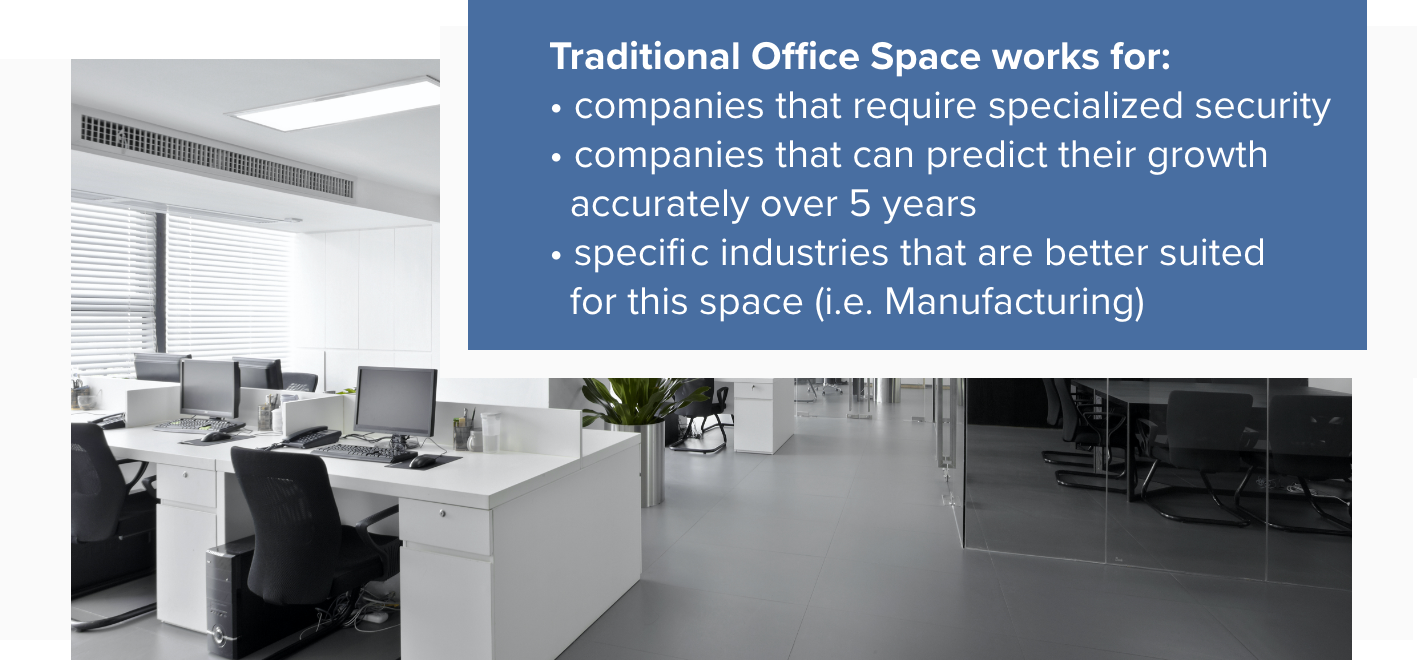 There are also instances when flexible space can be more expensive than traditional office space, especially when a company experiences rapid growth in its workforce. Organizations that either have static employee numbers or can forecast their workforce with extreme precision can often save money by using traditional office space rather than flex space.
However, the necessary level of precision to realize these savings is difficult to achieve, where leadership must not only accurately predict the number of employees they'll have in the future, but also anticipate transfers, promotions, turnover, and the impact of remote working. Short of a crystal ball, the numerous variables involved in such forecasting make the potential cost savings of traditional office space a factor for a very small number of organizations.
How Are Flexible Workspaces Affecting the Real Estate Industry?
The rapid rise of flexible workspaces in recent years has had a significant impact on the commercial real estate (CRE) industry, one that will only extend into the future. In fact, flex office space has directly affected the traditional office space market, disrupting what once dominated CRE for decades.
Coworking space alone saw 60% growth in space between 2017 and 2018.
Although traditional space is obviously still a heavyweight in the market, each year, flex space erodes that dominance a bit more, quickly becoming a significant player in the CRE industry. Coworking space alone saw 60% growth in space between 2017 and 2018, now accounting for as much as 3% of total CRE inventory in a market like Manhattan. That disruption has changed the way landlords, brokers, and investors look at the overall marketplace.
Landlords – The overall demand for office amenities is rising on the traditional side of the market thanks to the influence of flexible workspaces, coworking in particular. As a result, flexible workspace is now acquiring companies that would have used traditional office space in the past. To compensate for this dynamic, many traditional office spaces are now offering additional amenities as well as flexible space within their properties, typically by leasing areas to coworking operators.
Brokers – Since transactions are much simpler with flexible workspaces, lacking the complicated tenant improvement allowances and other complexities in traditional leases, more companies are working deals without brokers. Also, because flex or coworking space often deals with smaller teams, it's much more difficult for a broker to "make a living" on the smaller deals with shorter leases and lower fees.
Investors – Many investors view flexible workspace, especially coworking space, as an additional risk since buildings with higher percentages of flex space are more susceptible to high tenant turnover rates. Advisors suggest that a building offers 15 – 20% coworking space, the rest being traditional to mitigate that risk while still providing popular flexible solutions.
Flexible workspace is also expanding the CRE marketplace by partnering with hotel companies, luxury fitness operators, and residential operators like airports and bars. In the future, flexible workspace will be even more specialized and diverse, giving companies several options to adapt to the unique preferences and demands of millennials and Gen Z. Such specialization will also help industries with specific demands – healthcare and manufacturing, amongst others – find flex office space tailored to their particular needs. To propel this specialization and diversity, coworking operators will increasingly favor partnership agreements with building landlords rather than leasing the space, a trend already gaining steam in today's market.
Who Uses Flexible Workspace?
As we said up top, flexible workspace is rapidly evolving. While it was once synonymous with startup companies, small teams, and the exploding gig economy, flex office space now provides practical solutions for an incredibly wide variety of organizations and industries. To that point, according to recent research, 44% of all companies have already integrated flexible office space into their operations, including large companies like Microsoft, Facebook, and Coca Cola.
The business environment is only going to become faster and more complex with time. Just as innovations like AI and cloud computing are helping companies streamline processes to keep pace, flexible workspaces provide a similar solution for the ever-important work environment. Simply put, flexible CRE choices like coworking space have reinvented how enterprises look at their office space.