How can and should companies find workspace during and after a pandemic?  As the coronavirus pandemic simmers, the employee experience of remote knowledge workers is being dissected, analyzed, and commented on at length. Disagreement on the effects of what can only be described as the world's largest work-from-home experiment is widespread, with studies reporting on a diverse set of both positive aspects and negative effects.
While some companies are making the decision to divest from the traditional office, others are recognizing a shift in the value of physical space to their workforce. Upsuite recently conducted its own Work From Anywhere study with its customers to understand what will drive decisions to find workspace mid- or post-pandemic. The consensus: commute, culture, collaboration, and a respite from working from home are four themes that both managers and teams can agree on when it comes to things the workspace must provide.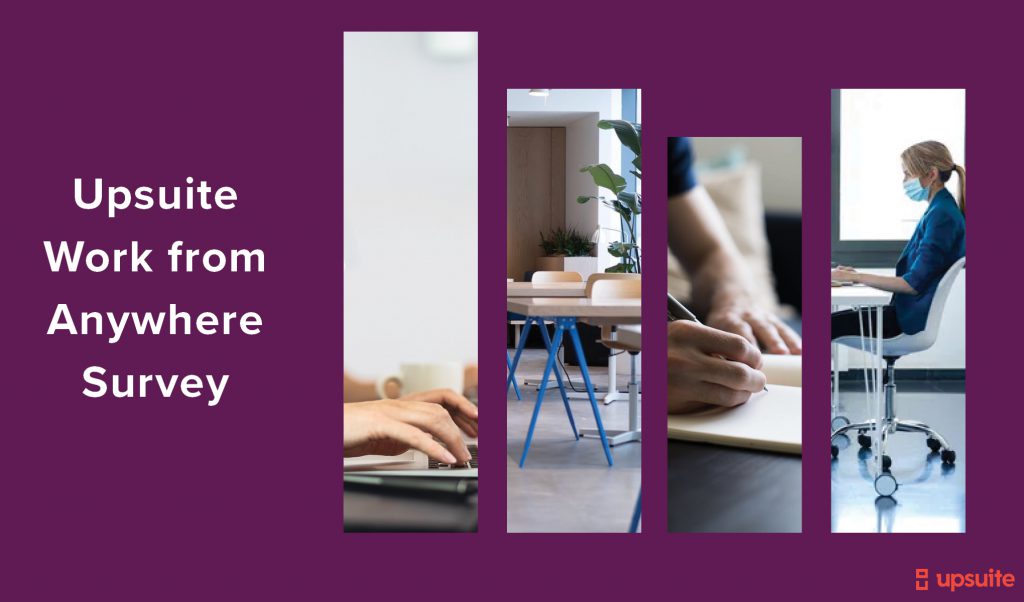 Upsuite surveyed the hundreds of customers it worked with pre and during the panedmic, on their experience during the pandemic, and its impact on their decision to find, or not find, workspace moving forward. Participating companies were largely based in the top 30 North American cities, had an average of 50 employees, and were concentrated in the software, IT, and professional services sectors.
A Large Number of Companies Are Now and Will Remain "Remote-First"
Prior to the pandemic, nearly 40% of companies polled did not have a single remote team member. Post-pandemic, this is expected to change. While there are a lot of questions around how much of this new work-style will "stick," responses indicate growing acceptance of remote work. Only 10% of companies anticipate having no remote workers post-pandemic, and 30% of companies expect more than half of their workforce to continue being remote. While a quarter of companies expect to continue as they are, the largest segment expects a shift in how they are working in the next 4-6 months. The implication this has on real estate is significant. Many companies are making permanent changes to their physical office footprint to align their real estate portfolio with their changing operational policies moving forward. However, while these changes are being made, it is worth understanding whether future workspace typologies for companies are satisfying the employee needs surfaced in Upsuite's survey, and how these needs are driving companies to find workspace.
Four Needs that Managers and Teams Agree On To Find Workspace
The lockdown has created both positives and challenges for remote knowledge workers. According to Upsuite's survey, while remote-first work can be productive, remote-only can prove a challenge for teams. Upsuite asked about unexpected difficulties that working from home has brought to teams, and many responses highlighted the shortcomings of social isolation.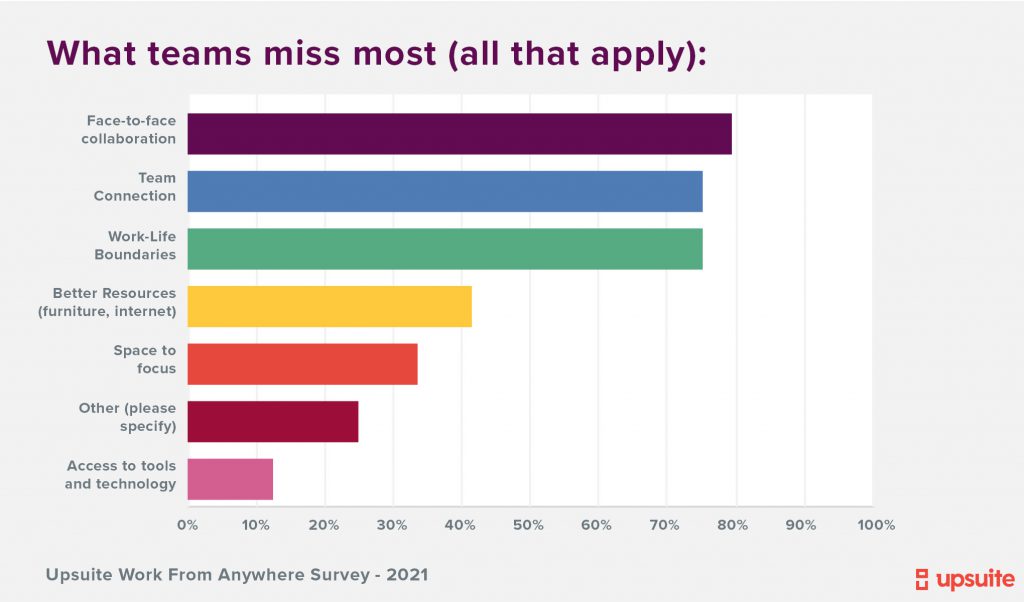 While the word is still out on productivity, Upsuite's survey found that managers and teams do agree on four things they need to find in a workspace. While one of these needs may be squarely covered by remote work, others could require a hybrid solution.
1. Short Commute
Remote-first solves one major pain point. The obvious benefit of going to work at one's desk every day, is the short travel time. When Upsuite asked what teams absolutely do NOT miss about working from anywhere, the resounding response was commuting. "Don't miss angry drivers one bit," wrote one participant. In fact, this represents a win-win for both managers (extra work time), and employees (saved time) alike. Relief like this highlights the need for flexibility.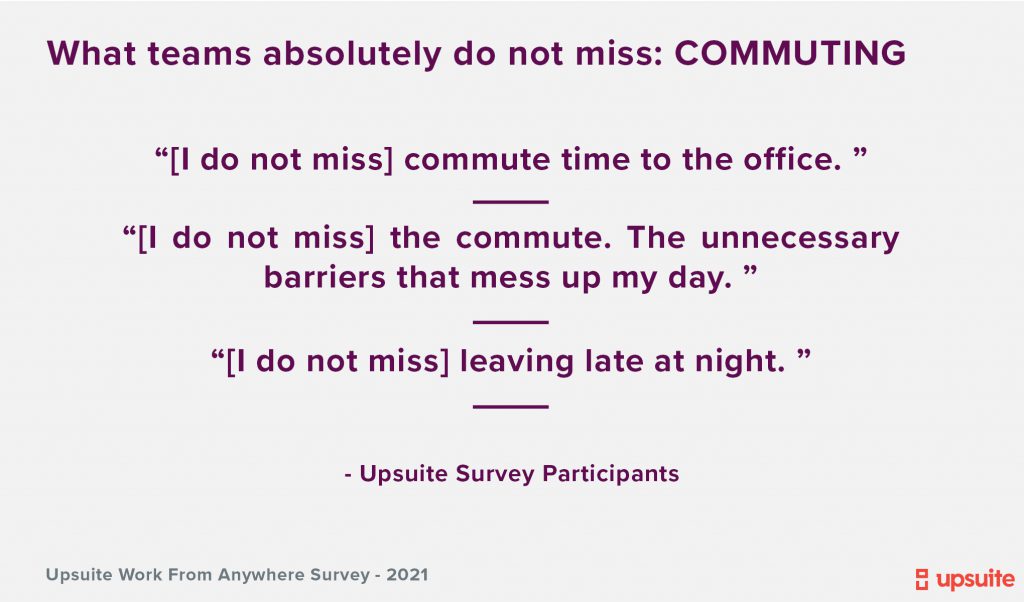 2. Culture and Connection
While many employees may excel at deep work while remote, Upsuite's survey responses highlighted an increased need for connection. Responses highlighted "sometimes lonely", to "less aware of company events", and "team unity" as unexpected challenges of remote work. As one participant wrote, "the synergy is not the same."
3. Collaboration
Collaboration has been the focus of many a silicon-valley office pre-pandemic, and not to a fault. The responses to Upsuite's survey confirmed the need for face-to-face collaboration, especially for new employees and those relationships not powered by pre-pandemic social capital. One customer used the term "ambient collaboration," to describe the lack of osmosis and chance encounters between team members while spread out remotely across the country. New team members and junior employees can struggle working in isolation.
"Loss of complete productivity of our youngest employees…We are a small startup, [very] unstructured. We benefited from overhearing conversations, seeing meetings take place even if we weren't in them, etc. Ambient collaboration if you will. Plus the real collaboration is also down. " – Survey Participant
4. A Healthy Work-Life Balance
If there is one thing that customers quickly learned in this pandemic, it's that respite is not a given at home. It's worth noting here that working from home pre and post-pandemic are not the same experience. Living during a global pandemic almost certainly impacted the wellbeing of workers, job satisfaction, and last but certainly not least: the lack of child care!. Given all of this, it's not surprising that customers agreed: remote work does not a healthy work-life balance make. It can begin to feel like ground-hog day, with blurred boundaries proving it difficult to set clear work times. Participants particularly lamented "Working more hours" and "additional meetings," likely to compensate for the lack of informal, physical interactions.
In a "Remote First" World, Find Workspace That Drives Employee Engagement
The office has become a part-time need, not a full-time given. After switching (forcibly) to remote-only, many are now considering remote-first policies with built-in flexibility. The key to finding the right balance is recognizing that there are no one-size-fits-all solutions. Employees are individuals. Microsoft recently announced an incredibly emotionally intelligent remote policy that can be summarized in 6 words, "as much flexibility as possible." It's simple: real estate exists as an employee benefit. According to Upsuite's survey, companies are not unilaterally agreed on returning to the status-quo. Far from it, in fact. And while some may not return to an office at all (10-20%), others are considering multiple typologies to find the right kind of workspace moving forward.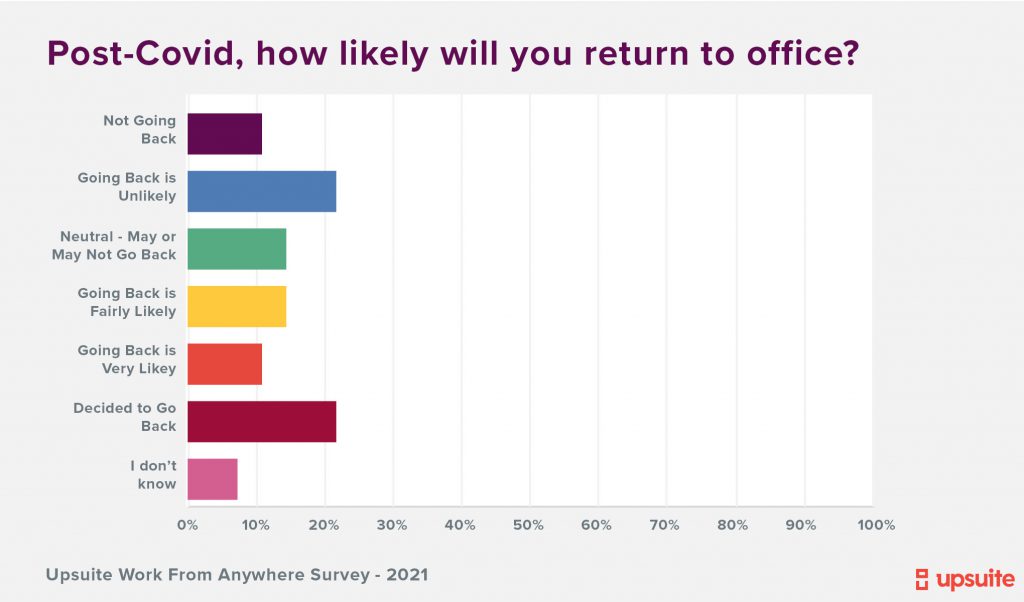 According to Upsuite's survey, two-thirds of respondents are still considering coworking or flexible office in the next 12 months. This is down from 100% pre-pandemic, likely reflecting the changing nature of work through the last few months. Managers and teams concerned about productivity are looking to strike a balance between in-person and remote work. However, some are concerned about onerous termination clauses. With less than 30% considering traditional office, flexibility and agility are top of mind to effectively manage uncertainty.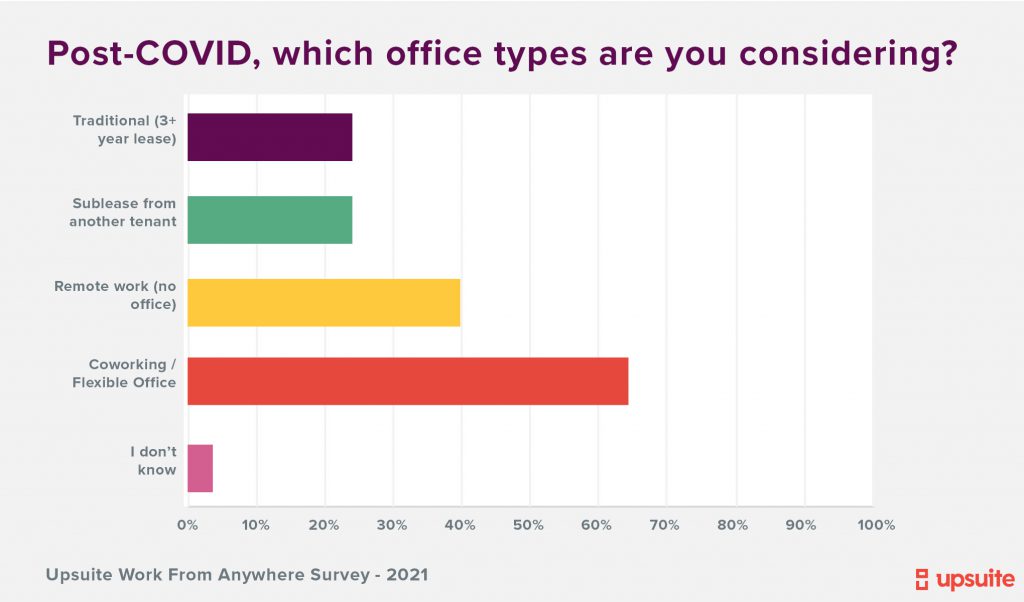 Steps You Can Take as a Leader to Find Workspace
It's worth considering how these needs are changing the nature of the tenant search. When space is not a given, it's a good idea to focus on how a particular product or service can better meet the above-described needs than a remote work alternative.
Don't Assume that you need an Office – Reimagine your portfolio to meet the needs of your leadership and team
Look for benefits, not features when evaluating different configurations
Know that we are in a buyers' market – ask for what you want and you will get it.
As a team leader or real estate decision-maker, there are some steps you can take to find the right policy for your company.
Talk to Your Team – Don't Assume They Need An Office.  Re-imagine together. 
Every individual is different, and it's a good idea to survey the particular needs of your specific workforce. Understand how often and who on your team should work from home. Going forward, remote work will most certainly be a larger component of employee policies, but it may not be the sole work mode when teams have a choice again.  Upsuite has built a number of tools to help:
Evaluate Workspace Options and Look for Benefits
Understand your options to find workspace, and decide what outcome you're optimizing before you source space. The market of available spaces covers a spectrum of office typologies, from coworking to private workspace, and ranging in flexibility, services, and cost to fit diverse needs. Doing the research or talking to a specialist can help you make the right decision that aligns with your operational and business goals.
Use Data, Consult an Expert to Help You Find the Right Workspace Configuration
Use available data and meet with an advisor who can help you. Leaders today are faced with unprecedented questions and uncertainty. Upsuite's team of experts is always available to support your decision-making process, and guide the conversation.
We hope that this post is helpful as you decide what to do next.  If you have questions or want to talk, please schedule a call with us to discuss your options.  We are here to help.