Whether it's on Twitter, LinkedIn, Medium, the news — right now, everyone is speculating about the future of coworking (and, dare we say, spiraling). Opinions fluctuate between dire warnings and overconfidence, and they bottom out right around doomsday. It's no secret that the economy, and with it the commercial real estate industry, has been hit hard by the COVID-19 pandemic. What we don't know yet, is how hard. When will the coworking market hit rock bottom? Has it already? In this article, we're taking a hard look at data from Upsuite, THE source of data for the co-working sector, to understand just how much the pandemic has impacted coworking trends, and whether we're over the worst. Spoiler alert: we're cautiously optimistic. While traditional office may be in trouble, in the world of flex, opportunity is opening up.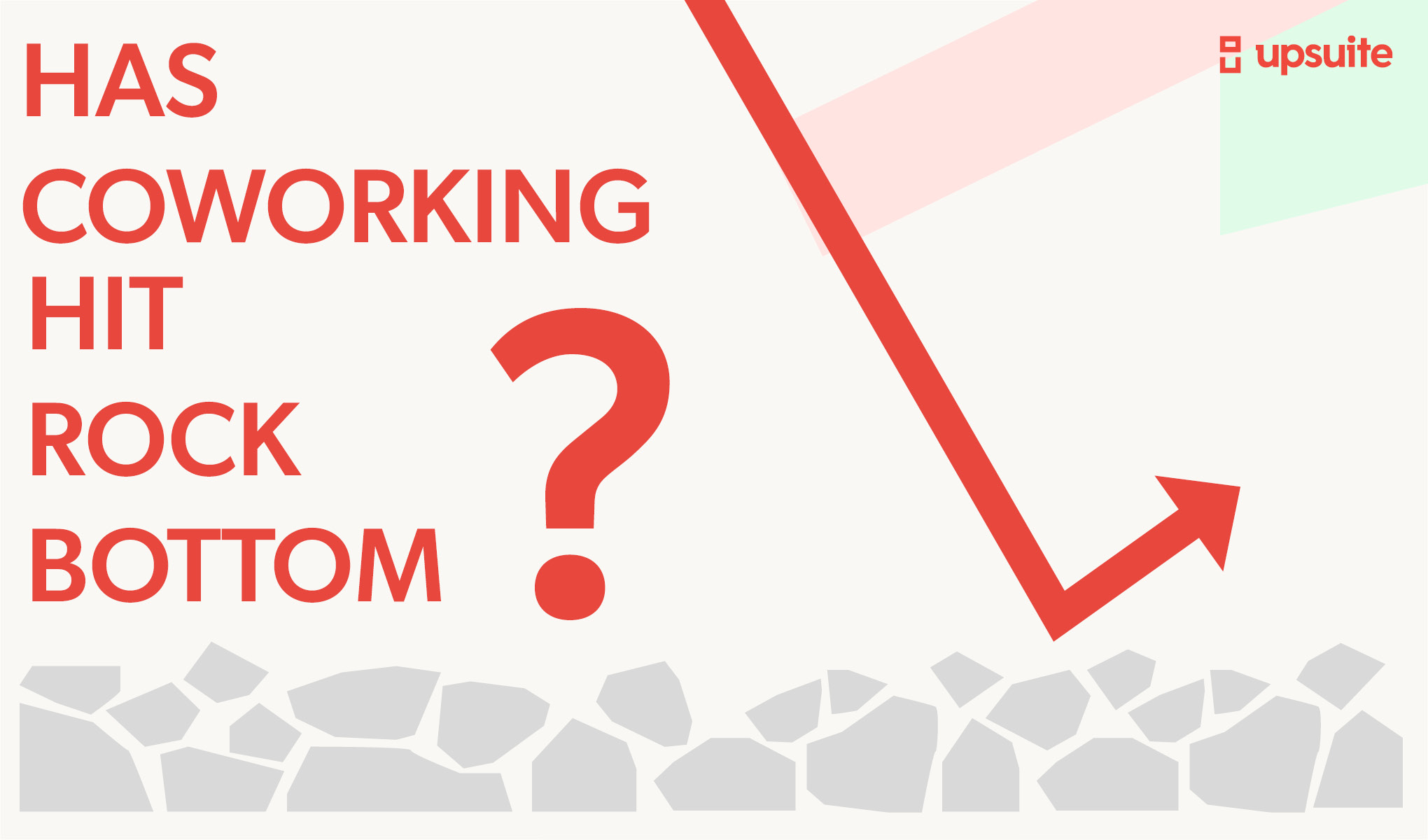 While traditional office is teetering on the edge of an identity crisis, there is a silver lining. The pandemic is changing the perception of coworking from a space for creatives, to a strategic component of any occupational portfolio. What that means for companies is less risk and flexibility; for employees, it means choice. However, it also means shorter cycles. As a product, coworking moves faster than a traditional office on all fronts. Low capital commitment and month-to-month terms can foster high turnover. Throw in a pandemic and hello, chaos.
Commercial Real Estate is in Trouble
Let's rip off that band-aid. As expected, the effects of coronavirus on real estate began to hit full force during the second quarter of this year. Net absorption became negative for the first time in 10 years. Colliers is reporting the highest quarterly increase in vacancy rate over the same period, and sales volume fell to its second lowest quarter. As supply is outpacing demand for office space, transactions have ground to a virtual stand-still. Extracting rents from anyone right now is problematic, let alone getting companies to commit to new long-term leases. Instead, landlords are gearing up for lease renegotiations, early terminations and a flood of subleasing. Given the economy is a key factor in recovery, it's unlikely that we've already hit rock bottom in traditional office. But what about coworking? Has the coworking and flexible office industry already reached its low point? And is it rebounding?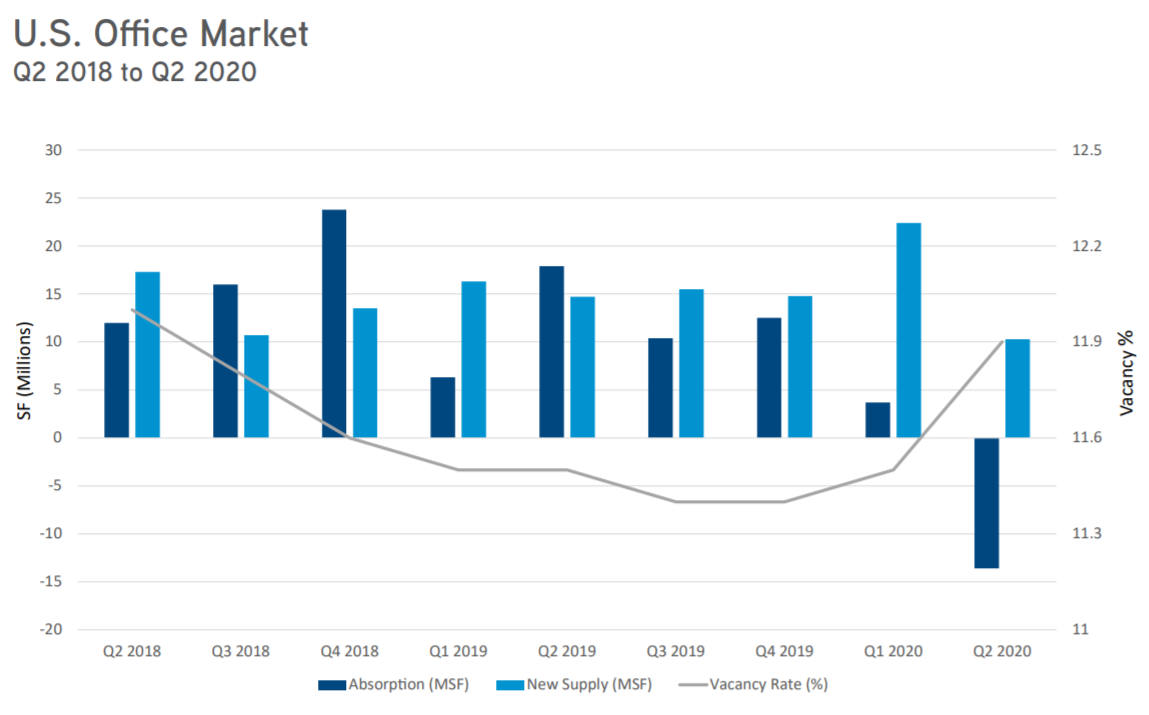 Coworking Has Been Hit Hard by the Pandemic
Admittedly, it hasn't been an easy 12 months for coworking — from WeWork's IPO implosion, to large lay-offs at Knotel, Industrious, and Convene, and finally this global pandemic #cancel2020. But while the operator space is in flux (landlords: opportunity alert!), the demand is rising. For the first time in a decade of disruption, coworking is solving a mainstream need: flexibility in the face of uncertainty. However, it has been especially vulnerable to the pandemic, whose impacts were felt almost immediately. While coworking reached peak popularity at a full 100 points on Google Search in March 2020, it plummeted 66% in April when coronavirus hit the U.S.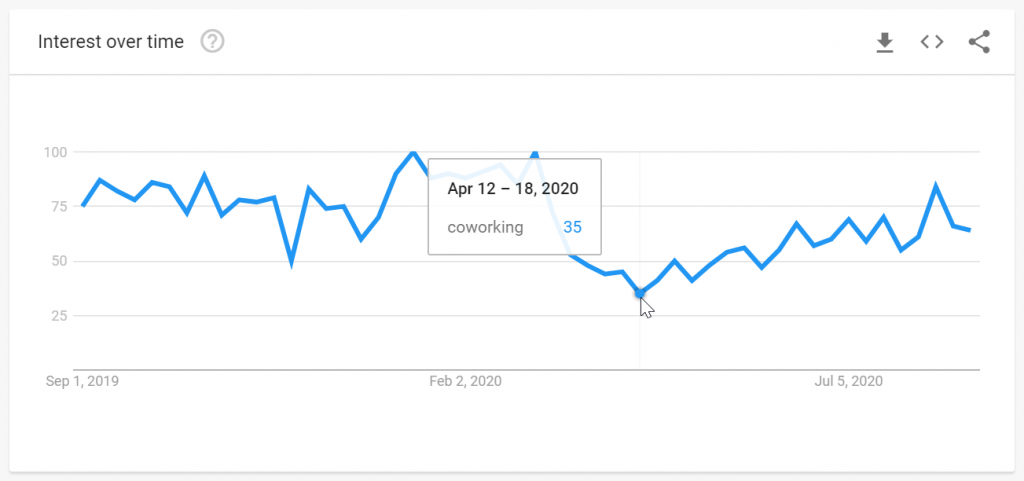 Within one month of major metropolitan closures, coworking statistics responded. This represents a near real-time feedback cycle, unheard of in traditional real estate. While traditional office is just now starting to see the impact of COVID-19, coworking data has been reflecting the impact of the pandemic since April. By analyzing the change in demand using Upsuite listing search data, we can start to get a sense for the extent of impact and whether we've already hit rock bottom.
Coworking Demand Cratered in April
Let's consider two aspects of demand: searches (interest) and transactions (action). According to Upsuite data, coworking searches already bottomed out in April. People stopped shopping for space as cities closed to combat the virus. According to Upsuite data, almost all markets peaked in March, and took a nose-dive immediately after. For some markets, like New York City and Houston, this dive continued into May. For others, like Toronto and DC, it had already begun in March. On average, search dropped by 30% during this period.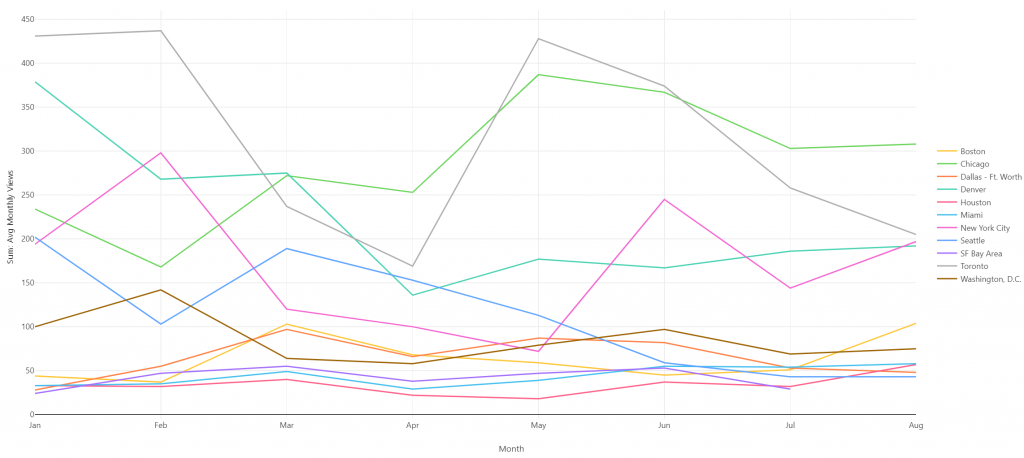 Coworking Search is Recovering
The good news is, people are shopping again in some cities. Unlike traditional office, we're seeing signs of life that indicate that companies are recognizing flex as the short-term solution for the return to the office. Flexible office solutions allow companies to divert teams or hold client meetings in third-spaces without making a permanent choice. As a result, average monthly views per listing are generally on the rebound.


Following a rapid decline, coworking search trends rebounded quickly in select markets like Boston, Houston, and Miami to new peaks. In others, like NYC and Denver, recovery has been slow as the pandemic fluctuates. However, markets in California, Texas, Seattle and Atlanta have not yet rebounded and are down 47%-77% since March. This is likely linked to reopening policies and new outbreaks. Check out our map of new coworking locations by market.
Coworking Transactions are Lagging
The bad news is that we don't yet know if coworking transactions have already hit rock bottom. While people are browsing again, coworking subleasing has not yet recovered. The one challenge that now remains is driving transactions back up. Interest is returning, but companies are hesitant to jump back into action and sign memberships. Many are in a wait-and-see mode. In addition, if the potential second wave of the pandemic hits this fall, we could see it grind to a halt even further. The pandemic may be a national emergency, but every state and city is being affected and reacting differently. Upsuite's data shows coworking trends vary greatly city-by-city. Amidst this climate of uncertainty, it's impossible to say whether coworking transaction volume has already hit rock bottom. However, if it does drop further, we'll see it in near-real time.
Understand Your Coworking Product
With its short terms and low commitments, coworking is particularly vulnerable to market downturns. However, for the same reason, in this particular crisis it is also an attractive short-term solution for many companies looking to manage their risk and find alternative, decentralized office space. Crises accelerate disruptive technology, and flexible office is gaining rapid traction. We've already seen interest hit rock bottom in April, and steadily rebound. Now, the only challenge remaining for the coworking industry, is driving transactions. Do you need a pulse-check on your own coworking business? Flex Office Pro by Upsuite provides actionable insights, coworking demand and pricing data, to help you navigate the rapidly-changing post-pandemic world.