A perfect office is one that meets your business needs while giving you flexibility. The space should be fully functional, move-in ready, and adaptable to the changing needs of your business.
Coworking office space delivers that by providing shorter lease terms, furnished offices, and office services. You also enjoy lower costs and higher levels of employee engagement in a coworking office. With coworking office space, you never have to sign another long-term lease that you grow out of.
You'll find your perfect fit coworking office
To help you find your perfect office space, we guide you through our proven process and connect you with office space options that match your team's culture and productivity needs. Working with us gives you more office options than any other provider.
Upsuite Coworking Advisors help you define your needs, select a space, utilize that space, and refine your needs over time. We even help you negotiate your lease so you're sure to get the best price on the best space for your needs.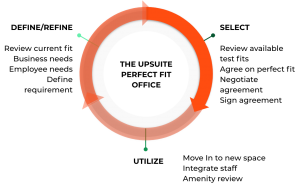 Coworking member representation services
Meet with an Upsuite coworking advisor
Send curated options that are a perfect fit
Negotiate your renewal, next space
Thanks so much! Straightforward and a pleasure to work with.
Thanks for all your help - Upsuite provided very excellent service.
Upsuite was quite easy to use as Upsuite dominated the generic Google search for shared office space in Boulder. A quick single recommendation of 3 spaces was all we really needed.