Resources to Develop Your Company's Coronavirus Office Policy
Coronavirus has changed the way many employees view coming into the office. Read this page to develop your company's corononavirus office policy.  In it, you will find resources to balance work from home and working from the office, predictions for how the world of work will look post Coronavirus, tips for how to think about your next office, and standards to keep your office clean and healthy for your employees, courtesy of the World Health Organization and the Centers for Disease Control.
Resources to Manage Work From Home and Remote Teams
How will Coronavirus Change the Way We Think About the Office?
What New Options Do You Have for Office Space?
Coronavirus Office Policies to Keep Your Office Space Safe and Healthy
View Upsuite Healthy Spaces in North America 
Ready to Find a Healthy Office Space?
Why partner with Upsuite?
Flex options specifically for small companies
Decisions in less time with a no cost Coworking Advisor
Exclusive Upsuite discounts
Satisfaction Guarantee
Upblog: Coworking, Flexible Offices, and the Future of Work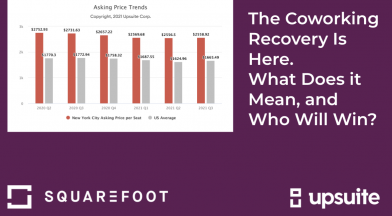 Coworking Trends: The Coworking Recovery Is Here.  What Does it Mean and Who Will Win?…