Coworking Trends: The Coworking Recovery Is Here.  What Does it Mean and Who Will Win?
The COVID-19 pandemic proved that flexible office and coworking trends were toward flexibility. But was the pandemic a death blow to the flexible office industry (and to the office) or a short-term blip that accelerated a longer trend?  All trends point to the latter.
Q3 2021:  What the North American Coworking Trends Look Like
1. New Agreements and Occupancy are Up, Driving Revenue for Coworking Operators.
In our Q2 2021 data release, we reported that demand and shopping activity was up 41% in North America Quarter over Quarter.  This shopping activity drove the most important outcome for operators in Q3:  Revenue.  Though we don't have revenue figures for all operators, in most markets occupancy grew, and vacancy fell.  And SquareFoot (Upsuite's parent company)'s Flexible Solutions Team transactional revenue grew 76% from Q2 to Q3.
2. Coworking Trend:  Inventory Stabilized For the First Time since early 2020.
For virtually every quarter in the pandemic, the number of closures of coworking and flexible offices far outstripped the number of new locations.  Through the end of Q2 2021, nearly 25% of all coworking and flexible office locations had closed in North America.  In Q3, this trend stabilized, when we tracked 24 newly opened locations opening and 21 closures.  For example, in New York alone, there were 5 new openings, compared to 3 closures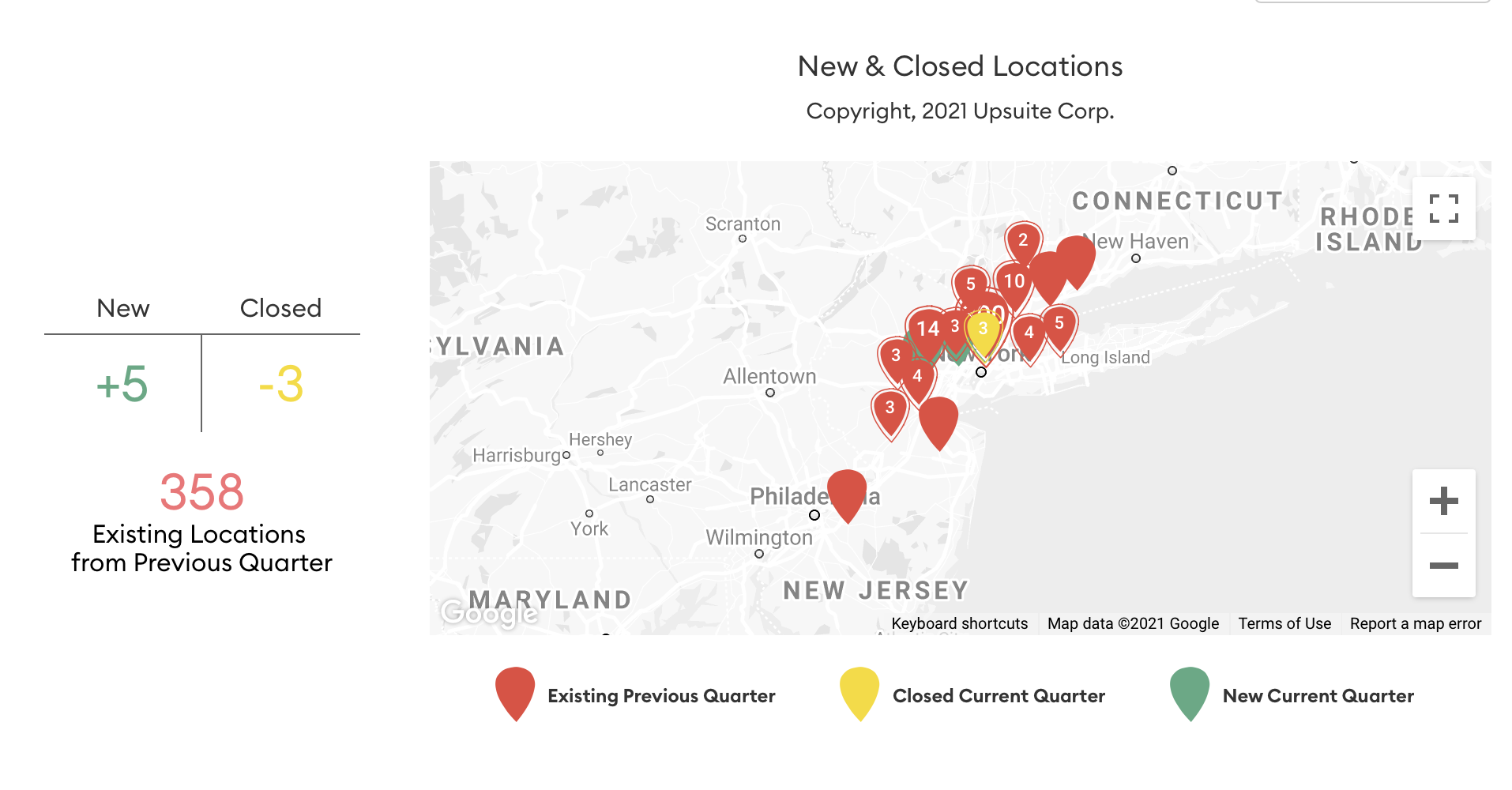 3. Coworking Trend:  Asking Prices Have Stopped Falling.
Increased occupancy has also driven a stabilization in prices in United States coworking and flexible offices.  Whereas many operators such as WeWork and Industrious were offering two and even three months free on a 12-month term in Q2, those and other operators started shortening their discounts to two and even one month in Q3.  Asking prices for the benchmark 4 person suite in the US rose from a low of $1,625 per month in Q2 to $1,665 in Q3, a 2.5% increase quarter over quarter.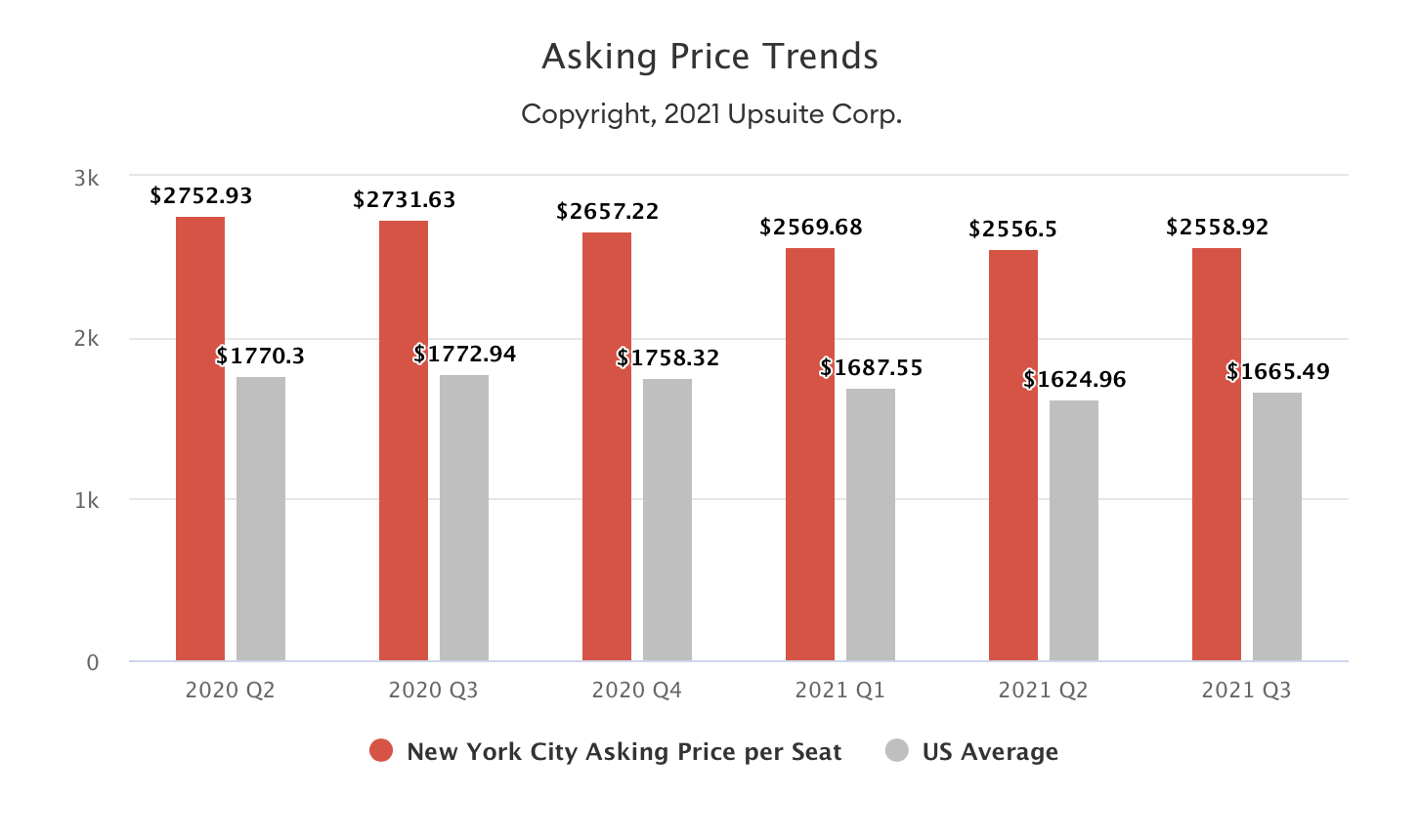 4. New Demand Was Held Back By the Delta Variant and Normal Seasonal Fluctuations.
After a huge spike in demand in Q2 (41% nationally), shopping activity for new coworking and flexible office locations fell in the average market in Q3.  Though this was not true for all markets (see Atlanta below), the average shopping activity in North America fell 25% from Q2 to Q3.  Though some will say that this is due to overall lower demand for office, we believe this is due to  1). Normal seasonality –  July and August are slow months historically for commercial real estate new tours; and  2). Fears over the Delta Variant, which have led multiple companies to delay office reopenings.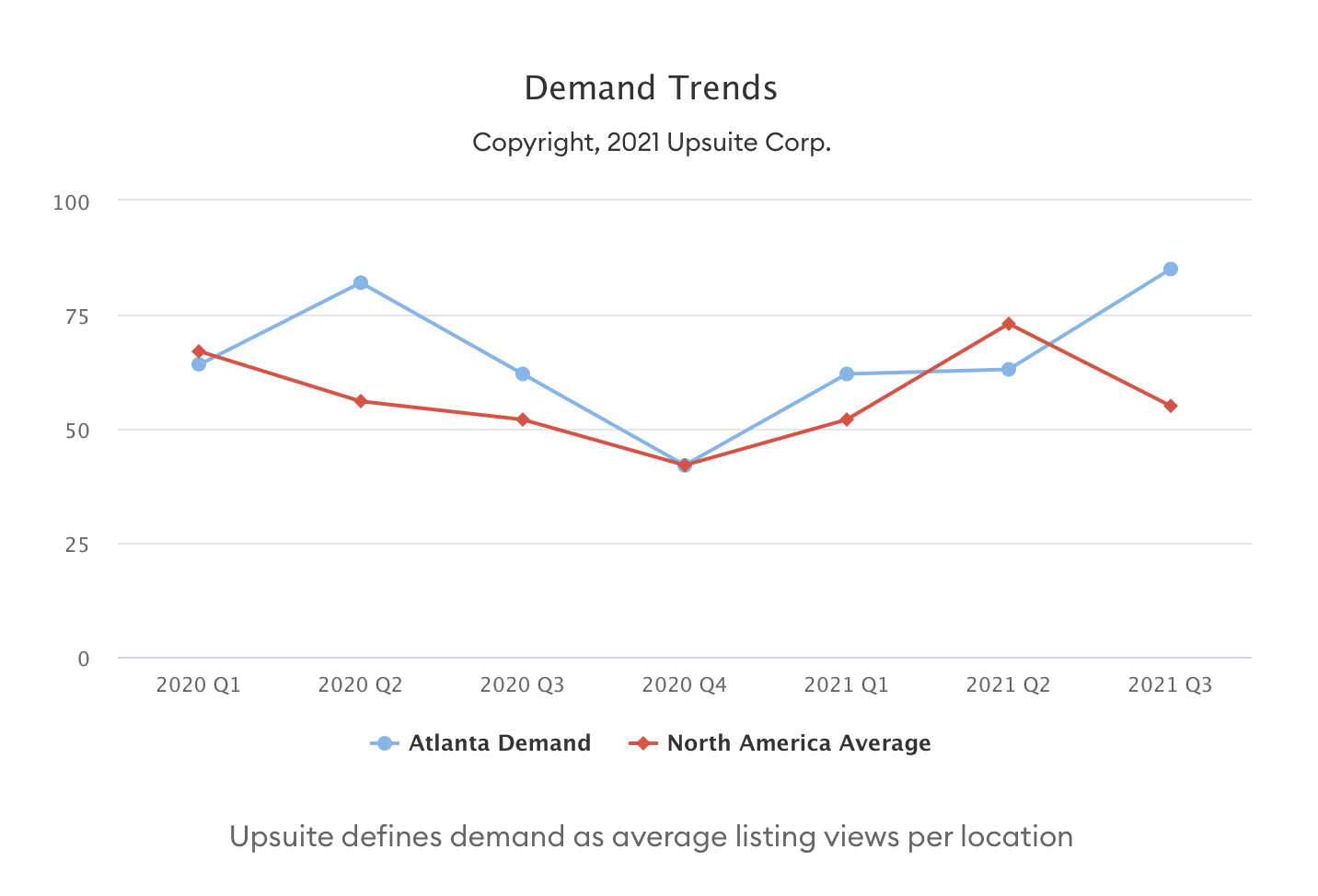 5. North American Markets Are Recovering At Different Rates
New York City is the largest coworking and flexible office market in North America.  In Q3, New York saw a rise in occupancy, a 6% decline in demand, average prices rise .7%, more new locations open than close.
Toronto is the largest coworking and flexible office market in Canada.  In Q3, Toronto saw a slight rise in occupancy, a seasonal decline in demand, saw average prices fall, and experienced more closures than new locations.  Operators in Canada's largest market are later to recover than some US locations.
Los Angeles is North America's second-largest coworking and flexible office market.  In Q3, Los Angeles continued to see vacancy rise, demand fall, prices fall slightly, and experienced more closures than new openings.
Some markets experienced surprisingly strong price growth.  Markets like the San Francisco Bay Area, Tampa, and San Diego all experienced increases in asking prices.
Other markets had more new openings than others.  New York led North America in new openings, followed by Dallas, Washington DC, and Chicago.
Demand growth was strongest in markets like Silicon Valley, Raleigh Durham, Tampa, Salt Lake City, and Atlanta.
For more information on any of these markets, please inquire about a license to Flex Office Pro here:
6. Some Top Submarkets are Already at or Near Capacity
For the first time since pre-pandemic times, the SquareFoot Flexible Solutions team saw real lack of availability in a few key submarkets that are also in high demand.  These are the first markets that are experiencing what we believe will be a wider trend in Q4 and in Q1 2022:  A shortage of coworking and flexible office space.
Midtown Atlanta
SoHo, Manhattan
North Austin
Cherry Creek in Denver
What Does This Mean For The Coworking Trends and the Trends in The Flexible Office Market?
1.  Prediction:  Revenue and Occupancy Flexible Office Will Rise in Q4, and in 2022.
Operators will expect to see more signed agreements and higher occupancy as 2021 comes to a close in Q4, setting the stage for growth in 2022.
2.  Prediction:  Occupiers Will Plan for Flexibility From here Forward.
Occupiers have been hamstrung by COVID-19, the Delta Variant, by long-term leases, by uncertainty with how much space their businesses need, and by how best to support employees.  With some of these variables becoming clearer, employers will proactively work flexibility into their real estate plans in the future.  A great example of this is are companies like Motley Fool and Live Ramp.  Listen to the "Back to Anywhere" webinar we did with RefineRE on-demand. to learn more.
3.  Prediction:  New Openings Will Outpace Closures Dramatically in Q4, and 2022.
While Q3 saw inventory in flexible office stabilize, we expect significant new supply to come available in Q4 2021 and into 2022.  This may come from large operators like WeWork, who went public on October 24, but it is more likely to come from building owners like Boston Properties, SL Green, and others, many of whom are now in possession of fully built out flexible office spaces.
5.  Prediction:  Average Seat Prices will Rise in Most Markets in Q4
In welcome news for operators, (and the opposite for occupiers) we are forecasting that average seat prices will rise in most markets in Q4.  Certain factors like available sublease space may hold price increases down.
Coworking Trends:  Who is Going to Win in Q4, and in 2022?
1. Operators Who Have Shed Poorly Performing Assets and Secured New High Demand Locations
As we detailed in a recent post about coworking closures, many large operators (see Industrious, Premier Workspaces as two examples) intentionally shed underperforming assets during the pandemic and are proceeding with better locations in higher-demand areas.  Expect to see operators like these grow quickly as the recovery moves forward.
2.  Class A Owners who Take Advantage of Their Prime Locations and "Buy Low"
As we've said earlier, building owners, many of whom are now in possession of fully built-out flexible office spaces, are poised to take advantage of their prime locations and low entry point (by taking over spaces that were at least partially funded by others).  In many ways, the correction caused by the pandemic will accelerate the trend of more owners getting into the coworking business.
3. New Entrants Who buy Cash Poor Operations just as the Market is Turning
Another winner in the next phase of the coworking market will be new entrants who take over cash-poor operations.  One such new entrant is JLL Flex, which has taken over multiple spaces from other operators in the downturn, often taking over quality assets and turning them around quickly to meet growing demand.
4. Asset Light "Space Providers"
Another class of winners in the coming market recovery will be providers of space who really aren't providers of space.   These include marketplaces, apps, providers of office phone booths like Room, Jabbrrbox, or Booqed.
We hope that this post is helpful as you decide what to do next.  If you have questions or want to talk, please schedule a call with us to discuss your options.  We are here to help.