Coworking Trends: What Will the Recovery In the Coworking and Flexible Office Markets Look Like, and When Will it Happen?
As multiple companies are in the middle of planning their post – COVID-19 return to work policies, Coworking trends and the future of work is the subject of speculation on every major media outlet.  As such, everyone has an opinion about the office market these days.  Will the office ever recover?  Is WeWork poised to capture and grow as a result of these coworking trends?  As a 5% of the office market growing to 30% by 2030, the coworking and flexible office segment has been impacted more strongly by COVID, and as you will see from Upsuite's Flex Office Pro Coworking Trends and Insights Platform data,  coworking is leading the office market out of the downturn.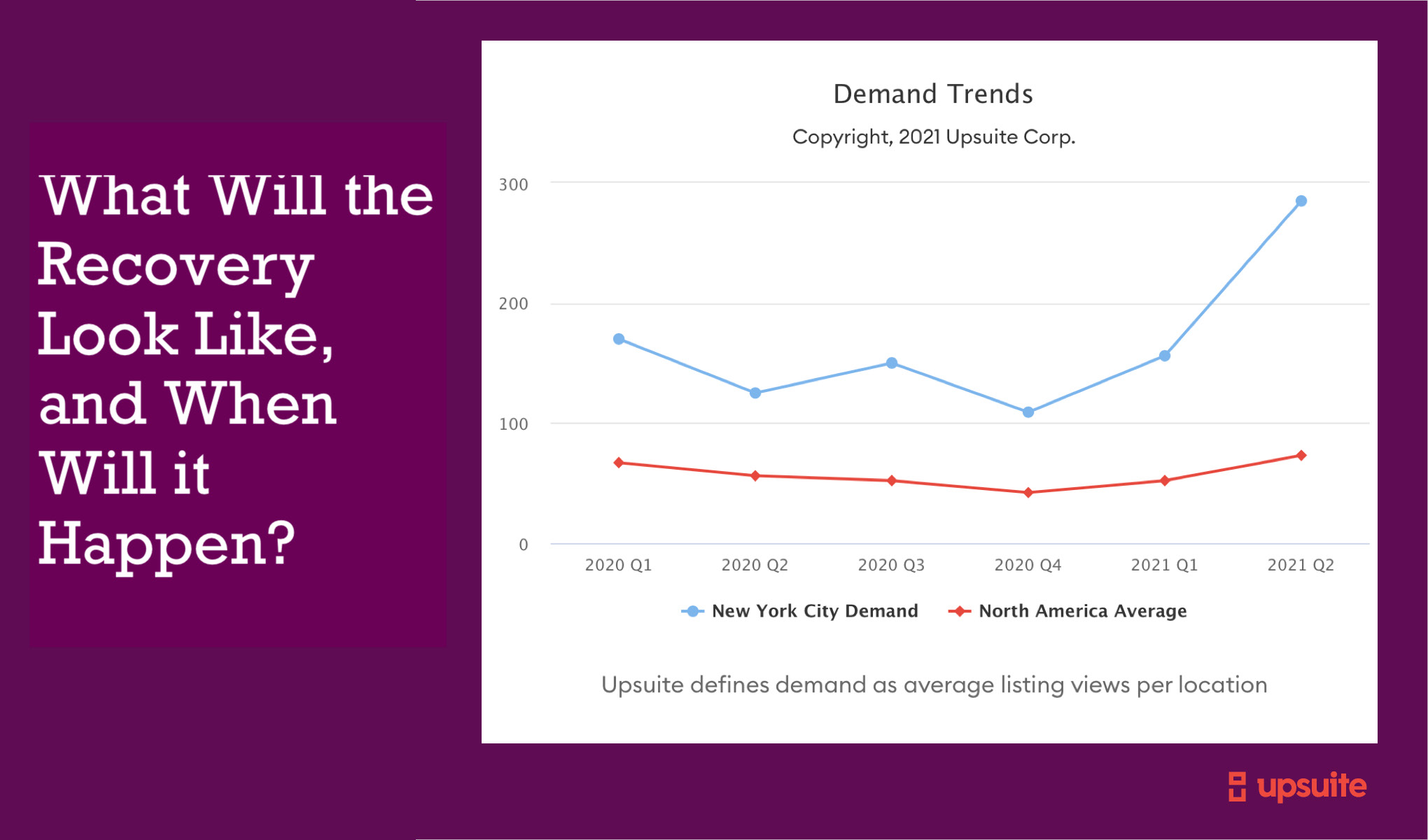 Coworking Trends:  Recovery in the Coworking and Flexible Office Markets is Well Underway in Q2 2021.
The COVID-19 pandemic proved that coworking and flexible office was just that – flexible.  Tenants shifted out of short-term space quickly, leaving many coworking operators desperate for members.  This led to over 700 closures in the last 15 months alone, representing more than 21% of all locations.  As COVID-19 vaccines have helped businesses and workers out of their homes and back into the world, many, including us at Upsuite, speculated that coworking would lead the office market out of the recession.
Has it?  The early returns say yes.  Read on to see how we know, and what recovery looks like.
What the Recovery Looks Like
1. Demand is Back.  Coworking Demand Per Location Grew An Astounding 41% from Q1 and Q2 2021.
According to Upsuite's Upsuite's Flex Office Pro, Coworking Trends, and Insights Platform data, demand per location grew 41% from Q1 2021 to Q2 2021.  Further, demand per location is now nearly 10% higher than pre-pandemic levels in Q1 2020.
2. In Some Large North American Markets Demand Grew Faster than 41%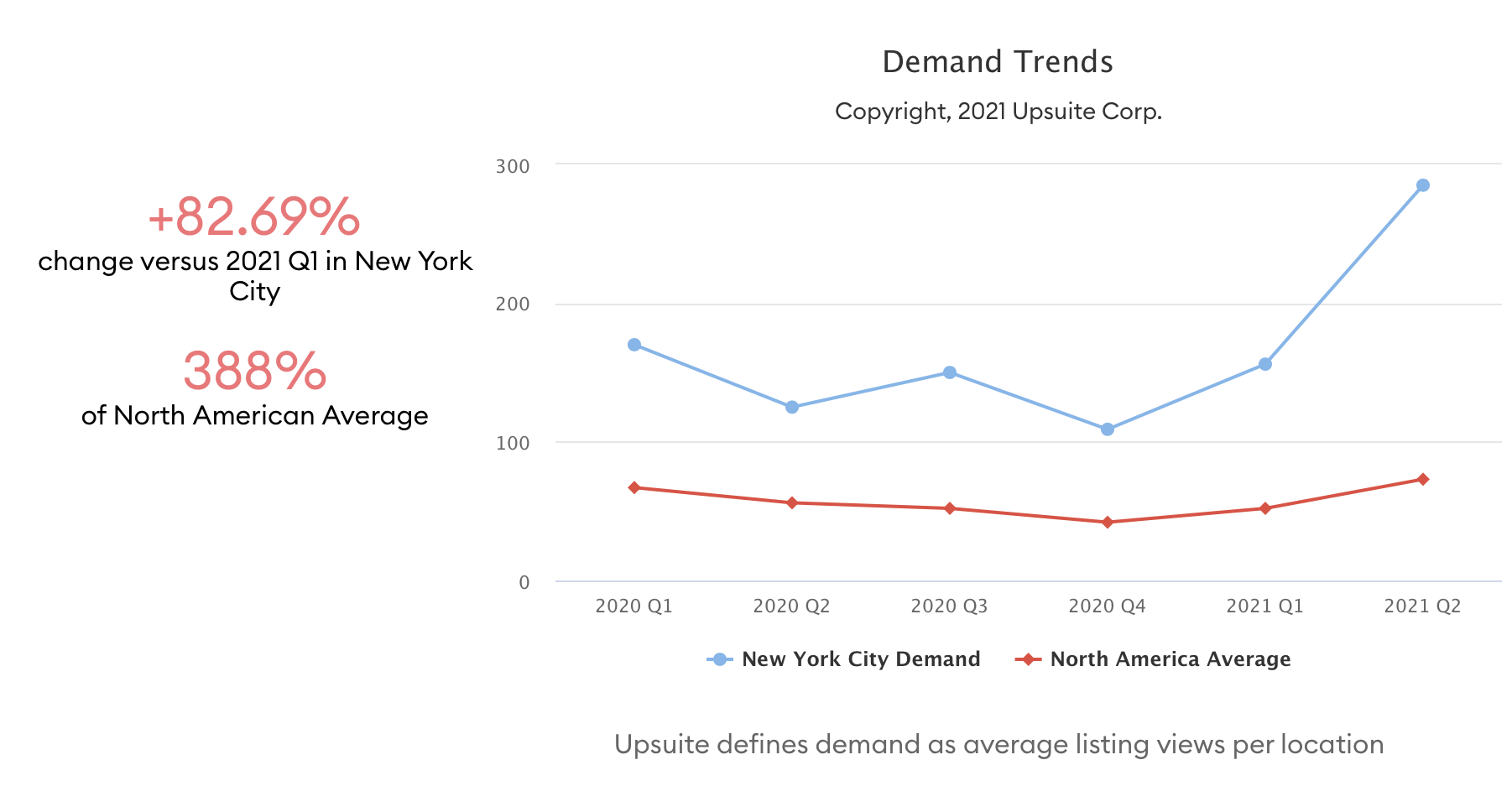 Though not every market Upsuite tracks showed such strong growth, cities such as New York City (83%), Los Angeles (77.9%), and Denver (63%), all showed above-average demand growth.
3. Growth is Slow in Other Markets
Though overall growth in demand was high, many markets did not see a full recovery in demand in Q2.  For example, Canadian markets such as Toronto, Montreal, Calgary, and Ottawa all saw demand fall as vaccination schedules were delayed.
Further, some northern cities such as Minneapolis, Chicago, and Detroit were all below average in their demand growth.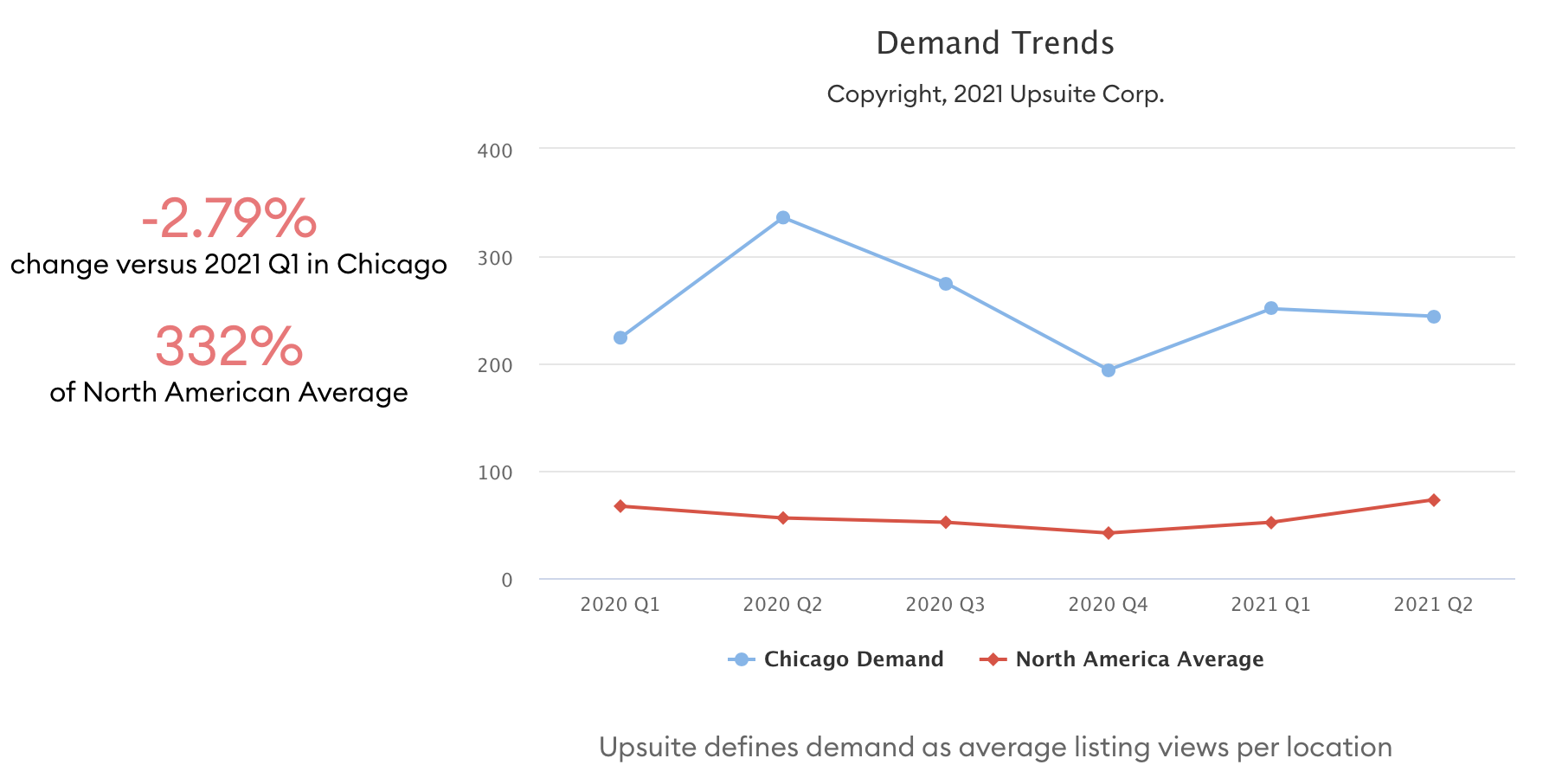 4. Tenants Are Just Beginning to Express Their Preferences in Their Real Estate Choices
Predictions about the future of work are everywhere.  Predictions ranging from "The Great Resignation" to "You Will Want to Return to the Office Eventually," all stoke demand for flexible offices.  As uncertainty abounds, companies are reluctant to make long-term commitments to space.  And, employers are finding that working from home full time is only the preference for one third (McKinsey) to two-thirds (FlexJobs) of employees, meaning that a hybrid, or flexible office, is the future, and evidently, the present.

5. The Recovery Hasn't Hit Operators' Balance Sheets Just Yet:  Most Coworking and Flexible Office Providers are Still Cash Poor.
Even as demand is increasing, vacancy in the coworking and flexible sector is high.  In Denver for example, reported vacancy dropped from 34% in Q1 to 32% in Q2, even as demand increased.  Many coworking operators report that occupancy of 70 to 80% is essential to achieve positive cash flow.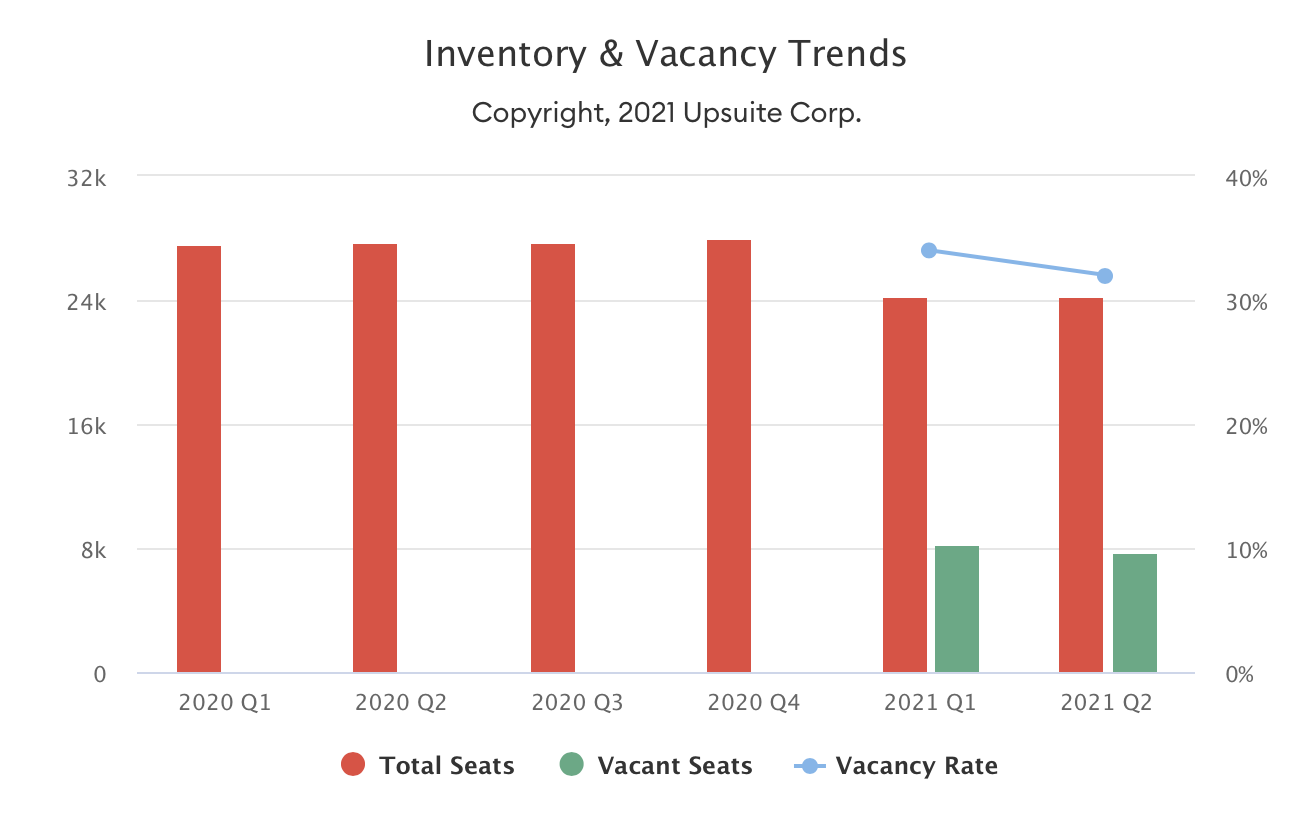 At the same time vacancy is high, average pricing has fallen.  In markets like Washington, DC average price per seat fell from a pre-pandemic high of $422 per seat per month to just above $280 per seat per month.  Combined with high vacancy, low prices are also hurting the bottom line.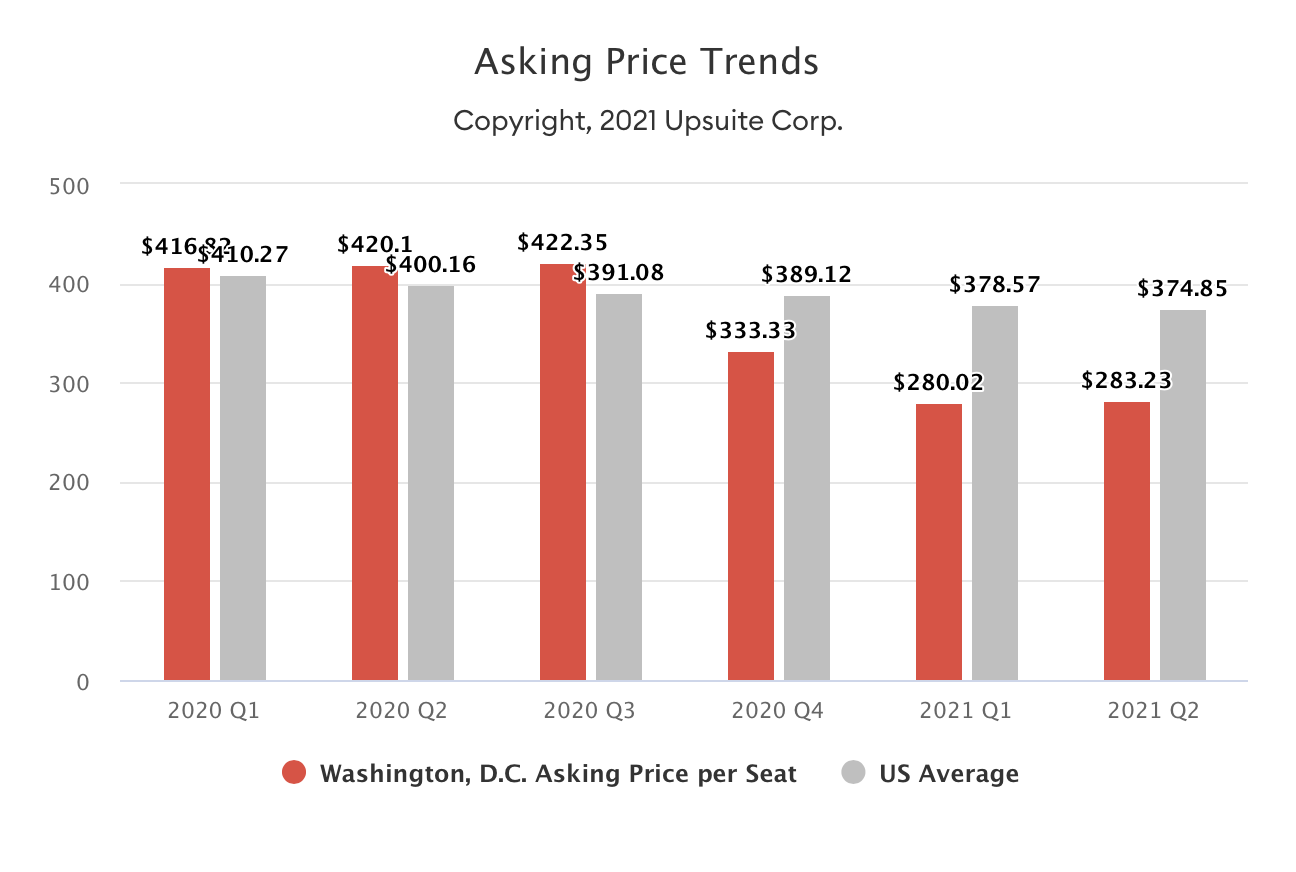 As a result, closures in the coworking sector continue to outpace new openings.  In the San Francisco Bay Area, as in most markets, there were more coworking and flexible office closures than openings in Q2.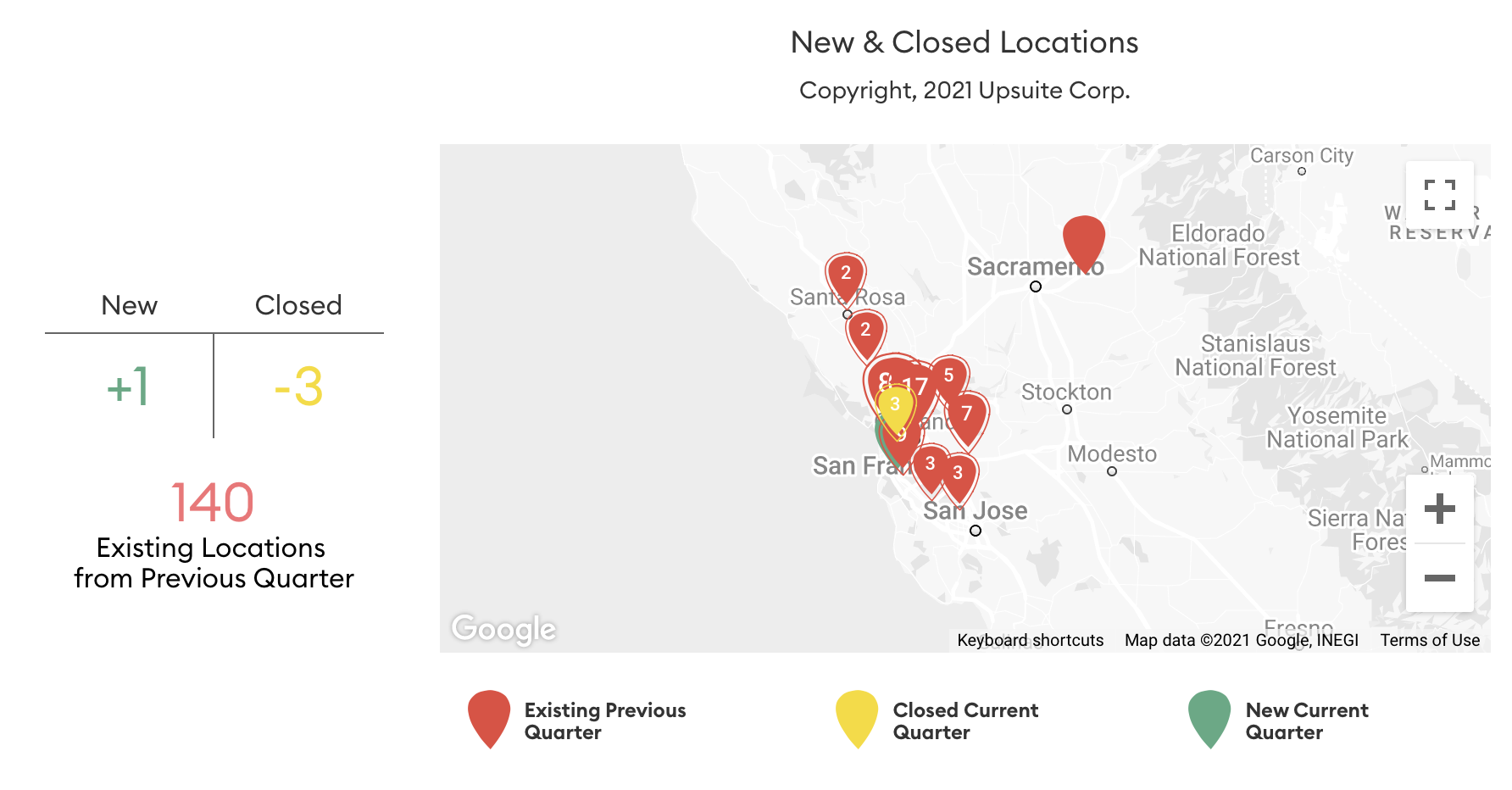 What's Next for Coworking and the Flexible Office Market, In Q3 and Beyond?
The North American coworking and flexible space market is clearly returning, and quickly.  As Canadian vaccination rates rise, demand is already returning in markets like Toronto and Vancouver in Q3.  Below is Upsuite's forecast for the Toronto market in Q3, which shows that we expect demand to rise by nearly a third in Q3.

In the United States, the Delta variant is holding down and delaying the return to work for many companies, but growth will still continue.  For example, in our Chicago forecast below, we expect demand to rise by more than a third.

1.  Prediction:  Demand Will Continue to Rise by 20 to 30% in Q3
Led by late recovering markets like Chicago, and Toronto, we expect North American market demand for coworking and flexible offices to rise again by 20 to 30%, continuing the recovery.
2.  Companies Will Return to the Office, on Shorter and Shorter Term Agreements
Demand for coworking and flexible offices will be driven primarily by companies' need for flexibility in the wake of one of the largest workplace disruptions in history, COVID-19.  Companies have had a taste of working remotely, and many have experienced the commute time savings, cost savings, and lifestyle benefits to employees from remote work.  Data we've seen is that even office requirements for as many as 20 people are asking for terms of 1-2 years.
3.  Average Days in the Office for Most Companies Won't Go Back to More than Three Days a Week
The majority of managers favor a return to the office, and somewhere between one-third and two-thirds of employees favor some return to the office.  This will lead to a hybrid or shortened workweek.  Among the 100 companies per week that Upsuite and our parent company Squarefoot works with every week, there are very few examples of companies that are planning a 5-day return to work schedule.  Our expectation is that the average company will plan a 2 or three-day workweek in the office, which drives flexible solutions.
4.  There Will Be as Many Coworking and Flexible Openings as Closures in Q3
We expect that Q3 will mark the bottom of coworking and flexible supply in North America.  In Q2 there were more closures than openings, and that trend will balance as demand continues growing.   Large operators like IWG and WeWork have already announced a number of new locations, and the majority of closed coworking locations will continue to operate as coworking (as opposed to converting to another use such as a traditional office).
5.  Average Seat Prices will Rise in Most Markets
In welcome news for operators, (and the opposite for occupiers) we are forecasting that average seat prices will rise in most markets in Q3.  With the exception of late recovering markets like those in Canada, operators will be able to use their lower vacancies to demand higher seat prices from members.  Certain factors like available sublease space may hold price increases down.
6.  More Building Owners will Decide the Role They Want to Play in the Flexible Market
The pandemic will also surface a shift in players, with innovative building owners defining a "next normal" for flexible workspaces will emerge, many out of necessity as they have unused coworking spaces in their buildings already.   Large owners who already entered the coworking market pre-pandemic like Tishman Speyer are already doubling down in expanding their coworking and flexible offerings, and many new players will be drawn in to compete.
Steps You Can Take as an Owner / Operator
1. Understand the Trends
Every market behaves (and is recovering) differently, and it's a good idea to survey the landscape of trends. Is flexible office returning? If so, where and when?  Is it early, late, or the right time?
2. Understand the Economics
Understand the financials behind implementing a flexible office product, and decide which type of flexible product you're optimizing for. Can your business make money with a flexible office solution? What type of product is performing well? To answer these questions and more, you can start by viewing Upsuite's data product, Flex Office Pro Coworking Trends and Insights Platform, here.
3. Decide Whether to Partner, Own or Avoid Flex All Together
Meet with an advisor. Leaders today are faced with unprecedented questions and uncertainty. Doing the research or talking to a specialist can help you make the right decision that aligns with your operational and business goals. Upsuite's team of experts is always available to support your decision-making process and guide the conversation.
We hope that this post is helpful as you decide what to do next.  If you have questions or want to talk, please schedule a call with us to discuss your options.  We are here to help.