Upsuite Report [2021] 700+ Pandemic Coworking Closures Driven By Large Operators like Breather, WeWork, Knotel, Serendipity Labs
In just one year, over one in five (21%) of U.S. and Canadian coworking locations have closed as a result of the pandemic and resulting economic hardships. These closures were dominated by large, well-funded operators such as Breather, WeWork, Knotel, and Serendipity Labs. With the largest number of coworking closures resulting from the most well-funded companies, the pandemic exposed the risks of an industry fueled by cheap investment capital — and suggests a new direction forward.

During the Pandemic, Coworking Operators Closed
over 700 Locations or 21% of the Market In The Top 30 North American Cities.
Vulnerable operator models and drastic membership reduction resulted in a brutal year of pandemic-driven coworking closures. Since March of 2020, in the top 30 North American cities, over 700 coworking locations have permanently closed. This represents more than 70,000 seats that are no longer available or a reduction of 21% of all coworking locations that Upsuite tracks. Notably, nearly two-thirds of these closures occurred since the start of December, when initial wait-and-see gave way to swift action by operators and owners to close underperforming locations and future-proof portfolios for the eventual return in demand.
Large, Well-Funded Operators Drove Coworking Closures
Large, well-funded operators like Breather, Knotel, WeWork, and Serendipity Labs drove the majority of coworking closures during the pandemic. More than 75% of closed locations were shuttered by leading operators as a direct result of vulnerable business models. Rapid expansion and heavy reliance on traditional leases with landlords forced the repositioning of hundreds of spaces under the pressure of the pandemic. In fact, ten operators alone accounted for 468 (more than half) of all coworking closures.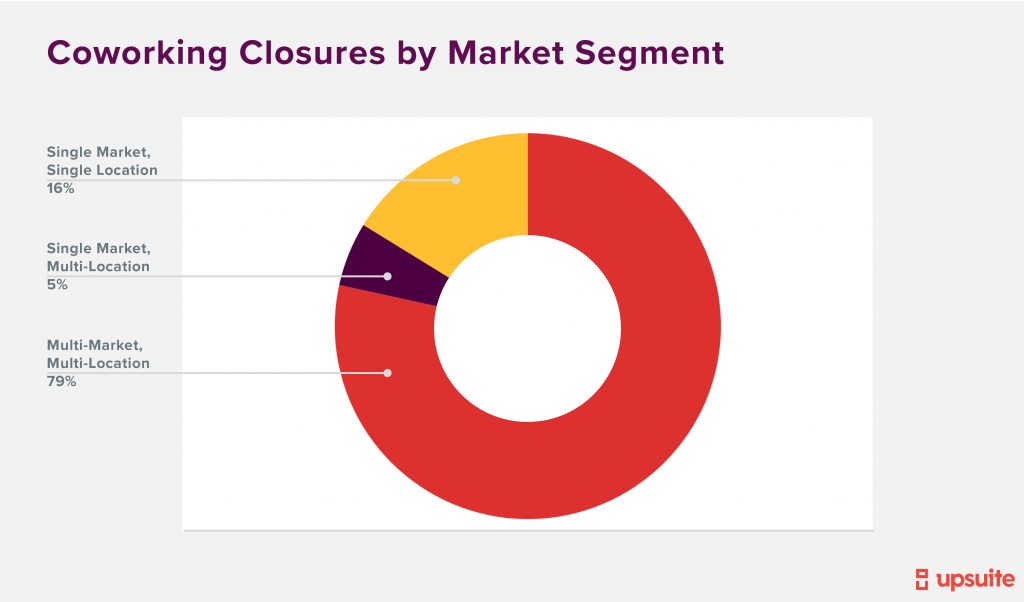 A sizeable percent of coworking closures were driven by Breather, who closed all of their locations (more than 300!) in North America and abandoned their business model in favor of an online-only platform. Flex Office Space and The Riveter also shuttered (their relatively few locations) completely, while operators like Serendipity Labs and WeWork used the opportunity to divest from underperforming locations, closing 41% and 26% of their portfolio respectively. Combined, Breather, WeWork, Regus, and Serendipity Labs were responsible for half of all coworking closures during the pandemic, or 450 closed locations.
Meanwhile, operators like Industrious and Regus weathered the storm well, with closure rates under 10% (Regus's large portfolio easily absorbed their relatively few closures). These differences in performance may highlight opportunities presented by alternate business models that place a heavier emphasis on landlord partnerships and management agreements.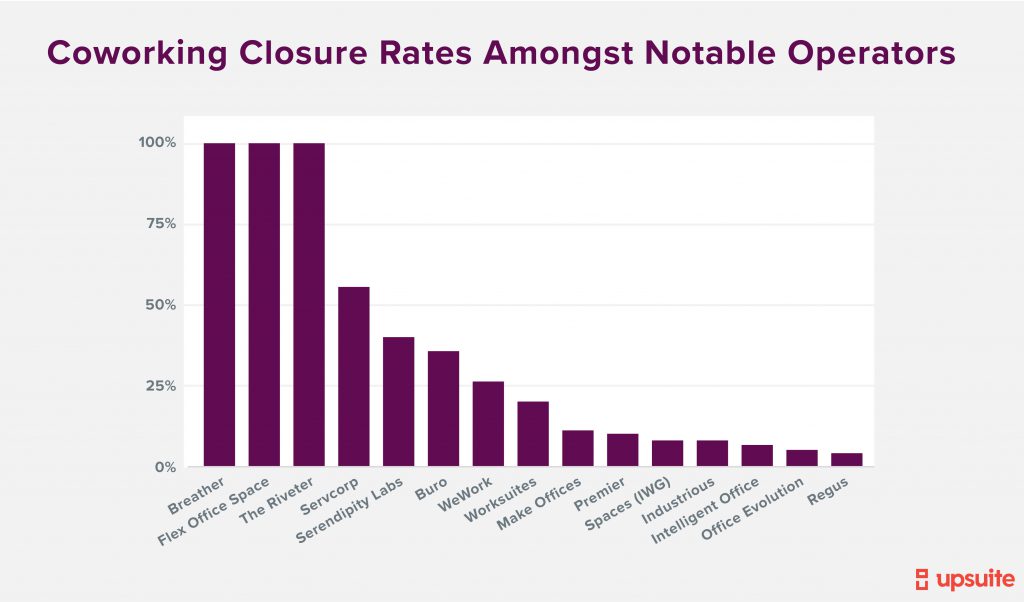 It's worth noting that Breather, WeWork, Regus, and Serendipity Labs' coworking closures wielded the highest impact in New York City, San Francisco, Boston, and Montreal, where these large operators alone accounted for 80% (!) of all closed locations. This outsized effect of a handful of national operators on North America's top coworking markets highlights a critical trend: high-growth operators will not sustain the future of the coworking and flexible space industry.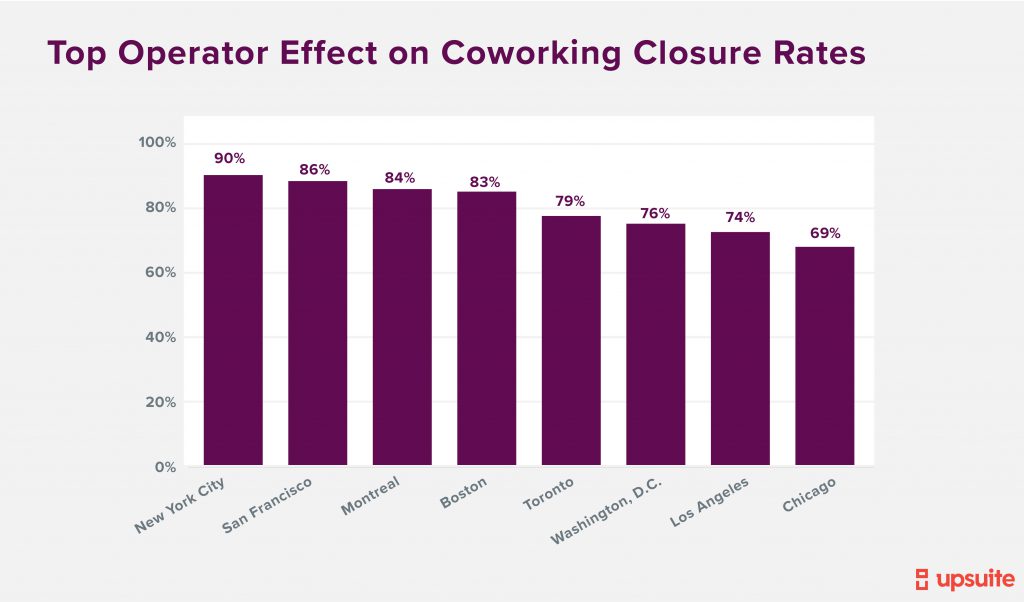 Which Coworking Operators Did Not Close a High Percentage of Their Locations?
There were a number of high-profile operators who did not close many locations, however.  The largest global operator by locations, IWG, closed less than 10% of its nearly 1,300 North American locations across its brands Regus and Spaces.  Franchisors Intelligent Office and Office Evolution saw less than 10% of their 40+ and 75+ locations close, respectively.  Industrious, the leader in sharing revenues with building owners through management agreements closed less than 10% of its 90+ locations.   Expansive Workspace (formerly Novel Coworking), which owns the buildings it operates in, closed no locations.
Coworking Closures Concentrated in Urban Areas
83% of the closures concentrated in urban areas, where more flexible offices are located. These areas were also hit hardest by the pandemic, resulting in lockdowns, a sharp drop in employee commuting, and office utilization near 0% in the second half of 2020.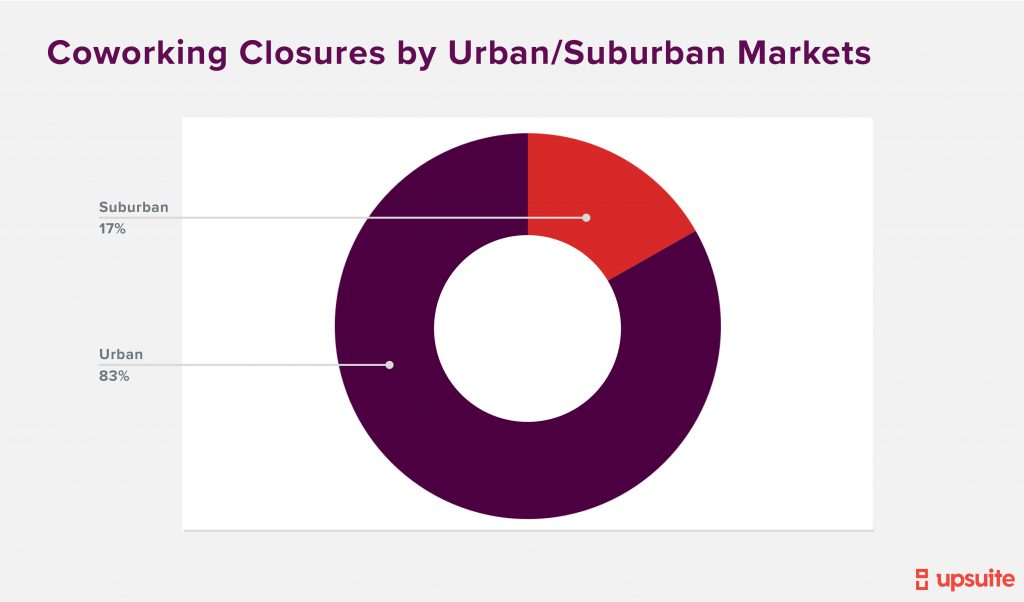 Coworking Closures Hit Hardest in Primary Markets
Heavily urbanized, transit-dependent markets that were the focus of high-flying, high-growth operators suffered high closure rates. Of the top 30 North American cities that Upsuite tracks, 8 cities are experiencing closure rates above the national average of 21%.
Viewing a map of all closed locations to understand which markets and operators have been affected.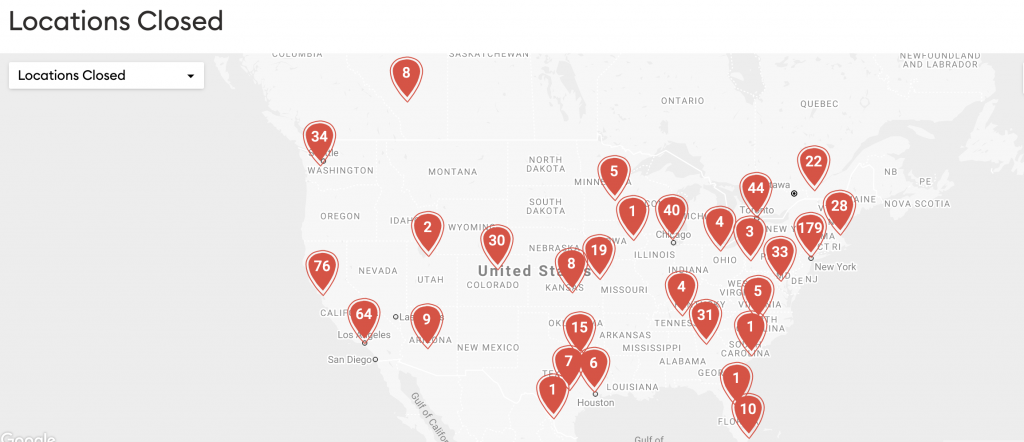 Kansas City experienced the highest closure rate of 45%, followed by Montreal, New York City, and San Francisco, where around 30% of all locations closed. Coworking closures are likely a combination of low occupancy, poor performance, social issues, and shifting epicenters of the virus.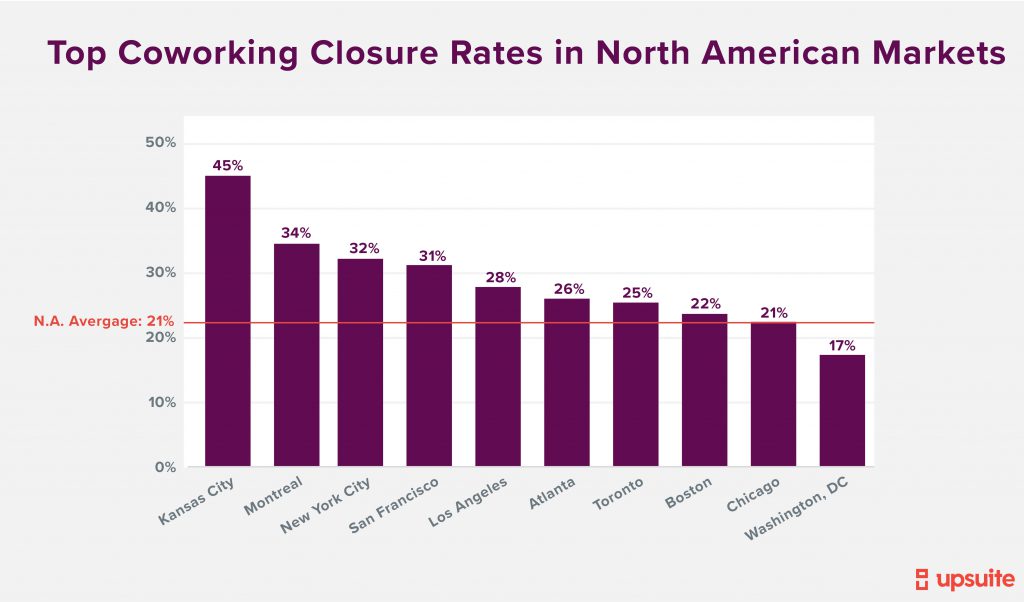 (Source: Upsuite Flex Office Pro Market Data and Insights Platform)
Coworking Closure Rates Rose Largely Above National Average in the Top 10 North American Markets:
In a reversal since Upsuite's previous report, we've learned that large cities are not immune – the opposite, in fact. Since Q4 2020, closure rates skyrocketed in the largest coworking markets, surpassing those of secondary markets. Of the top 10 North American coworking markets, New York City, San Francisco, and Los Angeles absorbed 50% of all coworking closures. These cities experienced the highest coworking closure rates, with one-third of all locations closed. The vast majority of failed locations were leased spaces; this is one large indicator that any future investment will instead need to rely on newer business models such as management agreements.
Atlanta and Toronto also saw closure rates above the national average with one-quarter of all coworking locations shuttering, whereas only 1 in 10 locations closed in Dallas Ft. Worth, and Houston. This regional difference is likely attributable to the relatively shorter shutdown in Texas, where office utilization today has returned to twice the levels as compared to New York or California.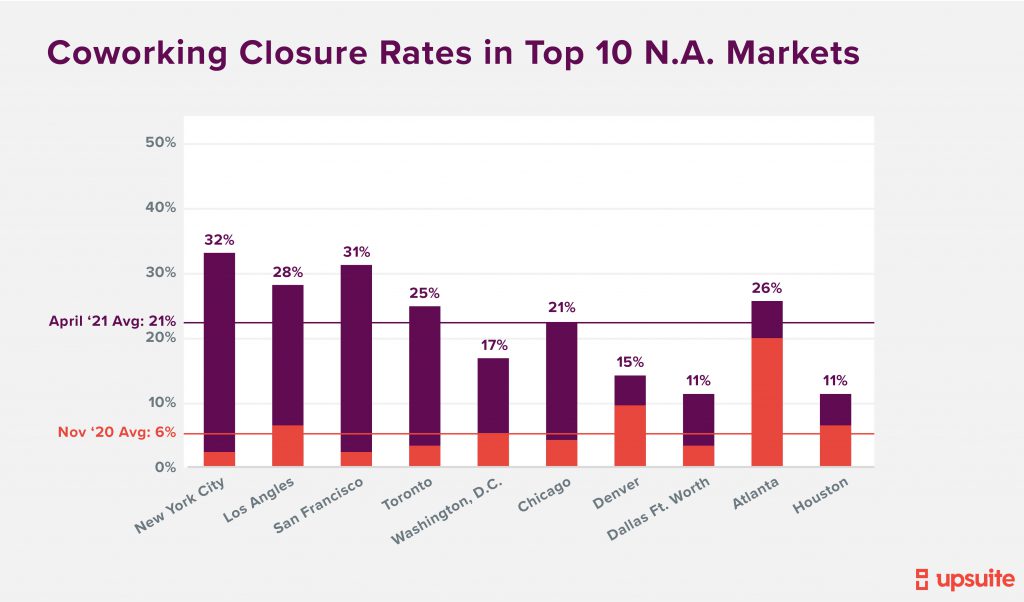 By contrast, smaller, secondary markets with healthy economies that were not on the radar of high-growth operators or are not as transit-dependent suffered fewer closures, such as Salt Lake City, Nashville, Tampa, and Vancouver. Closure rates in these cities remained at least 50% below the national average.
Coworking Spaces with Smaller Footprints Closed at Highest Rate
Closures for spaces under 5,000 square feet made up nearly two-thirds (64%) of the over 700 coworking closures. Because Breather's spaces are exclusively less than 5,000 sf, the operator dominated closures in this size class, accounting for 75% of all closed spaces under 5,000 sf.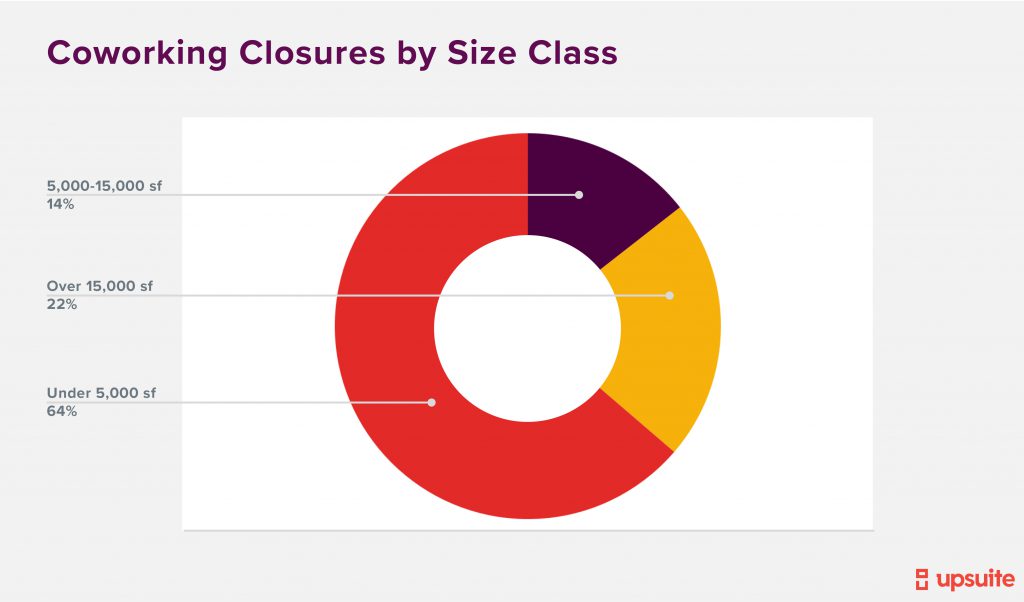 Locations under 5,000 sf made up two-thirds of all coworking closures. (Source: Upsuite Flex Office Pro Market Data and Insights Platform)
Excluding Breather, the split of closures between size classes narrows significantly, with locations over 15,000 sf emerging as 40% of all closures. This may be driven by the closure of underperforming locations of other national operators like WeWork and Serendipity labs, whose spaces are typically larger.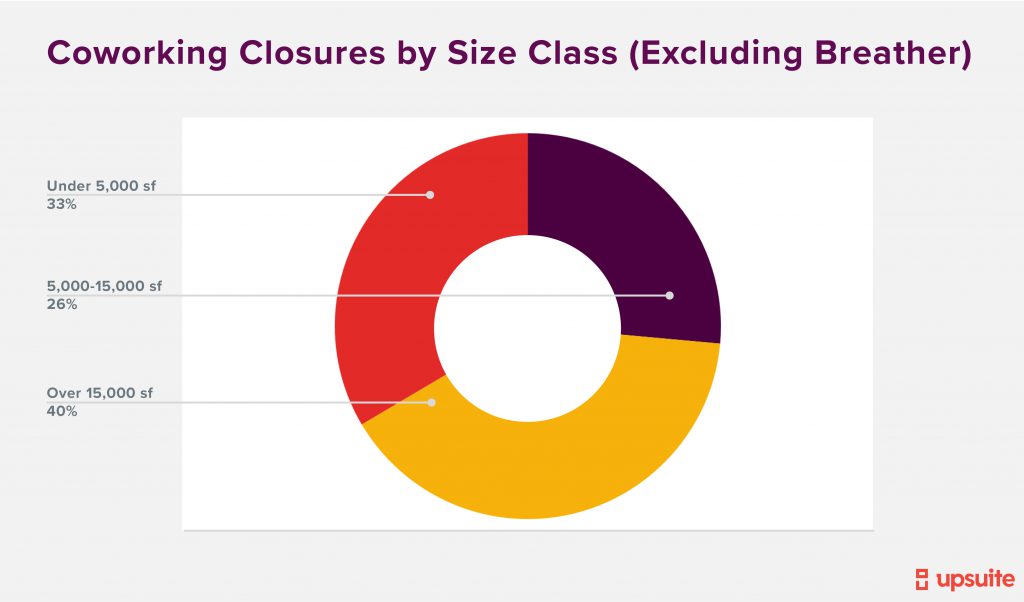 What is Next for the Industry?
Alongside this coworking culling, it is not surprising that overall demand per location in North America bottomed out in Q4 2020. The good news? Demand per location rose by 24% in Q1 2021 and Upsuite is forecasting demand in many markets to rise faster in Q2 2021. In New York City alone, demand is already up 42% from Q4 of 2020.
While we do expect a few more closures as operators continue to be incredibly cash-poor, revenue growth will likely return in Q3 and Q4 of this year. The critical question is: what kind of demand will return? The pandemic has catalyzed a workplace revolution centered on providing employee choice and flexibility. As a result, teams returning to the office will likely want to find workspaces that match these four types. Spoiler alert: private > shared.
Already, more than 70% of all 1-seat transactions at Upsuite in 2020 went to private offices, rather than dedicated desks, and team sizes are growing.
What this means for Owners and Operators:
The pandemic accelerated trends that were already in motion.  Although flexible space was hard-hit by COVID-19, its promise of pre-built offices and lease flexibility will ensure that the growing demand for agile portfolio strategy and employee mobility can fuel recovery in Q3 and Q4 of 2021. To meet demand and lead the market out of the crisis, future-proofed business models and innovative investors and owners must offset the outsized impact of vulnerable operators moving forward.
One thing is clear: the failure of some national operators has had an outsized impact on North American coworking trends. The pandemic has exposed vulnerable business models and highlighted owner- and investor-driven flexible solutions as a strong way forward. Operators like Industrious that have invested in landlord partnerships dodged heavy closures and may provide one glimpse into a more successful future. As a result, the industry expects the following shifts, which will leave a massive opening for owners and operators:
1. "Under-Flexed" Markets Present Big Opportunity
The pandemic has shown that large, saturated markets are not a safe bet. Instead, the best opportunities may present themselves next in emerging, "under-flexed" markets like Nashville, where demand has increased by 44% in Q1 2021 from Q4 2020, and inventory levels may struggle to keep up with this growth.
2. Reliance on a Single Operator is Risky for Owners
The largest number of closures came from the most well-funded operators. As an owner, putting all your eggs in one basket has shown to be incredibly risky. Coworking operators are not tech platforms; they are commercial real estate businesses subject to market forces. The pandemic has exposed this vulnerability, and the flexible space and coworking industry will need to future-proof to move forward.
3. Better Business Models are Critical
Flexibility is good for occupiers but can create risk for owners and operators. To balance this risk and reward, there will be a tremendous business model shift to management agreements, franchised owned locations, and owner-operated spaces. Coworking and flexible space must diversify and continue to innovate in order to regain momentum and sustain growth beyond the pandemic.
What this means for Occupiers
Tenants emerging from the pandemic will need pre-built offices, lease flexibility, and ever-increasing employee mobility options. The desire for smaller satellite offices driven by hub-and-spoke models to curb commutes means that occupiers expect landlords to offer flexibility as an amenity. The flexible space and coworking industry is already purpose-built for this, having taken on risks to meet these needs. It has survived the pandemic. It is here to stay. The remaining locations and operators are the strongest of the bunch and will thrive long after the pandemic.
As an investor or owner, should you build, buy or get out?
The pandemic proved that the flexible space and coworking market will not be dominated by large, well-funded players. It will continue to shift further to owners, franchisees, and small operators as the real estate industry emerge from the pandemic. This means choice for consumers and complexity for owners. Whether to invest depends entirely on your unique circumstances.
We hope that this post is helpful as you decide what to do next.  If you have questions or want to talk, please schedule a call with us to discuss your options.  We are here to help.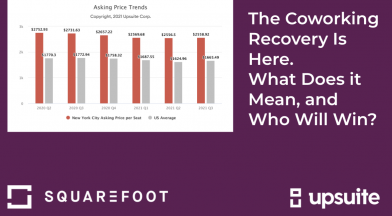 Coworking Trends: The Coworking Recovery Is Here.  What Does it Mean and Who Will Win?…