How has COVID-19 impacted Coworking Trends and the Flexible Office Market, and What's Next?
Upsuite is an on-demand network of 50,000+ private office suites and meeting spaces designed for engagement anywhere.  The company is trusted to know and execute on Coworking Trends by Occupiers such as Stride, The Motley Fool, Sharethrough, by Operators such as WeWork, Industrious, Studio by Tishman Speyer, Regus/IWG, and by CRE leaders such as JLL, Avison Young, Colliers, and more.
Upsuite's scale and reach have allowed the company to launch Flex Office Pro, a market data and insights platform that gives owners, operators, and brokers trends, forecasts, and custom data they need to win in the Flexible Office Industry.
Prior to the COVID-19 Pandemic, CRE leader JLL predicted that by 2030 the Flexible Office and Coworking industry would grow to 30% of the Office Market, from 5%.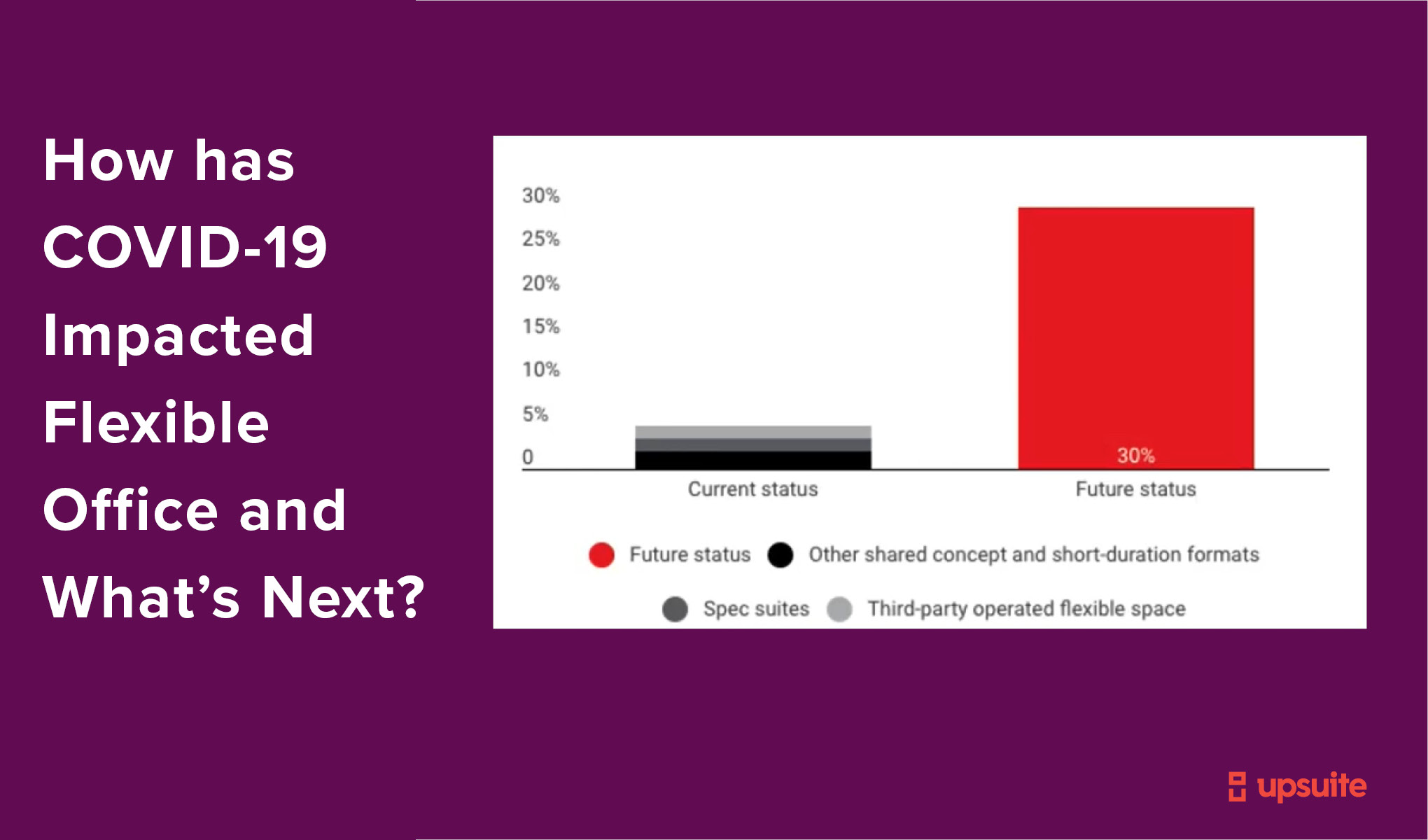 2020 and the COVID19 pandemic have catalyzed a new future of work, and the office market has been impacted in unprecedented ways. Yet while companies proved that working from home is possible, most don't intend to be 100% remote forever. Why? Because study after study suggests that the future is all about flexibility.
It's the best of both worlds: the office is still relevant, and employees maintain the right to choose. However, this shift also makes it more challenging to understand the role of the office moving forward. Luckily, the commercial real estate industry has spent the last 5-7 years investing in coworking and flexible workspace to support agile approaches. Coworking trends could hold the answer to many of the challenges posed by the post-COVID return to work.
What's next? Upsuite expects that while coworking closures likely continue the first half of 2021, the demand for flexibility will lead recovery (and growth!) as the flexible space market expands to meet the evolving needs of the world's leading workplace teams.
We presented these thoughts, and the data behind them, at Unissu RE:Connect in March. 
So what do we believe?  Read on.
Coworking Trends:  COVID-19 Has Accelerated Multiple Coworking Trends
The pandemic has shifted away from office-first culture, and with it, has upended the commercial real estate market. Coworking spaces have not been exempt from this downturn. COVID-19 has had a sobering effect on coworking trends. With over 200 closures last year alone, representing 17% of all locations, the flexible office market is now taking stock and listening to changing demand. Underperforming locations will likely continue to close into early 2021 in hardest-hit markets before demand returns. Here's how COVID-19 affected coworking trends:
1. Demand Fell Quickly, and Flexibly
Following the slew of lockdowns and office workers transitioning to remote work, demand for coworking spaces halted, and occupancy plummeted sharply. Given the short-term nature of the market, flex space was particularly vulnerable to this fluctuation, which resulted in closures quickly. Flex space has been an early indicator of the downturn effects within the larger commercial office sector, where effects have been slower to present.
2. Some Struggling Operators Closed Completely
Single-location, single market operators were particularly hard-hit by the pandemic-induced drop in demand. Many small business coworking operators were not well-capitalized to weather this storm. Even large operators like Knotel have faced real challenges, including layoffs and recently filing for bankruptcy. For these reasons, it's unlikely that closures will stop in 2021 until demand returns.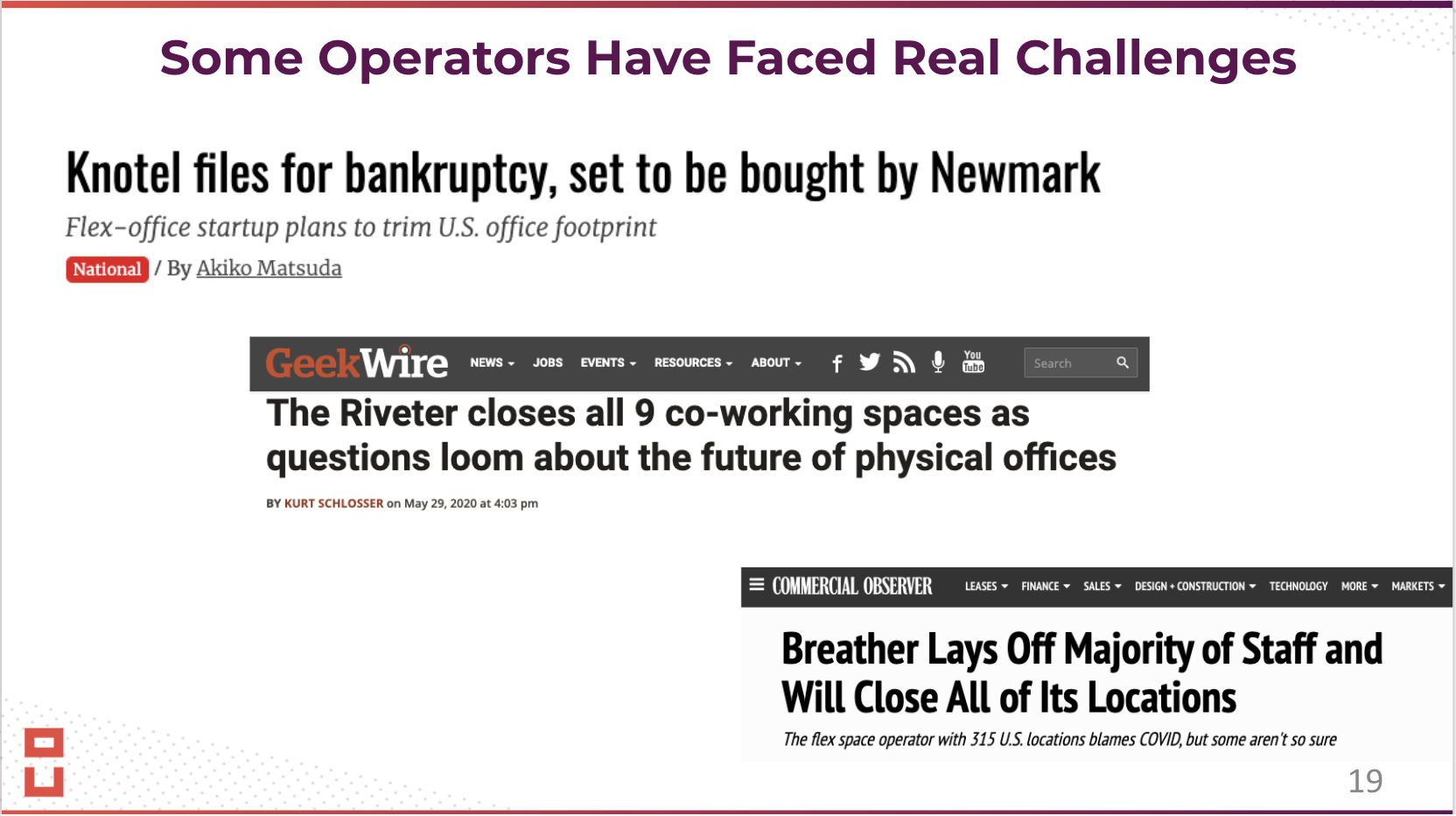 3. Select Markets are Recovering, While Others Still Struggle
Some markets have reached a turning point with demand slowly returning as companies embark on the post-COVID return to the office. Whether fueled by a change in government, easing restrictions, or vaccination campaigns, certain cities like Washington, D.C. are beginning a slow upward climb.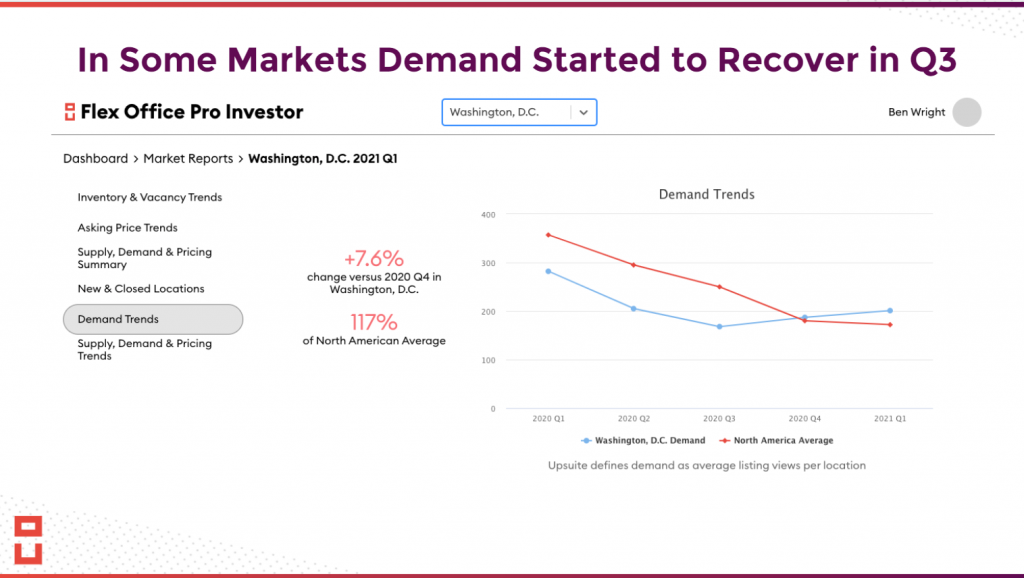 Markets hit hardest by the pandemic, like New York City, have yet to recover. Upsuite data shows trends in asking prices continue to decrease into early 2021.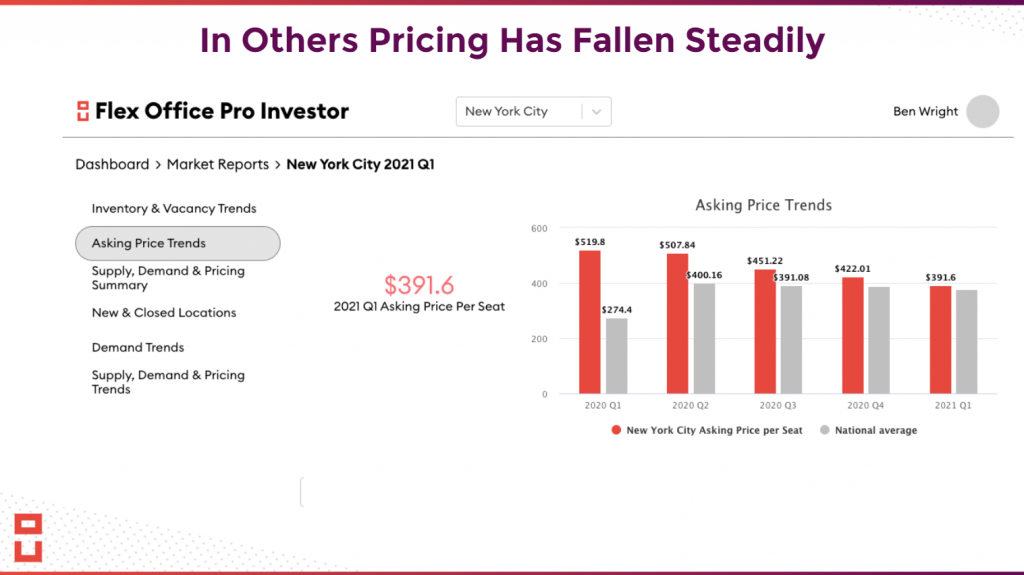 4. Downtowns Were Hit Hardest with Closures
Downtown districts have been especially hard hit by the pandemic as workers fled cities and settled into remote work.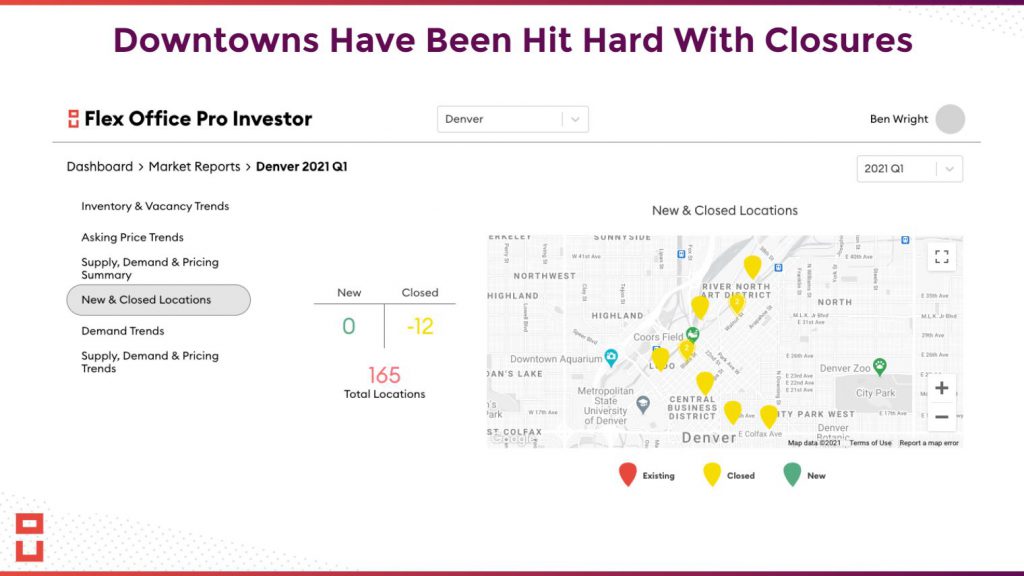 What's Next for Coworking and the Flexible Office Market?
The coworking and flexible space market is evolving its offering to flex (!) with the new needs of workplace teams. As 5% of the office market, and forecast to grow to 30% by 2030, the flexible space segment has been impacted more strongly but is also positioned to lead the office market out of the downturn. How will it get there?
The Future of the Flexible Office Market is Flexibility
Pre-pandemic forecasts for this growth were based on the rapid expansion of coworking spaces by flexible space operators. That's no longer the case. The flexible office market is going to account for 1/3 of all office space through private workspace and other enterprise-ready typologies, flexible leasing, and subleasing that will likely flood the CRE market following the pandemic. In short, flexible offerings are becoming even more flexible to keep up with changing demand. Major shifts will include:
Smaller size requirements by up to 40%
Office demand will be for smaller spaces
Agreements will be shorter
Upsuite is tracking these changes in real-time and some are already taking shape. In Q1 2020, the average flexible space seat requirement of 5 shrunk to 3 by the end of the year.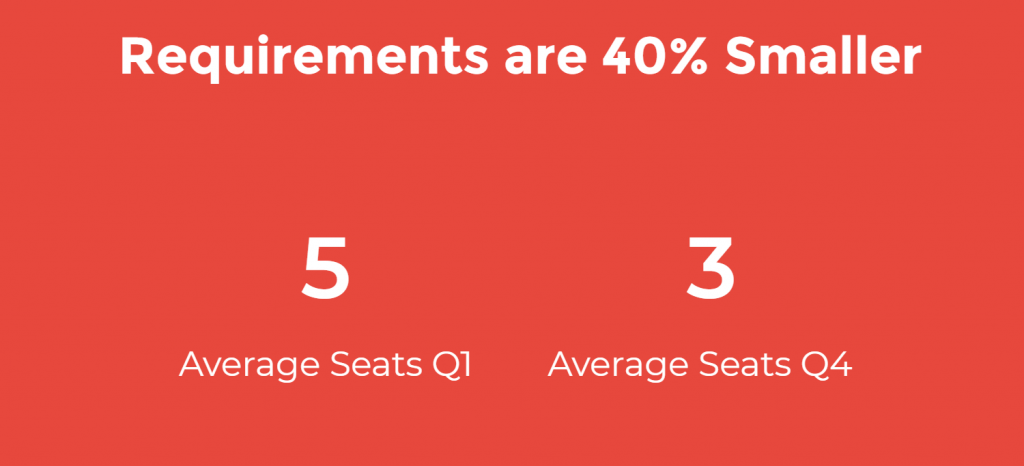 New Typologies will Evolve Coworking Trends
Previously, flexible space was synonymous with coworking. Now, the sector is expanding rapidly to include many different offerings. While coworking trends in closures will likely continue into this year, the industry is making room for new typologies. Managed service offerings will include spaces to connect, spaces for individual focus work, hubs for distributed teams, virtual offices, and enterprise-ready private workspaces. For teams that need ultimate flexibility, short-term leases and subleases will become ever more relevant. For this reason, 90% of all the closures will likely stay concentrated in the coworking product, as companies branch out into other areas of the flexible office market.
Owners could lead the "Next Normal" for Flex
The pandemic will also surface a shift in players, with innovative building owners defining a "next normal" for a flexible workspace that bypasses leases in favor of partnerships with operators or in-house management of their own flex offering. And with the number of days in the office likely to fall, real estate will have an opportunity to prove itself as the engagement tool to entice employees back to the office and provide tangible value.
Steps You Can Take as an Owner / Operator
1. Understand the Trends
Every market behaves differently, and it's a good idea to survey the landscape of trends. Is flexible office returning? If so, where and when?
2. Understand the Economics
Understand the financials behind implementing a flexible office product, and decide which type of flexible product you're optimizing for. Can your business make money with a flexible office solution? What type of product is performing well? To answer these questions and more, you can start by viewing Upsuite's data product, Flex Office Pro, here.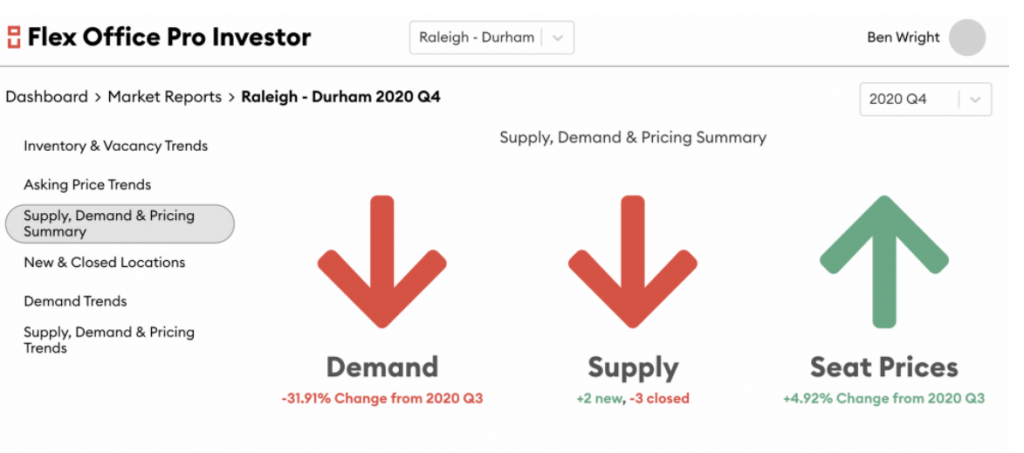 3. Decide Whether to Partner, Own or Avoid Flex All Together
Meet with an advisor. Leaders today are faced with unprecedented questions and uncertainty. Doing the research or talking to a specialist can help you make the right decision that aligns with your operational and business goals. Upsuite's team of experts is always available to support your decision-making process and guide the conversation.
What is Next for Upsuite and Flex Office Pro?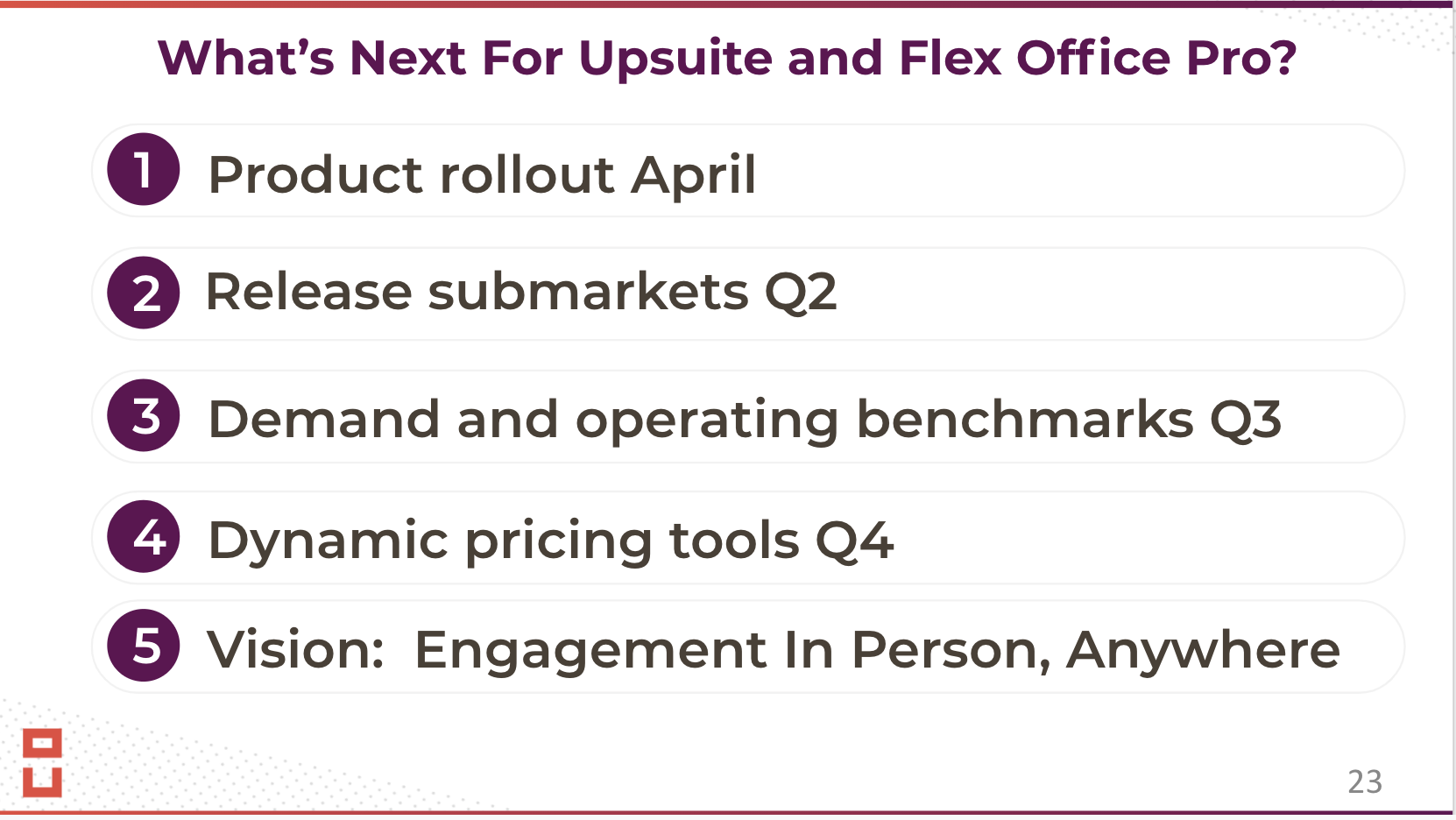 We hope that this post is helpful as you decide what to do next.  If you have questions or want to talk, please schedule a call with us to discuss your options.  We are here to help.