One year after much of the U.S. entered coronavirus-lockdowns, the commercial real estate industry is in the middle of a workplace revolution. Employee choice, flexibility, safety, and wellness are priorities driving the conversation about the future of work today and the search to find workspace. The good news? The office isn't dead. But it is changing (hint: it's becoming more flexible!).
Demand is increasing in the flexible workspace sector as companies are looking for solutions to support their employees and find flexible workspace outside of HQ. While many building owners have sprinted for years to implement flex in their building portfolios, this newest trend comes with a twist. Innovative building owners are defining a "new normal" for a flexible workspace that bypasses leases in favor of partnerships or in-house management of their own flexible workspace. Oxford Properties, WashReit, Savitt Partners, and EQ Office are four buildings owners leading this charge to future-proof their offering and empower their tenants.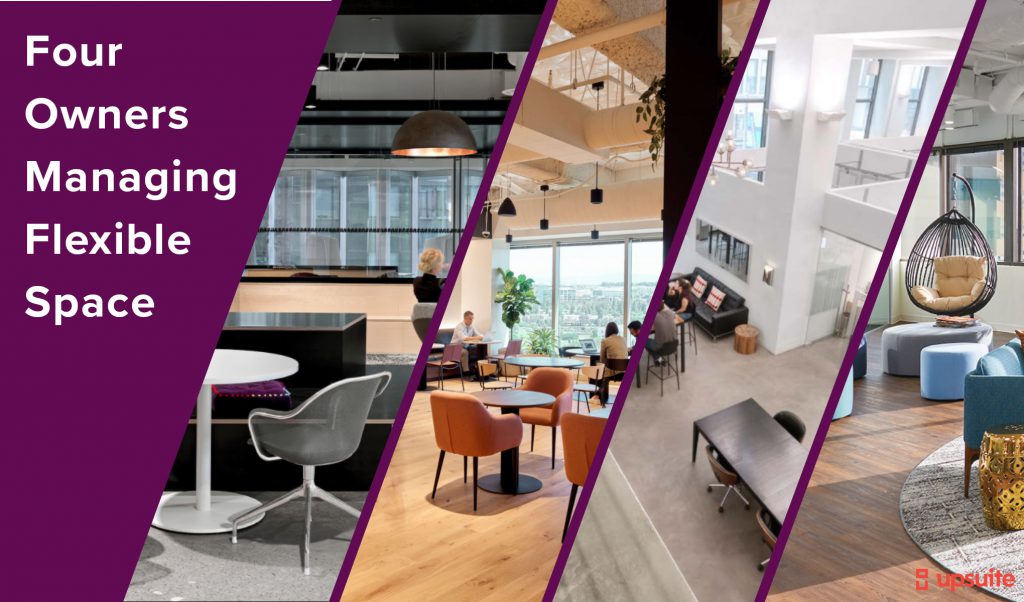 What is private flexible workspace?
Following the global work from home experiment, the definition of work has expanded, the future of the office is evolving, and companies are demanding workspace on a spectrum. Today's flexible workspace isn't coworking. As the office reemerges from the pandemic as more human, the definition of flexible workspace has expanded to include four additional workspace types to meet the evolving needs of teams post-coronavirus. Enterprise companies are increasingly making the decision to find workspace in the form of hubs, connect spaces, and spaces reserved for individual focus-work to support employees without sacrificing privacy and security. Today's flexible workspace demand is accelerated by the pandemic and focused on private, flexible workspace. This flexible, private workspace is typically designed for teams of 8 or more, sized between 2,000 and 5,000 sf, and includes many of the following amenities:
1G Wi-fi
Dedicated entrance
Cleaning services
Furnished
Conference rooms within the private workspace
Available on 12 month terms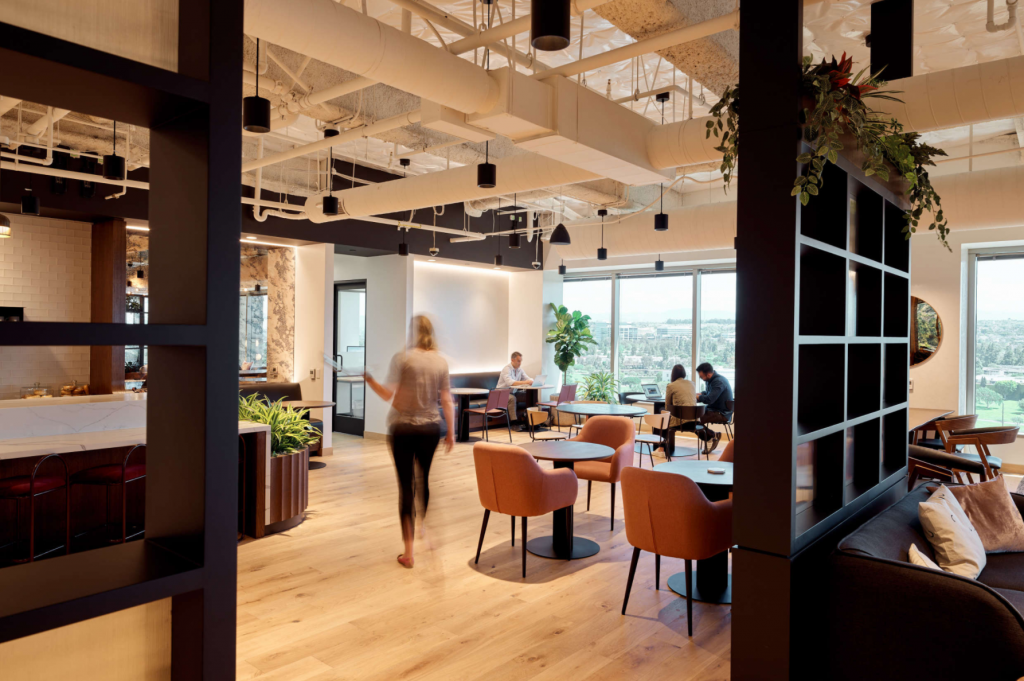 These Four Owners are doing the best job of providing workspaces that will drive the "new normal"
For owners, the pandemic has accelerated the sprint to incorporate flexible workspace in building offerings, or else risk irrelevancy. However, this new wave is approaching flexible workspace differently. Rather than leasing to flexible operators, owners are increasingly focused on establishing strong partnerships with operators or bringing management of flexible workspace in-house. While workplace teams are busy defining the future of work, owners are future-proofing their portfolios to meet this demand in a smart, sustainable way. Four owners, in particular, are pioneering flexible workspace solutions, from campuses to suburbia, that allow companies to find workspace that supports the diverse needs of their workforce.
1.
Oxford Properties, "Districts on 10"
Shared amenities and an innovative design.
Oxford Properties group us a Canadian multinational real estate owner with over 150 million sf of office, industrial, retail, and other under management. It recently conducted a design competition for the creation of four sets of working "districts" to accommodate the evolving needs of an urban workforce. Oxford Properties launched this initiative to meet the rapidly-changing demand for non-traditional workspaces. District on 10 is located in one of Oxford's flagship office towers in Toronto's financial district, and offers tenants both a sense of community, and an opportunity to find workspace that is private to grow their organization.
Location: Toronto
Size: 1,900 sf
Tenant Types: Urban
Features: Brainstorm spaces, open scrum/meeting zones, a "business district", mini park, and cultural hubs
Shared Amenities: eating areas, lounge areas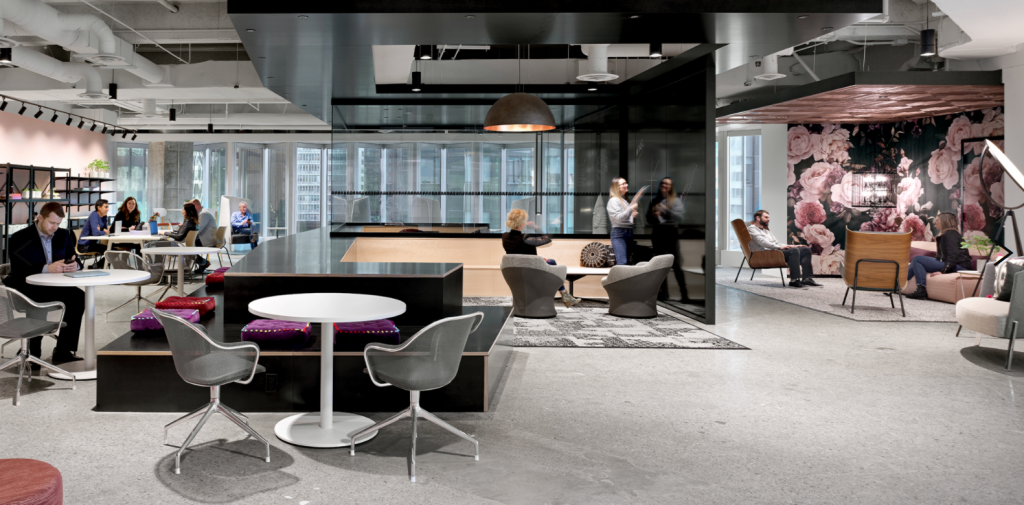 2. WashReit, Space+
One of the earliest innovators.
WashReit real estate company owns and operates real estate assets in the DC and Virginia area. Space+ is WashReit's answer to increasing flexible workspace demand, particularly in government contracting, and was created to cater to companies who are making decisions on a more compressed timeframe. Since the initial launch of this private, flexible workspace offering in 2018, Space+ has attracted a wider range of industries, including tech and private firms, who are in need of space for new programs and initiatives. WashReit offers tenants short move-in times, and flexible short- and long-term leases from 30 days to 10 years with all-in pricing. Tenants who chose to find workspace at Space+ also have opportunities for signage and artwork to brand the pre-designed, furnished space.
Location: DC, Virginia
Size: 600-6,000 sf
Tenant Types: Government contractors, private sector, technology
Features: Furnished, call booths, Wi-fi, private kitchens, coffee service, meeting rooms
Shared Amenities: healthy space protocols, onsite gym, rooftop, bike racks, onsite cafe, parking
"Companies are in a hurry these days and need a lot of flexibility. All companies are making decisions on a more compressed timeframe." – Anthony Chang, WashREIT vice president of asset management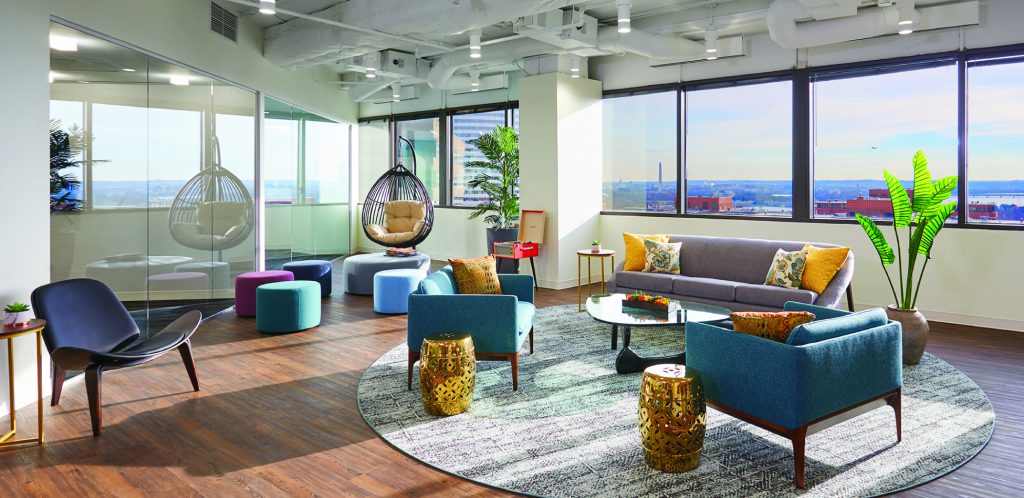 Savitt Partners, 530 7th Ave
A full-service building of flexible workspace.
Savitt Partners repositioned its 1929 building at 530 7th Ave as fully flexible workspace to attract innovative brands and creative companies seeking unique office and showroom space. Members enjoy access to Space 530, which offers additional shared meeting and coworking space, and the Skylark, Savitt's year-round rooftop bar. Space530 is fully equipped with private meeting space rentable by the hour, day or week, with instant online booking. Savitt supports its tenants with a full-service offering, and growth to larger spaces within the buildings are easily managed.
Location: New York City, NY
Size: 2-25 people
Tenant Types: Government contractors, private sector, technology
Features: Furnished, call booths, Wi-fi, private kitchens, coffee service, meeting rooms
Shared Amenities: The Skylark, Space 530, rooftop bar, shared meeting space, onsite physical therapist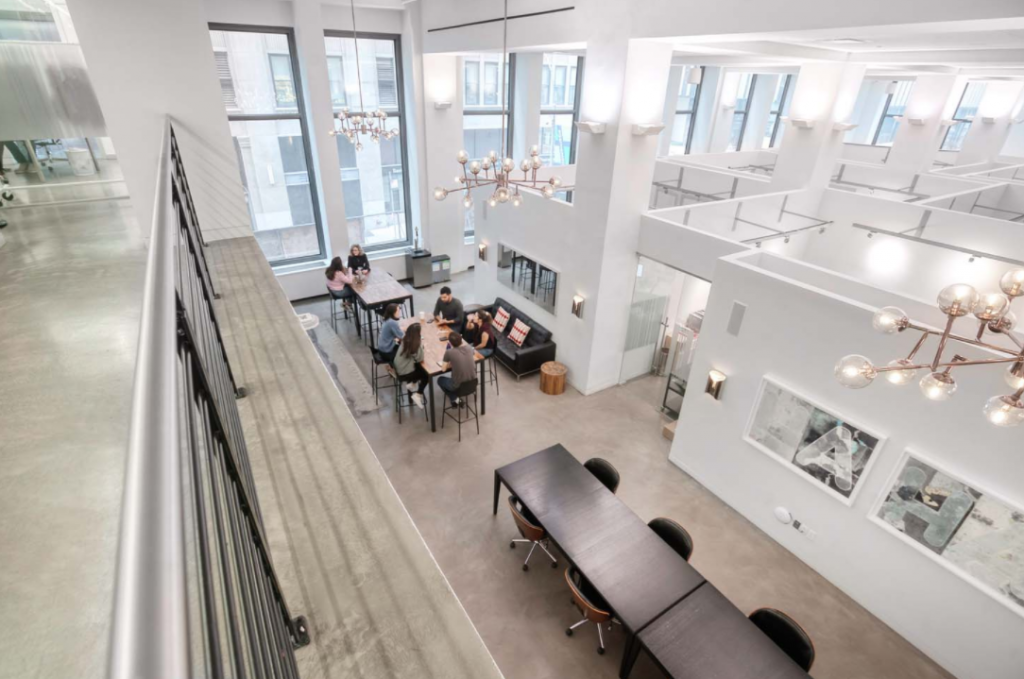 EQ Office Playa District
Shared workspace campus
EQ Office manages Playa District, the first 1 million sf flexible workspace campus located in "Silicon Beach," the technology and entertainment district of Los Angeles. This cultural and business hub provides culture, wellness and and flexible, move-in ready leasing options to companies of all stages and industries. Playa District gives tenants access to experiences and amenities usually reserved for large enterprise. To manage tenant experience and operate the flexible workspace offering, EQ Office partnered with Industrious. The campus features a series of collaboration, conferencing and amenity experiences that support over 100,000 sf of flexible-term, private workspaces for teams of 1-200 people.
Location: Los Angeles, CA
Size: 1-200 people
Tenant Types: Urban
Features: Furnished, Wi-fi, meeting rooms, event programming
Shared Amenities: Fitness facilities, onsite concierge, dog-friendly, wi-fi outdoor spaces, farmers market, food trucks, cafes
"EQ is delivering the country's first true shared workplace campus, which gives tenants access to the experiences and amenities usually reserved for employees at places like Google or Apple's global headquarters." – Jamie Hodari, CEO and co-founder of Industrious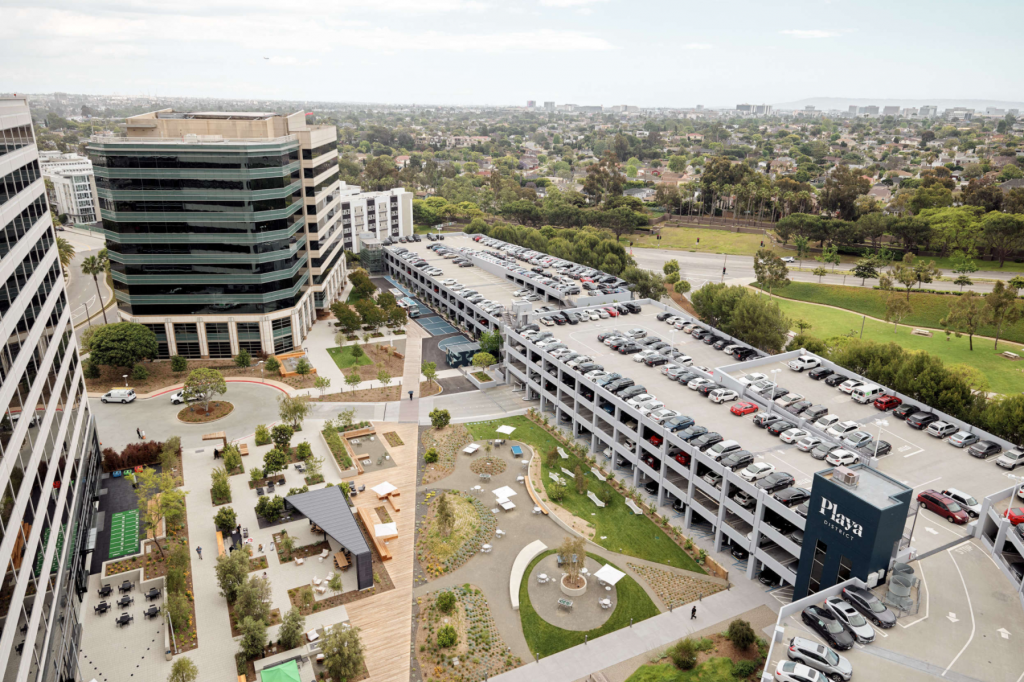 Steps You can Take as a Leader
It's worth considering how your employee needs are changing the nature of workplace. When space is not a given, turning to innovative building owners to find workspace could be a viable solution. To understand where to start:
Reimagine your portfolio to meet these needs
Consider benefits, not features
Don't Assume One-Size fit All
As a team leader or real estate decision-maker, there are some steps you can take to find the right policy for your company.
1. Talk to your team
Every individual is different, and it's a good idea to survey the particular needs of your specific workforce. Understand how often and who on your team needs space to connect. Going forward, remote work will most certainly be a larger component of employee policies, but it may not be the sole work mode when teams have a choice again.
2. Understand Your Workspace Options
Understand your options to find workspace, and decide what outcome you're optimizing before you source space. The market of available spaces covers a spectrum of private workspace options ranging in flexibility, services, and cost to fit diverse needs. You can start by viewing a map of private workspaces here.

3. Consult an Expert
Meet with an advisor. Leaders today are faced with unprecedented questions and uncertainty. Doing the research or talking to a specialist can help you make the right decision that aligns with your operational and business goals. Upsuite's team of experts is always available to support your decision-making process and guide the conversation.
We hope that this post is helpful as you decide what to do next.  If you have questions or want to talk, please schedule a call with us to discuss your options.  We are here to help.