The coronavirus pandemic has accelerated the adoption of new ways of working and is expanding office optionality. With more than half of all employers offering remote work options, the lessons learned from this global remote-experiment are now being used to reimagine how work is done, and the role that the office should play. The types of offices available in the future will address the varying needs of different sizes of organizations and specific teams. Upsuite recently conducted its own Work From Anywhere study with its customers and found four important themes that will drive the decision to find workspace post-pandemic: commute, culture, collaboration, and work-life balance.
The office is not "dead", as many were quick to proclaim in the early months of the pandemic. Instead, the future of the office has expanded to accommodate flexibility and choice as employees vote with their feet going forward. We analyzed hundreds of listings on Upsuite's platform. Given what we know about the changing role of the office, there are likely four distinct workspace types that will meet the evolving needs of teams to find workspace post-coronavirus: "hubs", "connect" spaces, "go" spaces, and virtual offices.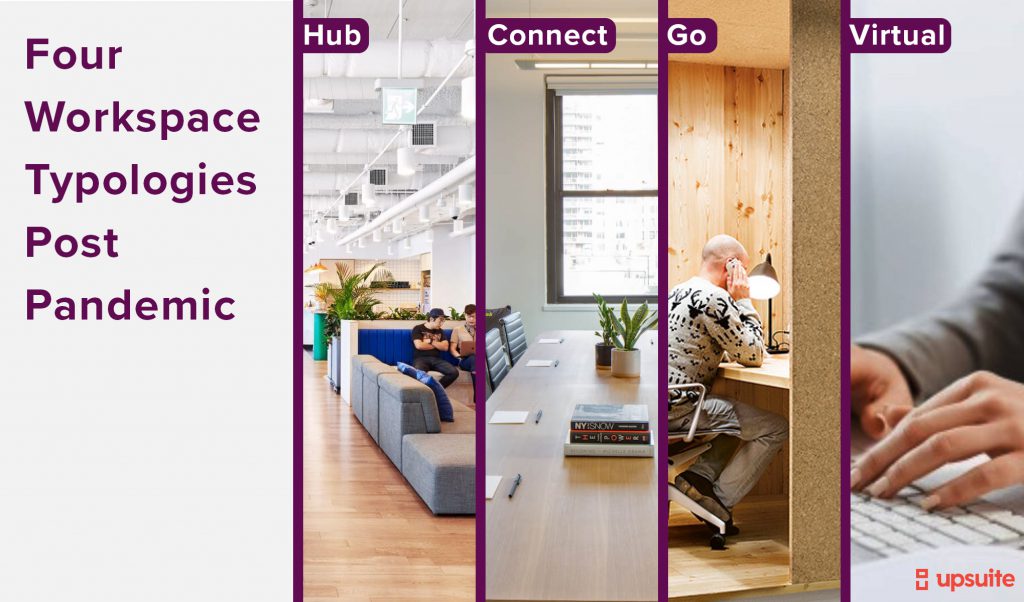 Manager and Team Criteria to Find Workspace Prioritizes Collaboration
The conventional wisdom pre-pandemic was that offices are critical for productivity, culture, and talent acquisition. Companies focused on major urban hubs, and solutions to drive collaboration through densification, consolidation, and open-office. However, recent surveys have found that productivity levels actually held steady for a majority of teams during remote work. Many companies have also taken advantage of hiring without geographic constraints to find the best available talent. The pandemic has challenged and disproven, a slew of assumptions about the traditional office. What, then, is the role of the office of the future? Upsuite recently conducted its own Work From Anywhere survey with its customers, and found that there are four major items managers and teams agree they need to find workspace:
A Short Commute
Culture/Connection
Collaboration/Innovation
Boundaries/Respite from working from home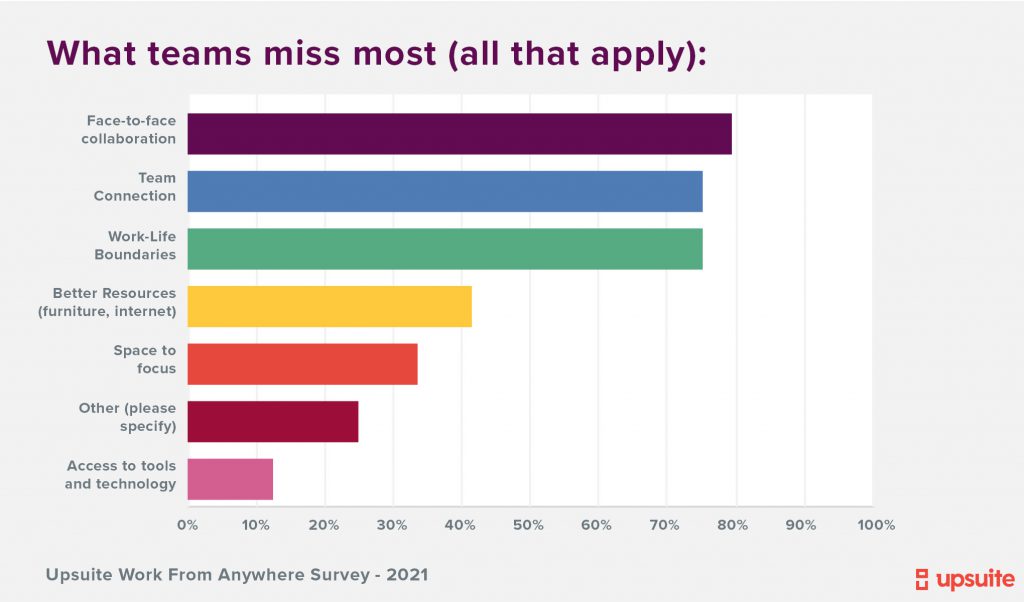 The Four Types of Workspaces of the Future
The changing role of workspace post-COVID-19 raises a critical question. How can workspaces position themselves to catch this influx of demand? The answer is optionality – not every type of office will fulfill every type of need, and that's ok.
"The office will become more of a consumer product. And just like every consumer product, the office will have to continually fight for its customers and meet their needs. – Dror Poleg, NYT
Landlords and operators will want to understand where their offering falls on the spectrum, and lean into the appropriate customer segment. Offices will need spaces for specific functions and will focus on the individuals and team needs in a new era of worker choice. The future of office will likely be a range of spaces that address themes along this spectrum, and fall into four major categories:
1. "Hubs"
Urban hubs are a modern version of a headquarters. While many companies have announced permanent flexible work policies, enterprises are unlikely to divest from physical workspace altogether. Instead, many are experimenting with hybrid office strategies to find a workspace that gives employees choices. Companies like Dropbox recently announced a shift to "Studios," regional hubs that ensure a fair and consistent employee experience, specifically around collaboration and community-building. Unlike traditional headquarters, they could be a mixture of long-term or shorter-term leases. As companies embrace a distributed model, hubs help drive innovation, a heavy casualty of remote work. Some employees may only use these spaces a few times per week, or even per year, and for this reason, HQ's will likely shrink over time as companies become increasingly distributed.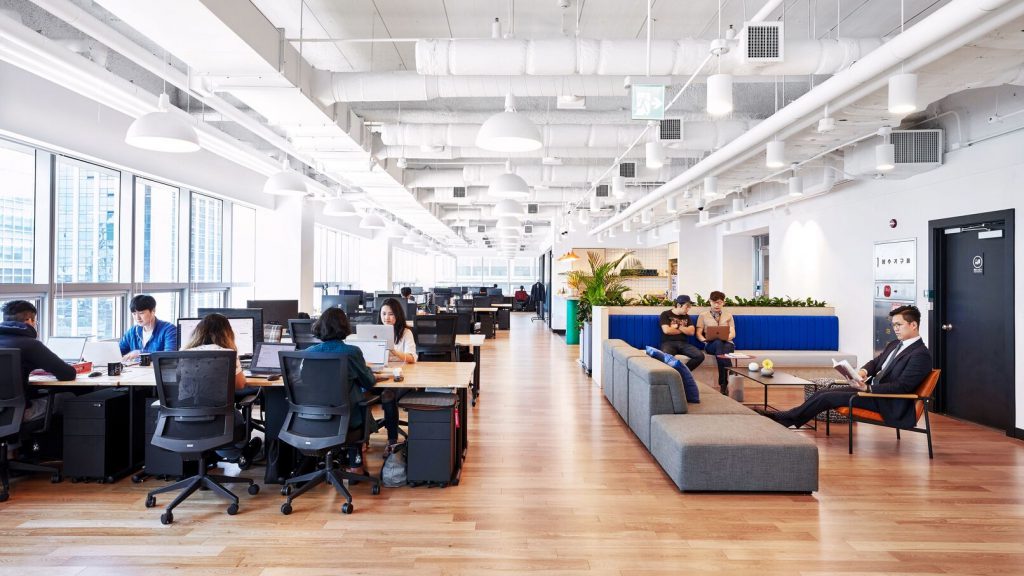 2. "Connect" Spaces
Maintaining the "teaminess" of teams is a difficult task particularly in the aftermath of layoffs and staffing changes in 2020. Many teams are running on relationships built pre-pandemic, and new members onboarded remotely can find it more difficult to foster the same kinds of connections. "Connect" spaces are the modern version of the regional office, which allows for team members to connect with one another and collaborate face-to-face a few days a week. These could be part-time or on-demand demand spaces that are located in downtowns or larger suburbs where multiple employees of the same team are clustered.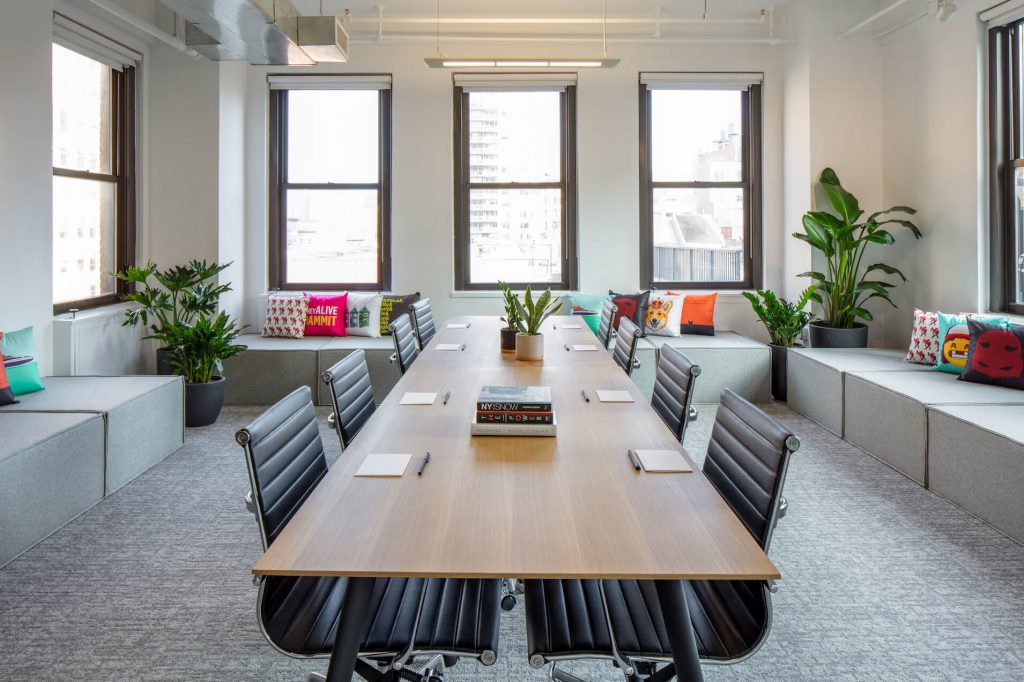 3. "Go" Spaces
Where hubs and "connect" spaces aim to foster collaboration, "Go" spaces are intended to support individual focus work. The blurring of work-life balance during the pandemic has sparked a strong desire for boundaries and a respite from working from home for many workers (one of the four themes above!). These spaces are likely running on membership-driven models. "Go" spaces present an out-of-home alternative for individual team members or solo entrepreneurs. They may be located in urban or suburban areas and may be used from a few times a month, to a few times a week.

4. Virtual Offices
Virtual offices cover office management needs. They are a place to have a physical address, receive mail, and meet customers or staff in a professional environment on an as-needed basis. Virtual offices typically cost $50-$150 per month, depending on conference room usage, and allow small companies and solo entrepreneurs to have a professional office without spending significant money to rent.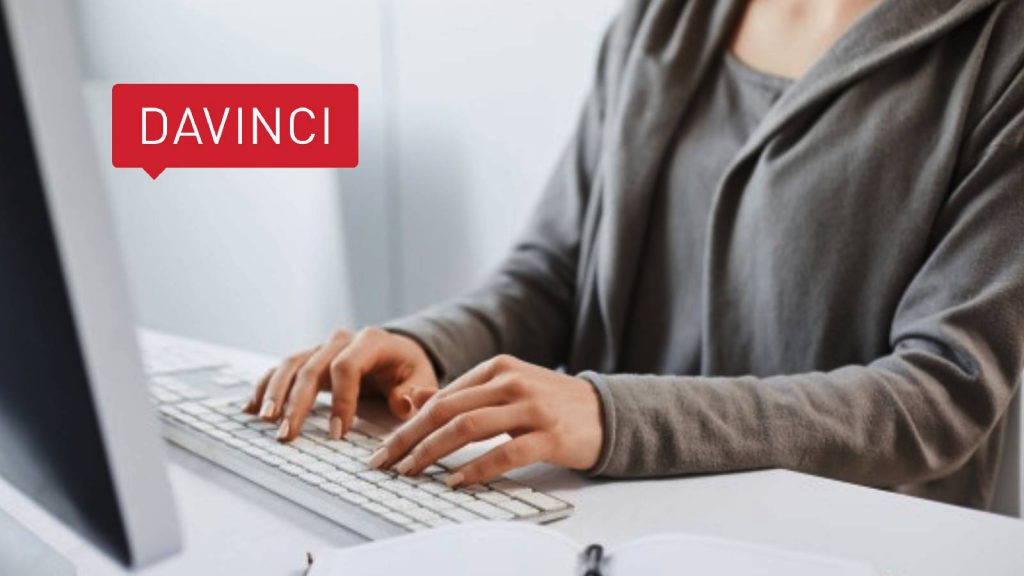 Who Will Need to Find Workspace Post-Pandemic?
Employee engagement/morale and workspace concerns have been two of the top challenges faced by leaders throughout the pandemic. As companies grapple with the "new normal," many are making the decision to find a workspace that can better support their teams. Predictably, the right solution varies by team and company size. Enterprise and mid-size companies need to drive connection between members of their large workforce; small businesses and entrepreneurs need flexibility, low capital outlay, and access to services. Common themes throughout are decentralization, flexibility, and risk management.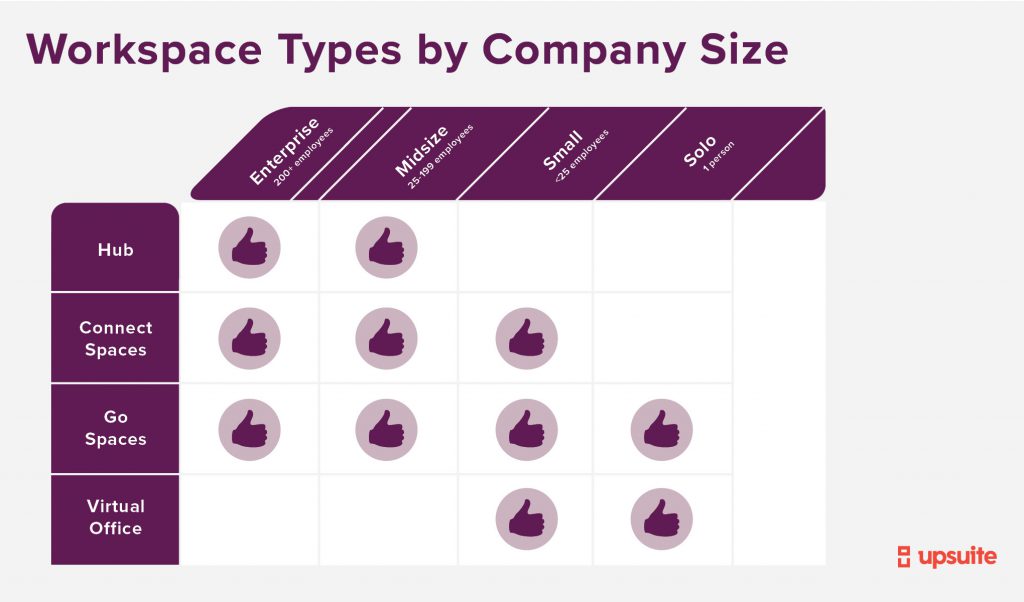 Enterprises
Historically, enterprises (over 200 employees) have been the largest users of Hub and HQ spaces and will continue to do so. However, due to a variety of needs that we discussed in our previous article here, including the management of complex IT requirements, and the need for a standardized employee experience, large enterprises will begin to find a workspace to replace regional offices, taking advantage of flexible, part-time "Connect" spaces. In addition, many large companies have already started to provide "Go" spaces to their remote workers to promote flexibility and choice.
Midsize Companies
Midsize companies (between 25 and 199 employees) have typically operated out of a single, central "hub" office, and a few regional satellite offices as-needed. They will likely continue to hold onto HQ and hub spaces, but may downsize them, or renew on shorter terms. Midsize companies will be much more willing to adopt flexible "Connect" spaces in multiple markets, offering "Go" spaces to their remote workforce alongside.
Small Business
Small companies (less than 25 employees) may move away from Hubs or HQs to manage overhead, opting instead for "Connect" spaces that allow for location and schedule flexibility. Like enterprise and midsize companies, small businesses will also offer "Go" spaces to their staff for remote work usage. In addition, they could make increasing use of Virtual Offices to outsource and centralize office services, such as mail handling, copying/printing, and conference room space.
Solo Entrepreneurs
Solo entrepreneurs (1 person) will utilize "Go" spaces that give an alternative to working from home, with superior amenities, ergonomics, and a community feel. They will also make use of Virtual Offices to provide centralized services such as mail handling, copying/printing, and meeting rooms.
Who Will Provide the Workspace of the Future?
For real estate owners and operators, this transformation of workspaces post COVID-19 represents a need to reposition their offerings to meet the shift in market demand. Many companies are resizing their footprint creatively, and there is a very real possibility that commercial real estate is overbuilt. Increasing competition will challenge workspace providers to listen to their customers, and tailor (and branding) experiences to relevant market segments. While landlords and brokers are currently positioned to cater to "hub" and "connect" space demand, flexible space and coworking operators have a strong foundation to meet the demand to find workspace on-demand with managed services and flexible terms for teams of all sizes.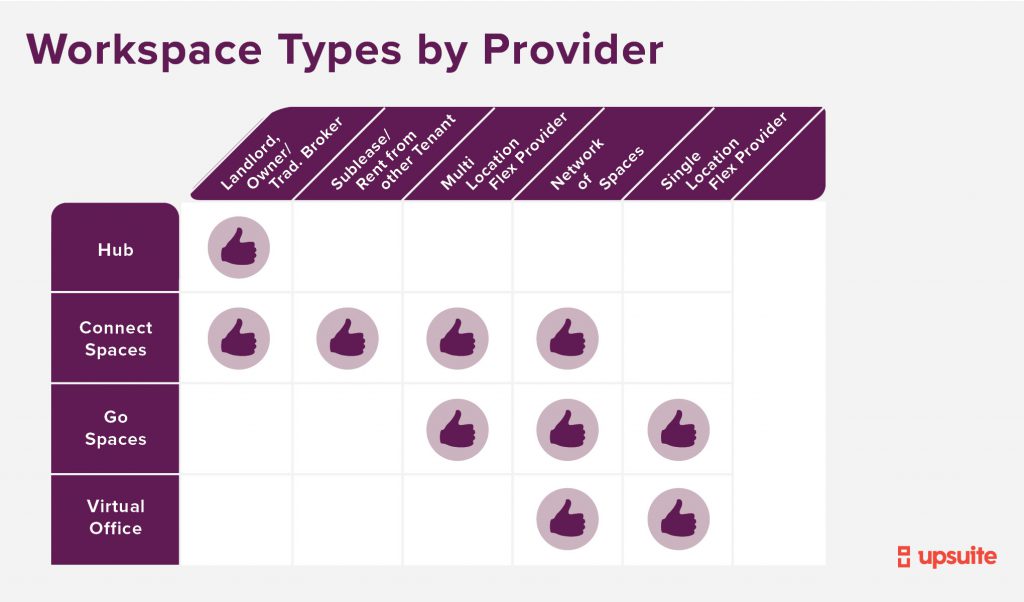 Landlords / CRE Brokers
Landlords and commercial real estate brokers will continue to provide Hub spaces to Enterprise. All parties involved are already optimized for this offering today. However, traditional office space may scramble to compete for the new "Connect" market. Neither landlords nor brokers have offered this as a core product before, and while some will success, others may fall short.
Sublease Market
Renting from other tenants has already become a large part of the "Connect" market as a result of the mass office exodus during 2020. Subleases have flooded the market, competing with new builds and longer-term leases. By nature, "Connect" spaces are short-term, and even part-time, making this market a good fit to offer the "Connect" product, as long as the sublessor (tenant) is comfortable offering flexibility to their sublessee (subtenant).
Multi-Location Flexible Operators
Multi-location flexible office and coworking operators are well-positioned to offer "Connect" spaces for teams of 5 to 100, as well as "Go" spaces for companies of all sizes in the markets they operate in. Unlike the subleasing market, these providers are also able to streamline the experience across markets, for companies that may need a network of "Connect" spaces for their distributed workforce.
Networks of Spaces
Networks of spaces like Upsuite will play an increasing role in offering "Connect," "Go," and Virtual Offices to small companies and solo entrepreneurs. User-friendly online experiences and an aggregate network of multiple providers offer a greater choice of location, up to 10x the options of single multi-location flexible office providers, efficiency in selection and procurement of spaces, and can offer preferred rates.
Single-Location Flexible Operators
Single-location flexible office and coworking operators are able to offer "Go" and virtual offices to small companies and solo entrepreneurs interested in their specific location. They will continue to optimize around low cost and flexible terms to meet this market need, and may join networks of spaces to reach a larger potential tenant base.
The Future of the Office is Optionality
Whether enterprise or small business, the pandemic has highlighted a shift in how employees want use the office. Companies investing in the future of their workforce are working to understand the diverse needs of their workers, and are making the decision to find workspace that supports freedom of choice and empowers those needs which have failed to be meet by remote work: connection, collaboration, and innovation. Workspace is quickly self-segregating into a spectrum of typologies in response to shifting market demand, and the four types of workspaces that are emerging will cater to the variation in company types, sizes, and business needs. While larger enterprises may continue to rely on hubs and "connect" spaces, small companies will seize the opportunity to outsource "office" to flexible operators that align with their brands and needs. And while some teams or solo entrepreneurs may continue to be satisfied with a single workspace typology, large enterprise will likely invest in a few, or all, workspace types to future-proof their employee experience.
As leaders decide which type of workspace will meet the changing needs of their company, there are a number of available resources to aid in the decision-making process.
We hope that this post is helpful as you decide what to do next.  If you have questions or want to talk, please schedule a call with us to discuss your options.  We are here to help.