Real estate experts have estimated that as many as 1 in 5 U.S. coworking locations, totaling an estimated 25M square feet, will close or change hands as a result of the Coronavirus pandemic.  With a vaccine announced this week, it appears that North America has passed the midpoint of the pandemic induced shutdowns.
The pandemic has gone on long enough to prompt historic changes in the commercial real estate market, and as one of the most dynamic sectors in commercial real estate, coworking operators are being tested, and speculation is widespread.
But what has happened, and what does it mean?  To further these discussions, Upsuite has collected the largest database of detailed coworking operator data, including the definitive listing of coworking space closures.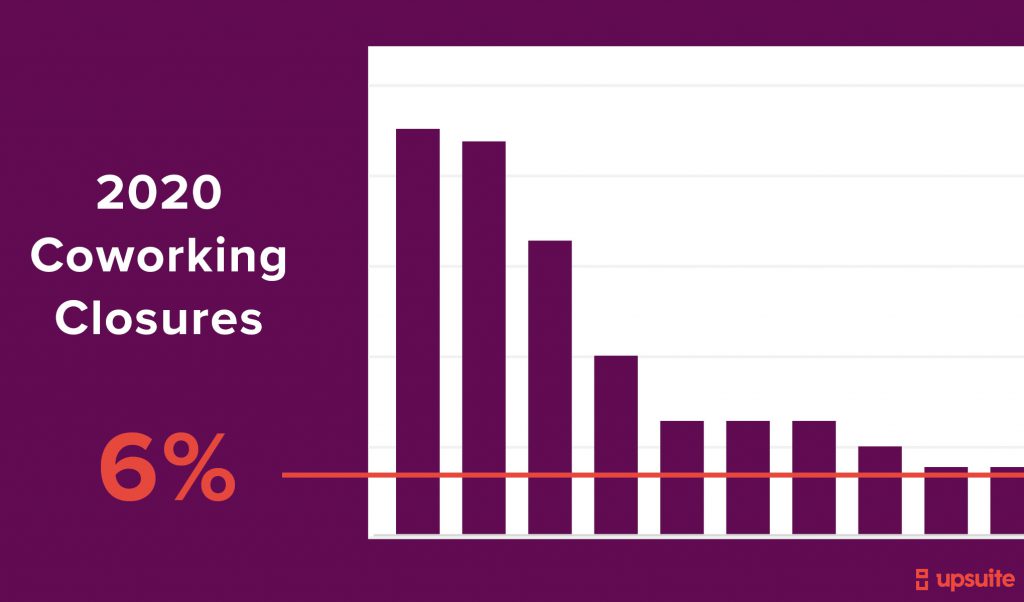 In 2020, Coworking Locations Totaling More than 20,000 Seats Have Been Permanently Closed
Like the rest of the commercial office market, coworking operators are being tested by low utilization as companies look to cut costs, and as staff works from home.  During 2020, in the top 30 North American Cities, 226 coworking locations have permanently closed. This represents more than 20,000 seats that are no longer available and a reduction of just under 6% of the 4,000 coworking locations that Upsuite tracks.
Coworking Space Closures Have Hit Secondary Markets Harder Than The Largest Cities
Of the cities that Upsuite tracks, 14 cities are experiencing closure rates above the national average. Many of these cities represent secondary markets. Kansas City (45% closure rate) and Portland (43% closure rate), top the list with the highest closure rates. Nearly half of all coworking locations there closed through the pandemic. Edmonton, Alberta, and Atlanta follow close behind, with closure rates of 33% and 20% respectively. While some of these high closure rates reflect the disproportionate impact of a handful of coworking space closures in coworking markets with few locations, others warrant a closer look.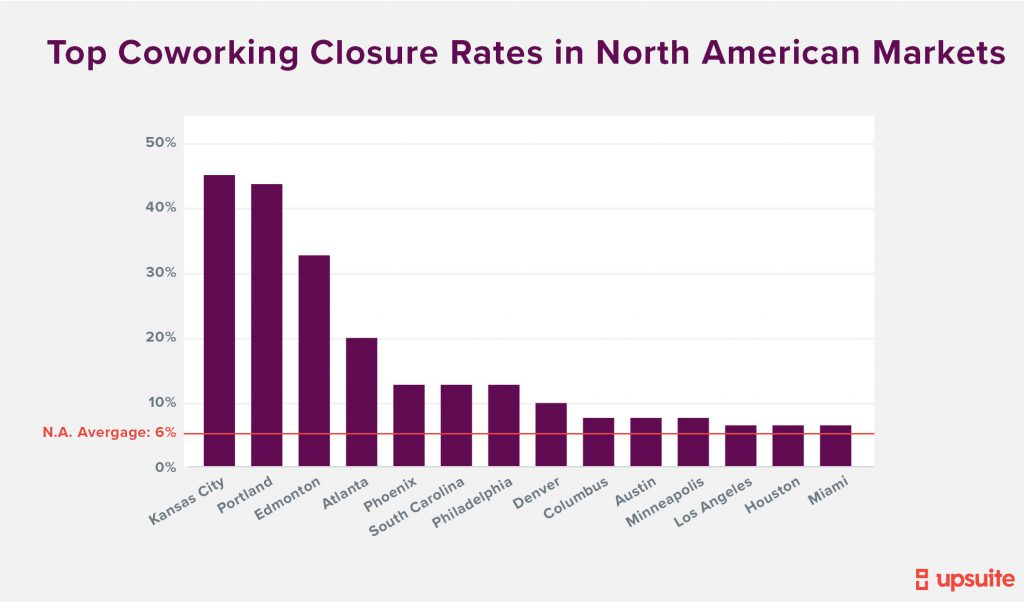 We previously reported on the difference in recovery between primary and secondary coworking markets through the pandemic.  High closure rates in Kansas City, Portland, Phoenix, South Carolina, and particularly Denver, a sizeable coworking market, could be related to this uneven recovery in coworking demand in secondary markets, where companies may be leaning further into the remote work from home lifestyle. In addition, cities like Portland saw a lot of civil unrest during the summer and fall, which may have impacted its coworking industry downtown. Closures are likely a combination of low occupancy, poor performance, social issues, and shifting epicenters of the virus.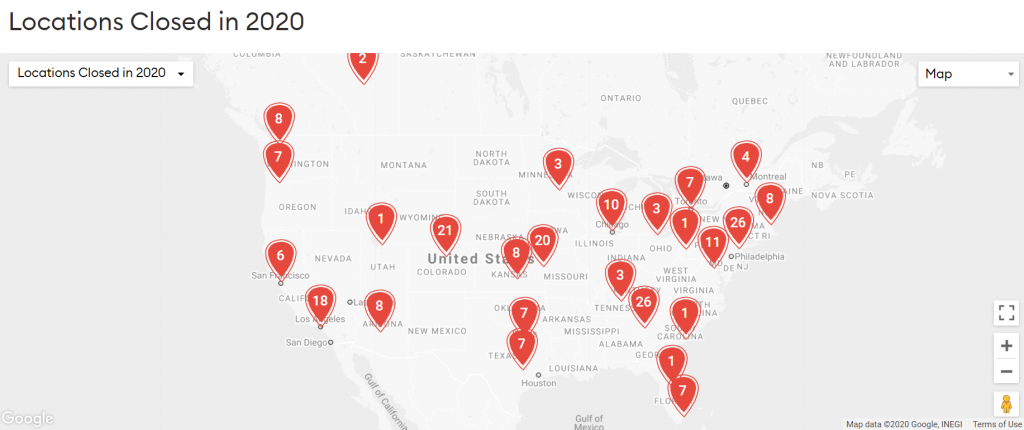 More Coworking Space Closures in Urban than Suburban Locations
While coworking closures varied market to market, one trend cross-cut all markets:  Two-thirds of all coworking space closures took place in urban locations. Though there are certainly more urban coworking spaces than suburban, suburban spaces appeal to solo entrepreneurs and not teams, which felt safer, more private, and more appealing during the pandemic to many.  In fact, largely suburban operators like Office Evolution fared better than most.  There is also speculation that the shift to the suburbs will continue in the coming years, following demographic trends.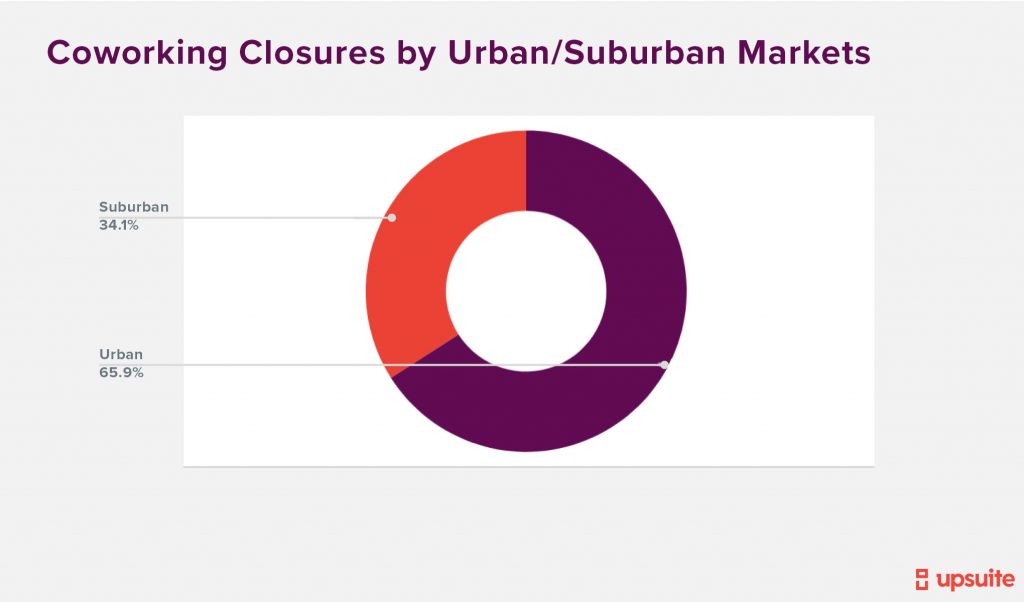 Closure Rates Remain Largely Below Average On a Percentage Basis in the Top 10 North American Markets
North America's largest and most concentrated coworking markets avoided massive closures on a percentage basis. New York City, North America's largest coworking market with over 500 locations, held steady at a 3% closure rate. Other saturated markets like Los Angeles, San Francisco, and Toronto, behaved similarly, with closure rates below 7%. The two hardest-hit major coworking markets that did not follow suit are Denver and Atlanta, with closure rates of 10% and 20% respectively.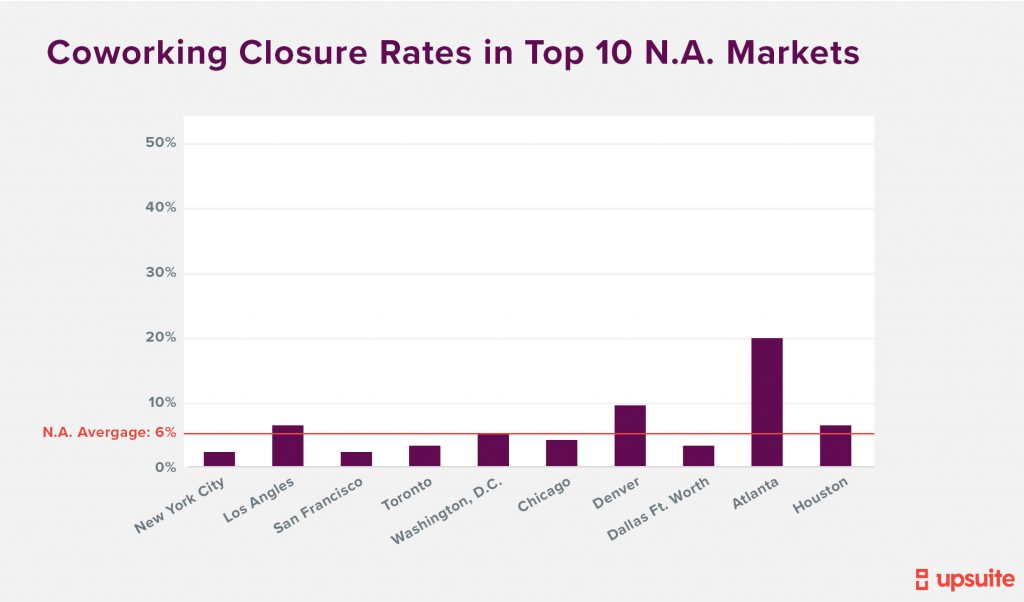 Closures Hit Small and Large Coworking Spaces
The most closures overall were from spaces smaller than 5,000 square feet.  However, smaller spaces also represent the majority of all coworking spaces.  Larger spaces (over 15,000 square feet) also closed at a significant rate.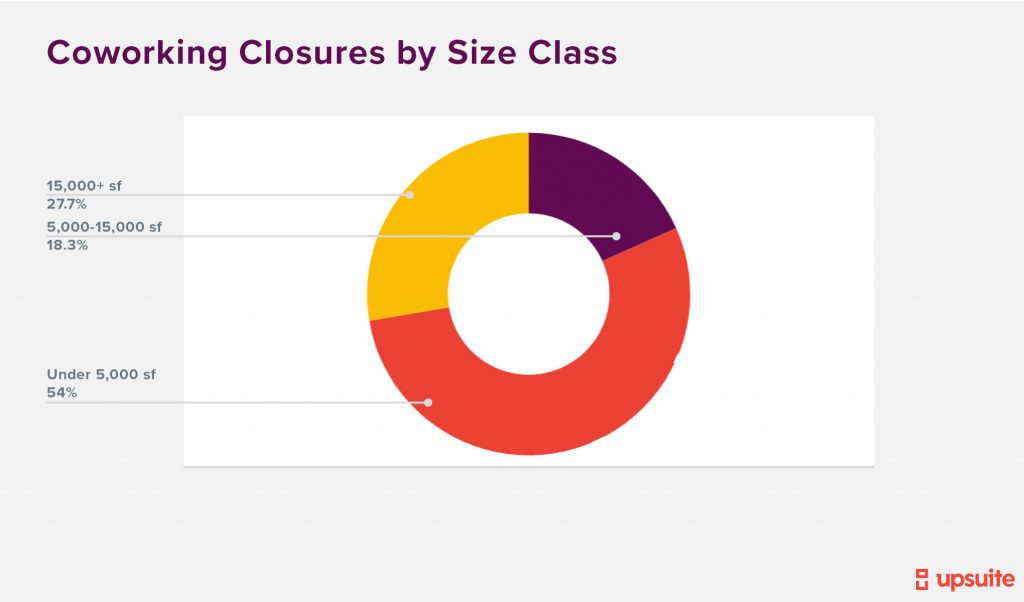 Knowing what we do about the reach and rate of coworking closures in different markets across North America, the question is what brands and types of operators are driving these closures.
Large, Well Funded Operators Were Not Immune to Closures
Large, national brands such as IWG (Parent Company to Regus and Spaces brands), WeWork, and Breather were responsible for nearly half of all coworking closures.  Though some have had a significant financial hardship, one executive explained that the pandemic represents an opportunity to "trim the fat" by closing underperforming locations:
"If you're a large operator, this is the time to close your underperforming spaces under the guise of a global pandemic" – President, National Operator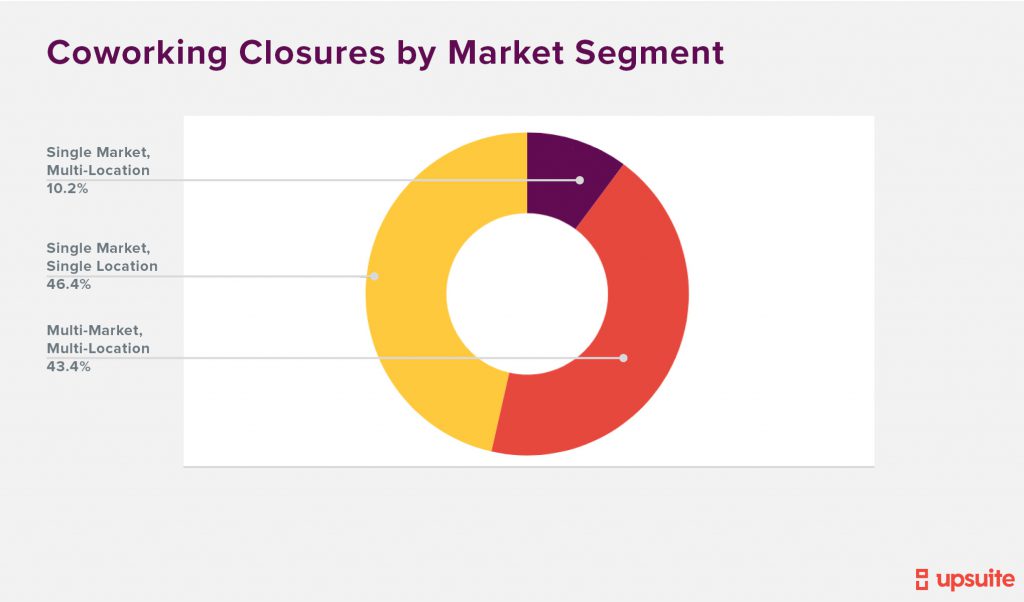 The "multi-market, multi-location" segment of national operators accounted for 43% of all closures — an outsized percentage.   Ten operators alone accounted for nearly 100 location closures.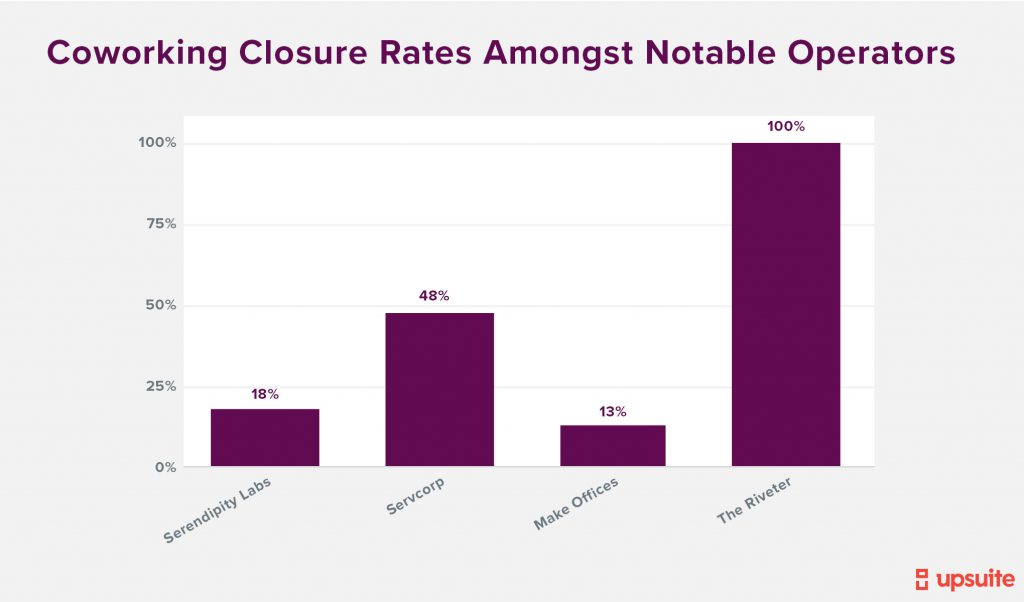 Notable operators have needed to pivot or have gone out of business. (Source: Upsuite Data)
Under the guise of the pandemic, some large, well-funded operators have used the opportunity strategically to execute leverage against landlords and close unprofitable locations.  And while it is no secret that some have been struggling since before COVID-19, this year has been an accelerant for new and creative business models.
The other sizeable market segment that experienced a closure rate of 46% was local "mom and pop" operators, the "single market, single location" coworking businesses. These small businesses did not survive the pandemic likely due to lack of capital, limited partnerships with landlords.
Interestingly, across market segments, "single market, multi-location" operators – operators who operator multiple locations in only one geographic market – accounted for only 10% of all coworking space closures. This segment usually represents 20-30% of the supply in every market.
The Effect of Coworking Closures on Commercial Real Estate as a Whole
Commercial real estate (CRE) is undergoing a massive change due to the pandemic, technological shifts, and preferences for working from home.  Coworking currently represents roughly 3% of the office market, and as such it does not move the market on it's own.   However, CRE's largest source of funds, large enterprise, is adopting coworking rapidly.   Today, large enterprises make up more than 40% of coworking customers and coworking has moved into the mainstream.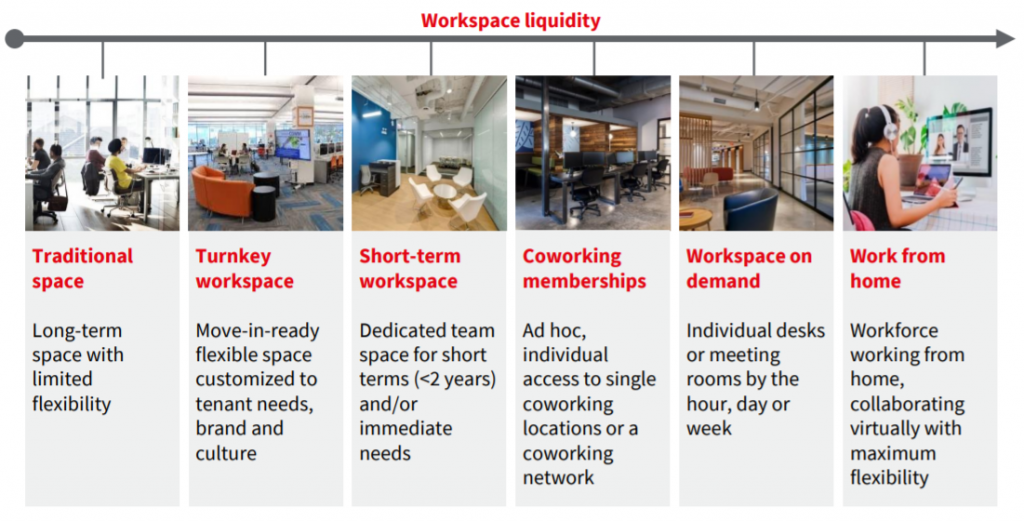 The pandemic has exposed commercial office as a non-essential asset for many companies who continue to assess whether a permanent position is necessary at all. As the sublease market is flooded with excess inventory, landlords must recognize that the office for knowledge workers of the future is a serviced, flexible employee amenity. While HQ spaces are unlikely to disappear altogether, many companies are considering flexible space as a tool to crisis-proof their real estate portfolios against the unknown (expansion, contraction, pandemic). Some companies will go 50% remote, some 20%, some 80%. This is shift landlords will want to be prepared to capture.
There is no doubt that coworking will survive this pandemic, and many operators are optimistic about future growth. However, there is a short-term survival gap that landlords and operators must navigate. What the pandemic will highlight is the group of innovative landlords and smart operators that will engage in productive partnerships to future-proof their commercial real estate assets as the office continues to evolve away from a physical need, to a managed service.
What is Next for The Coworking Industry?
In the short term, only one thing is clear:  The coworking industry is struggling. Coworking operators are cutting costs, recalibrating their portfolios, and some are shutting down.  But the industry remains optimistic:  Upsuite surveyed more than 100 coworking operators in North America to understand their predictions for the next few months, and 1/3 are adding locations.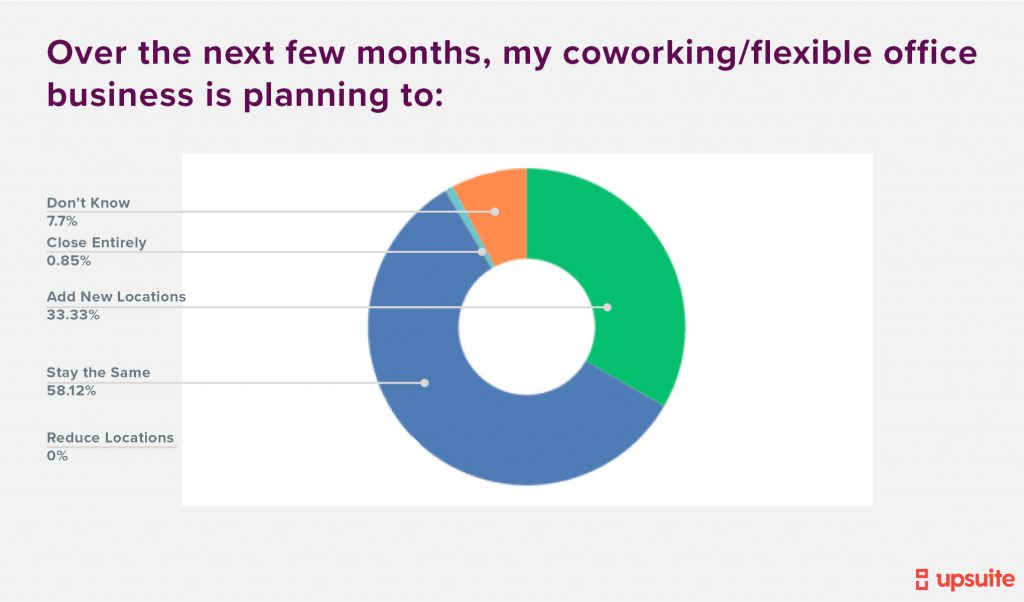 All eyes are looking toward the recovery from COVID-19.  However, it is likely that landlords have already given all of the breaks they are going to give, and many operators are depending on stimulus to stay operational. As a result, we can likely expect additional closures in the first half of 2021.
New Partnership Models with Owners Are Already Emerging
The vast majority of the 226 closures that Upsuite tracked were spaces that were rented from building owners using long term traditional leases.  This model, called "rental arbitrage," has been used by many coworking operators such as WeWork, Spaces, Regus, and others.  Unless they are well-capitalized and have dominant market share, operators that rely on rent arbitrage do not have leverage in a down market, will likely face a tough test and suffer.  As a result, the pandemic is accelerating a shift in focus toward management agreements and partnership models with owners and represents a more sustainable model.   Such models are used by operators like Industrious, who closed only a handful of locations, only to take more space even in the same market.
The backing and size of operators of course play a role in which brands survive a downturn. Generally, well-diversified markets and geographies, and strong, well-capitalized operators, like Regus, can weather larger storms. However, there is another consideration — some operators have turned to more resilient "Hybrid" models, management agreements and partnerships, that may help to spread risk (and reward).
Operators Are Getting Even More Flexible
In Q3 2020, operators responded with daily membership programs to boost low occupancies. Whether WeWork OnDemand, Industrious Oasis, The Yard Day Pass, or other on-demand programs, operators are responding to a slowing demand with new offerings and competitive pricing. However, it is unlikely that this alone will sustain the industry, and more closures may follow.
The Impact of Coworking Closures on Owners / Landlords is Significant
One important highlight is that these coworking space closures largely represent defaults, not canceled renewals. The majority of location closures will have resulted in prematurely terminated long-term leases. North American landlords are now sitting on over 226 unplanned vacancies, a number which may continue to rise as the pandemic lengthens, and occupiers increasingly transition to employee policies with more remote work allowances.
Landlords have provided rent deferrals to the majority of coworking operators we work with due to hardships caused by the pandemic. As that relief fades, we expect further renegotiation may be necessary to avoid additional closures." – Michael Kloppenburg, Senior Consultant, Avison Young
Rent abatements/deferrals are acting as an unofficial "stimulus package" for coworking operators. And while official rents per square foot are still going up in the general office market according to CBRE, landlords are likely giving more concessions to encourage coworking operators to stay in business. In the long run, this is not sustainable. Without relief, more operators could shutter locations, leaving landlords exposed. When Owners now have three choices:
Find a new operator to lease it
Take it over themselves
Lease to single tenants
Should You Build, Buy, Or Get Out of the Coworking Business?
The answer to this depends entirely on your unique circumstances. Upsuite would love to help.
We hope that this post is helpful as you decide what to do next.  If you have questions or want to talk, please schedule a call with us to discuss your options.  We are here to help.