Coworking spaces have grown significantly over the past 5 years — but the last 12 months have been met with a pandemic-induced slow-down. As a result, coworking trends have seen a host of closures throughout North America. In short, the global pandemic has been incredibly challenging for the coworking and flex space market as businesses shifted to remote work. However, even as the rest of the commercial office industry is facing a potential downturn, the coworking and flexible office sector is projected to be more important than ever. As the industry shifts from responding to the pandemic, to slowly recovering, new ways forward for coworking and flex space will emerge. When will coworking trends around closures reverse? Upsuite expects to see more closures in the first half of the year as global vaccine campaigns ramp, followed by a period of growth. Central to the recovery will be a forced evolution of the coworking and flexible office offering to respond to changing tenant needs.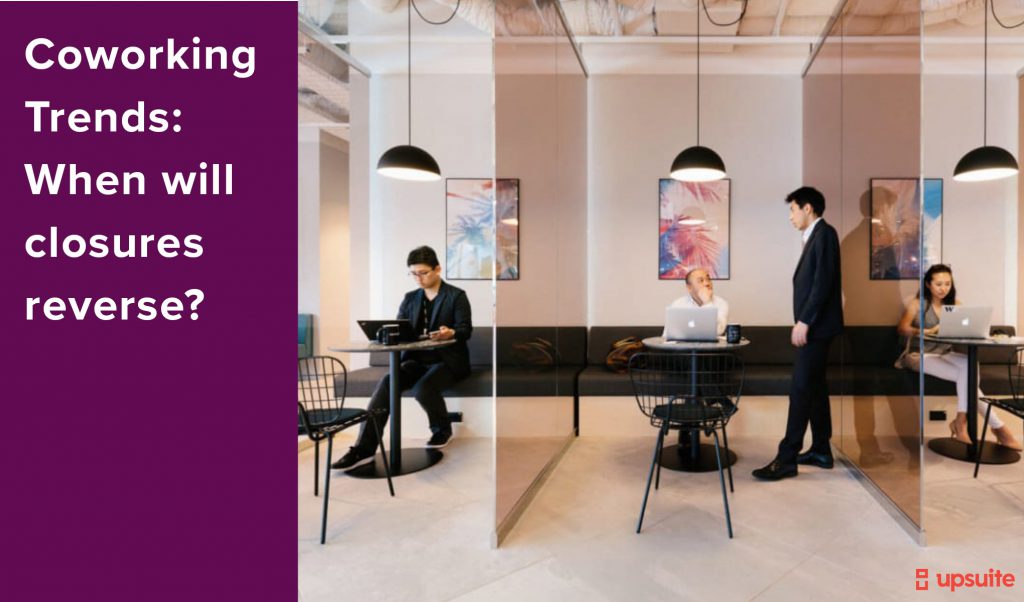 Coworking Trends Have Seen a Host of Closures Since Early 2020
Our recent Upsuite Report found 226 coworking space closures in North America during 2020. An estimated 1 in 5 U.S. coworking locations closed or changed hands due to the pandemic, totaling about 25M sf, or 20,000 seats. While 10 national operators used this crisis as an opportunity to optimize and right-size their portfolio, the rest of the coworking and flex market consists largely of SMEs. Coworking trends show a sizeable closure rate among these single-market, single location operators. Many small business coworking operators are not well-capitalized to weather this storm. For this reason, it's unlikely that closures will stop in 2021 until certain conditions change.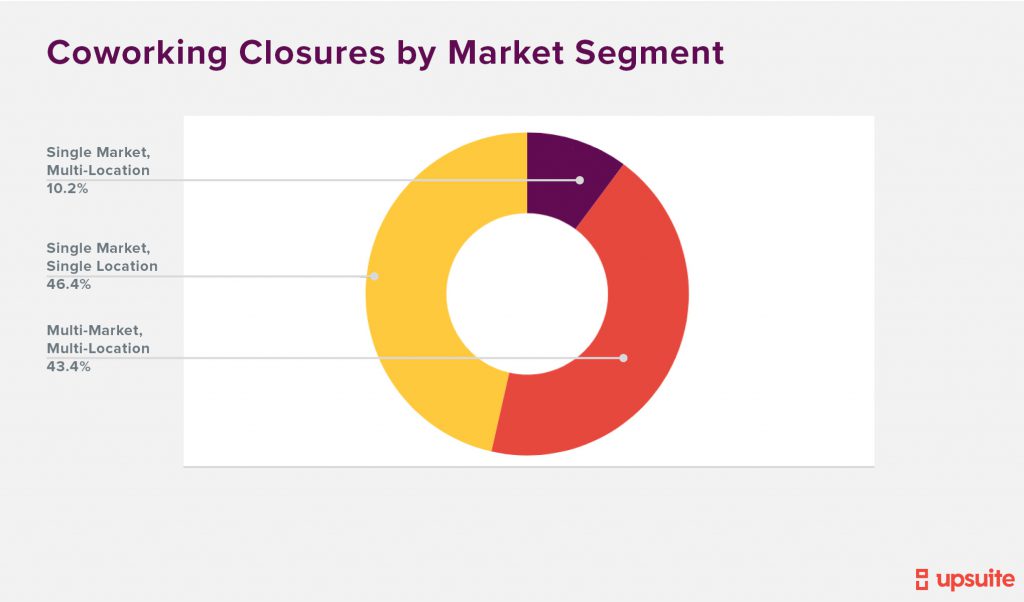 As businesses closed offices everywhere and transitioned their workforce online, the demand for commercial real estate changed — it dropped for the first time since 2009. JLL reports a 47.3% drop-off in transaction activity in 2020 compared to 2019, and Moody's Analytics has been tracking a 40-year trend of offices using less space per employee. Coworking spaces are not exempt. The reality is that COVID-19 has reduced occupancy levels to all-time lows across all office types. As a result, coworking and flex spaces have taken a significant hit as their customers shifted to remote work. Without long-term leases, flex spaces churned their low-commitment tenants (delivering on their low-risk promise to customers) easily, hurting topline revenue immediately.

What will allow Coworking Trends in Closures to Reverse?
Despite high hopes of leaving the pandemic in 2020 and the past, many of the conditions driving closures have not changed.
What is Driving Closures?
Low Occupancy Levels: Occupancy across all coworking and flex spaces remains low due to COVID-19. For many companies, a safe return to work is not yet underway.
Supply Surplus: Large operators continue to floor the market with new supply, increasing competition.
Ineffective Design: Poorly laid out spaces, or spaces ill-suited for low-density pandemic needs, contribute further to the amount of space that cannot be monetized.
Lack of access to Capital: Many coworking operators are small businesses that do not have sufficient capital to weather this storm.
Broken Business Models: Most operators are liable for long-term leases, and many landlords/owners are not willing to renegotiate rent payments for coworking and flex operators in this economic downturn.
"Closures have been driven by multiple factors, including a flood of new coworking supply, poorly laid out spaces with too much space that cannot be monetized, and broken business models. I am seeing many coworking brands pivoting their business models and growth strategies to react to the market." – Giovanni Palavicini, Principal, Flexible Office Solutions Avison Young
When will these coworking trends reverse?
Coworking trends in closures will not reverse until wide-reaching changes allow a safe return to work, and until coworking businesses receive the support they need from their landlord partners.
Wide Vaccine Distribution: As it will take time to deploy the vaccine, growth is expected to remain strained until mid-2021, when normal economic activity may start to resume. If the U.S. government successfully purchases another 200 million more vaccine doses, almost the entire U.S. population could be vaccinated by mid-summer.
Rent Abatement: Small businesses, more than ever, need support. If the landlord's willingness to abate rent stays frozen, then operators could continue to stay in business until demand returns. In Canada, the government rent abatements last until June. In the US, it's unfortunately case by case.
"Workhaus has 11 different landlord owner partners across our locations in Canada. The main thing supporting our business right now is the flexibility being shown to us by our owner partners."- Adrian Joaquin, Founding Partner and CEO of Workhaus
Upsuite
expects more closures the first half of the year, followed by a period of incredible workplace innovation, possibly led by the Flex Office sector.
Upsuite projects a continuation in coworking trends towards closures until mid-2020 when widespread vaccination allows companies to shift focus to a safe return to work. However, when demand does return, the nature of it will have likely drastically change. The pandemic has disrupted the value proposition of traditional commercial real estate. This has led most tenants to not only reevaluate their existing office space portfolios but also reexamine accepted modes of work. The pandemic has forever altered the workplace; it will force the evolution of coworking trends that rethink the future of work as fluid.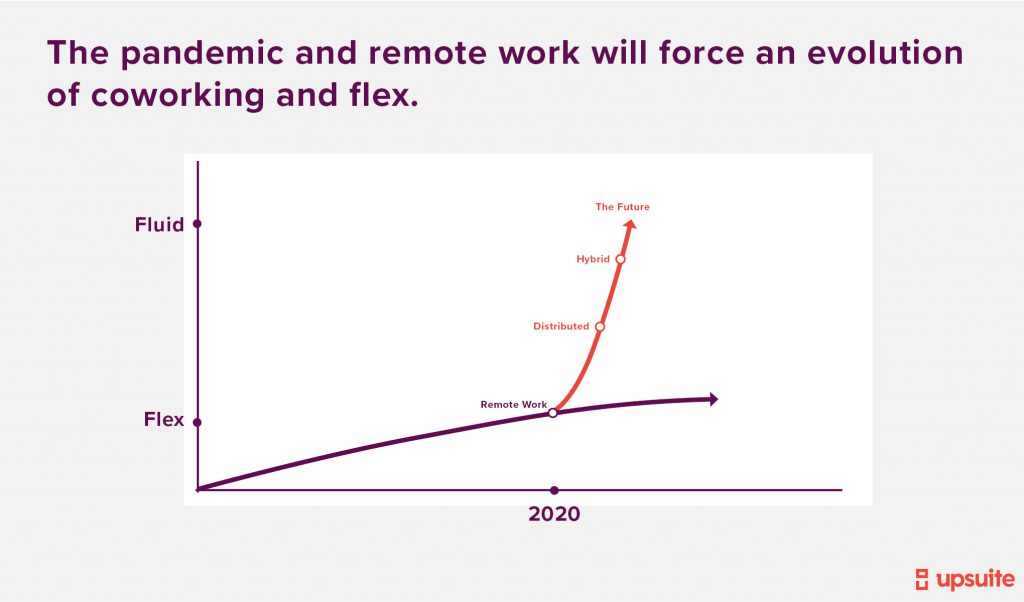 Early
2021: Coworking Sees More Closures
We don't yet know when the return to office will happen, and how many employees will come back. The short-term challenge is that offices are remaining empty, and projections are challenging considering the many unknowns. Flex space is projected to become more important than ever, but the key to getting back into the office is good data.
CRE organizations are feeling the financial impact of the current economic situation, with rental portfolios in decline. Owners are having to bolster their portfolios. Near term, they are hampered by concern around return to work. In the long-term, they need to adapt their portfolios to the future of work, diversifying their offering for a competitive edge. Remaining competitive will lead to thriving in the long run.
Late 2021: Period of Innovation Fuels New Coworking Trends
Given the current trend toward a reduction in office space, the big question is: "Is office space overbuilt?" While we don't yet understand the long-term effects of the coronavirus, we are experiencing a shift in occupier behavior. For now, it's a clear market opportunity for coworking and flexible office. Companies may dump long-term leases, but they will still need office space that can cater to their diverse needs. In a rapidly changing world, coworking and flex space are far ahead of traditional office on the spectrum of agility and are likely best positioned to respond to changing tenant needs. For this reason, Upsuite projects a period of innovation for coworking and flexible space late-2020.
"Undoubtedly the last year has demonstrated that companies don't need an office for all the work they need to do. When demand comes back it will be for great space on flexible terms and with a level of choice for employees that has not necessarily been there before. The flexible world is really well positioned to provide that." – Ben Munn, Managing Director, Flex Space at JLL
Through COVID-19, businesses have learned that they must adjust quickly to changing circumstances, both on the revenue and expense side. This is going to play a strong role in the future of office space as tenants become increasingly hesitant to commit to short-term leases. In the next era of coworking, businesses will drive what flex space is going to become based on their variety of short-term space needs and a set of changing priorities
1. Expect Demand for Variety to Increase
New work patterns post-covid will force some substantial changes in coworking trends. Already, flex is so much more than a singular space type, including private workspace, coworking, on-demand, and virtual offices, which capture the needs of businesses of all sizes. Going forward, this offering will only further diversify: new types of demand will force an evolution of coworking and flex. Operators like WeWork, Industrial, and Convene have already launched new physical and digital products, like virtual conferencing software and no-commitment access passes, that is rendering the flexible space industry MORE flexible. In September, WeWork sold 13x more All-Access memberships than the previous month and 4x as many single-day desk bookings. Conference room space is now available for as little as $10/hour. Operators recognize that in a given week or month, employees may work at HQ, a satellite office, or a flexible workspace, and that's who they're starting to cater to. That's the future of work.
2. Decreased Emphasis on Density
225 square feet: that was the average space per employee that companies allocated in 2010. By 2017, that number had declined to by 30% to 151 square feet. Traditionally, coworking operators have managed to squeeze this further, in an effort to pack desks (memberships) into their spaces. The pandemic has put a stop to this (at the very least, in the short- to mid-term). Companies can no longer pack in employees like sardines: a safe return to work won't allow it. Instead, teams are exploring hybrid workstyles including rotating schedules, desk bookings, coworking or flexible office for swing spaces, temporary offices, or entire business units, and employee choice to balance occupancy with safe capacities in the office.
3. Focus on Safety and Wellness
Square footage is no longer the single driver for workplace planning. Sanitation, air purification, barriers, distancing, capacity: the pandemic has accelerated an unprecedented focus on health, safety and wellness in the workplace. While "band-aids" like plexiglass and wayfinding signage will likely disappear with coronavirus, the renewed focus on employee safety and wellness will stick around and become part decision-maker for site selection and fit-outs of the future.
4. CRE Landlords may Implement Flex
Operators aren't the only ones paying attention. Many landlords/owners will evaluate opportunities to implement flex within their own offering and portfolio moving forward — especially if the choice is either flex or empty. Cost pressures, such as softening operating fundamentals and cost reductions are chipping away at the traditional long-term tenant base, and owners may want to consider how to diversify the market segments that they can capture to fill up their buildings. Businesses want flexible leasing options without major financial implications.
As an owner, should you build, buy, or get out?
The bottom (pandemic) line is that commercial real estate needs to rebuild to enhance resilience. While flexible operators are already poised to respond to changing market demands, landlords now have a choice. So should you build, buy or wait? Productizing your office space, and expanding your offering will depend on your unique circumstance. To continue to track coworking activity and decide on your next steps, you can start by: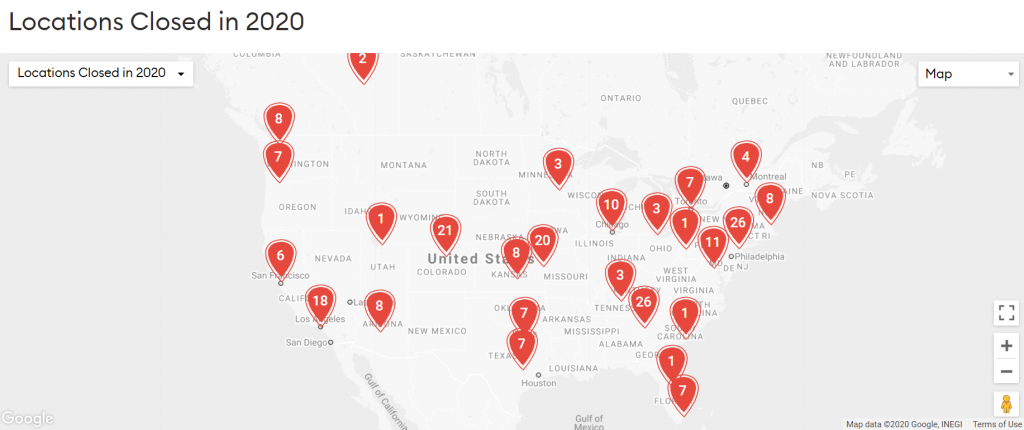 Viewing a map of all closed locations to understand which markets and operators have been affected.
Consult Upsuite's services for owners.
Schedule a meeting with one of Upsuite's advisors.
We hope that this post is helpful as you decide what to do next.  If you have questions or want to talk, please schedule a call with us to discuss your options.  We are here to help.