The coronavirus pandemic has shown that companies can work from home in entirely new ways — from zoom conferences, to slack messages, and entirely distributed teams . Virtual meetings and remote work replaced in-person interactions practically overnight. However, many teams quickly discovered that web-conferencing software is not a one-to-one replacement for effective collaboration. Humans are inherently social beings, and many of the workplace relationships today are running on social capital built pre-pandemic. It has proven difficult for teams to sustain the same sense of connection, collaboration, and in some ways, productivity. The harder it is to communicate effectively, the slower work happens. As the pandemic subsides, will employees return to find workspace, or are they likely to find meeting space instead?
Upsuite previously covered four workspace typologies that teams will need post-coronavirus. One of these is the "Connect space": a dynamic meeting space type that covers a variety of business needs, from on-demand conference rooms to part-time flexible offices. We believe that this "Connect" space is critically important for four reasons: on-demand flexible meeting space is purpose-built for collaboration, cost-effective, self-service to empower your employees, and readily available on the market today.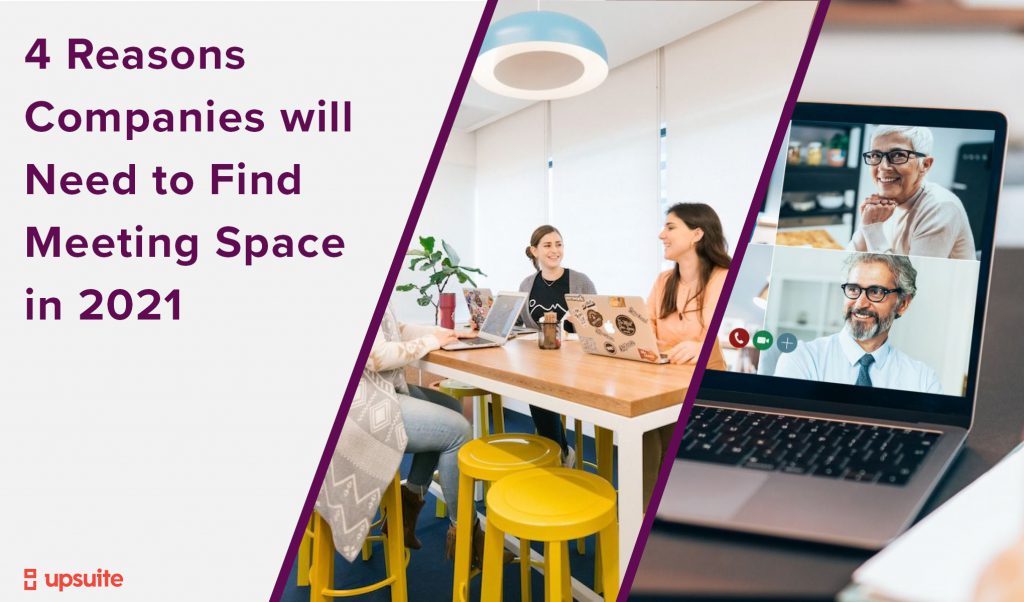 Technology is not Enough for Collaboration
Although employees have rapidly adopted digital communication tools to facilitate remote work, these programs often lack a real collaboration dimension. While programs like Zoom, Slack, and Microsoft Teams have been hard at work perfecting screen-sharing and adding whiteboarding functionality and other digital markup capabilities, they continue to fall short for productive collaboration. Web-conferencing software may be a great replacement for the old-fashioned phone conference, but when it comes to engagement and participation, we've all been there: awkward lag times, lack of eye contact, and the one-dimensionality of screens can get in the way of a dynamic and productive conversation.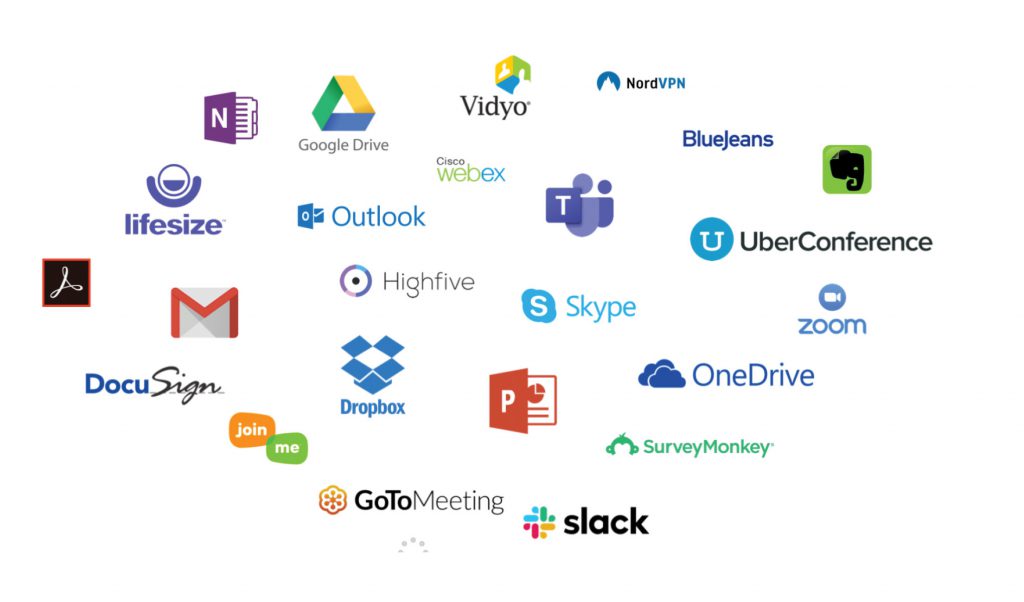 Today's need for meetings goes beyond video and audio (and even just a room). Employees need spaces that facilitate the presentation of information, inter-personal collaboration, problem-solving, and decision-making in real-time. Slacking marked-up screenshots doesn't always cut it. Companies will likely find meeting space that bridges this gap.
The Need for "Connect" Spaces
It's simple: humans are social creatures. As the workplace continues to change roles and evolve post-COVID, maintaining the "teaminess" of teams is a difficult task. Upsuite previously covered four workspace typologies that teams will need post-coronavirus, and we believe that one of these is critically important: the "Connect" spaces. These spaces are part-time or on-demand spaces that allow a team to come together to collaborate, innovate, and work together. In short, they allow companies to find meeting space that selectively fills gaps in the current remote work experience without reconfiguring or overcommitting to a workspace they may not need. While we are living in a continual next, meeting spaces could solve some workplace experience pain points without having to commit to an entire office space.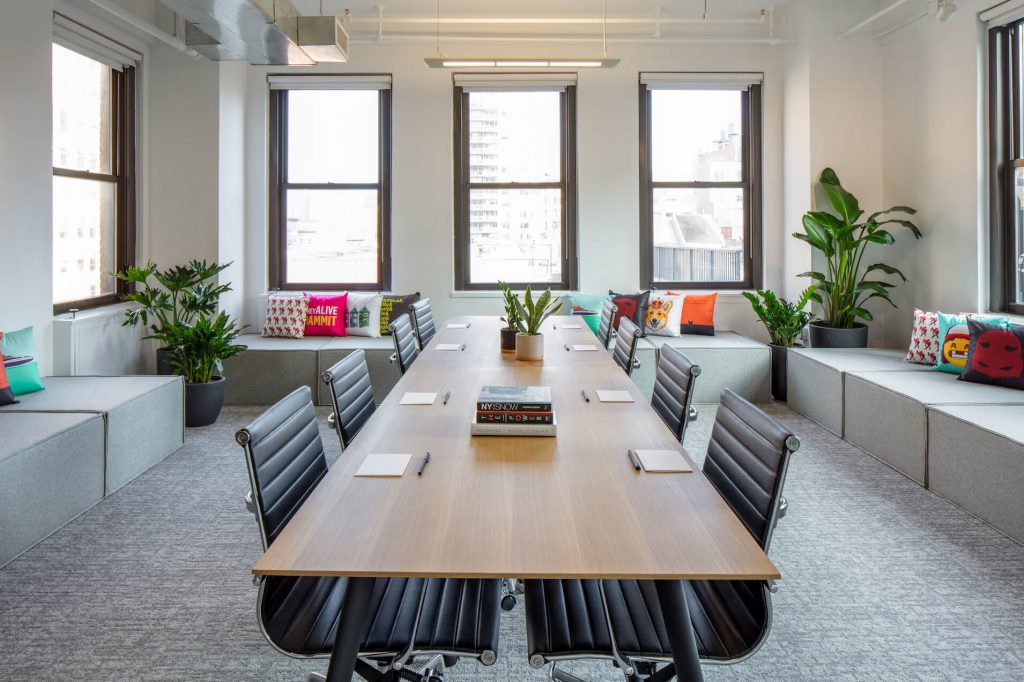 Four Reasons Companies Will Find Meeting Space Instead of Office Space
During the pandemic, Upsuite's Work from Home Survey found that face-to-face collaboration and connection are the top two things that employees have missed the most since the start of remote work. Many companies are finding that their executives and teams agree: WFH does not meet their culture and collaboration needs. While it may support individual work well (for most people), digital collaboration has made it difficult to feel a real sense of connection. This gap in employee experience is critical not only to the attraction and retention of talent but to the performance of the company as a whole. The employees are the organization, and improving their experience has become a top priority for many.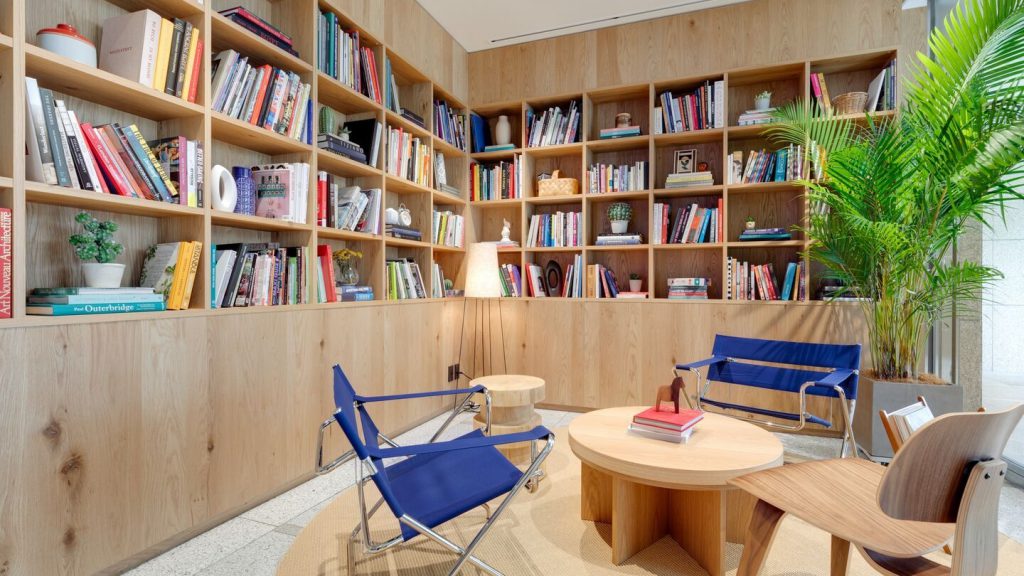 The good news: filling this gap doesn't have to be complicated. Rather than going out to find workspace, and altering their real estate portfolio, companies may be better served to find meeting space instead. Here's why:
1. Purpose-Built for
Collaboration
Meeting space is purpose-built for collaboration. Beyond tables and chairs, the best conference rooms vary in size, equipment, and furnishings to lay the groundwork for a successful meeting. Collaboration is the foundation of getting stuff done to advance the business. The meeting rooms on the market today have been designed by experts, and feature some of the best collaboration spaces that enable working together, face-to-face, in many different forms. From brainstorms to one-on-ones, to board meetings, it's no longer one-size-fits-all. A host of possibilities makes room (pun intended) for AV-enabled conferencing for distributed/hybrid teams, hands-on collaboration with whiteboarding, and informal breakouts in relaxed, soft-seating settings. There are purpose-built, high-performance meeting spaces that support collaboration in any of its forms.
2. Flexible Costs
Today's market offers meeting space that is purely pay-as-you-go, which means that it can save companies money compared to fixed offices. Pre-pandemic, companies lost millions of dollars a year because conference spaces didn't necessarily match their needs. It's not that no one needs them — it's that many workplaces have invested in a static fleet of meeting spaces within their office footprint, that doesn't always receive a steady stream of traffic. Meeting space represents huge potential cost savings to companies that are willing to trade in underutilize space on their rent roll for on-demand meeting space elsewhere. Flexible space operators like Convene have been operating bookable meeting space for years, and many other offerings have recently flooded the market, accelerated by the pandemic. These include WeWork On-Demand , and others offering meeting space by the hour or more.
3. Self-Service Booking
Meeting space can be decided by the teams themselves to meet the needs of the collaboration. Having the flexibility to choose based on personal needs and comfort level is essential to sustain productivity and collaboration. With a menu of options, employees are no longer confined to a single style of conference rooms at HQ (or in Zoom). Instead, teams can go out into the marketplace and find meeting space that matches exactly what they need, in the time they need it, to inspire them to do their best work. Self-service booking functionality empowers employees to do so without lengthy approval processes or complicated hurdles. Responsive and frictionless booking processes deliver yet another positive touchpoint in the overall employee experience.
4. Plentiful Availability
Meeting space supply is plentiful, and coworking operators are well-equipped to deliver on the need. Upsuite's platform hosts over 30,000 bookable meeting spaces in North America. While many organizations struggle with meeting space available within their own workspaces (read: that one conference room I need is always booked!), there is a host of available space on-demand to meet the needs of any team. Flexible space operators offer on-demand meeting space in both urban and suburban locations, which can support safe capacities during the return to work by diverting larger groups, as well as a wide variety of flexible workspace policies post-pandemic.
Steps You Can Take as a Leader to Find Meeting Space
If you don't have data, you don't know what you're designing your workplace for. Not sure whether your company needs to find meeting space or workspace? Start by surveying your company or team to gauge how it's working from your employees' perspectives. Studies like Upsuite's Work From Anywhere Survey will help expose gaps and understand opportunities for how to support your workforce experience during the continual next.
1. Talk to your team
Every individual is different, and it's a good idea to survey the particular needs of your specific workforce. Understand how often and who on your team should work from home. Going forward, remote work will most certainly be a larger component of employee policies, but it may not be the sole work mode when teams have a choice again.
2. Understand Your Meeting Space Options
Understand your options to find workspace or meeting space, and decide what outcome you're optimizing before you source space. The market of available spaces covers a spectrum of meeting room typologies ranging in size, features, flexibility, services, and cost to fit diverse needs. Doing the research or talking to a specialist can help you make the right decision that aligns with your operational and business goals.
3. Consult an Expert
Meet with an advisor. Leaders today are faced with unprecedented questions and uncertainty. Upsuite's team of experts is always available to support your decision-making process, and guide the conversation to find meeting space.
We hope that this post is helpful as you decide what to do next.  If you have questions or want to talk, please schedule a call with us to discuss your options.  We are here to help.