During the coronavirus pandemic, the biggest question in the coworking industry is "when will the market rebound?" While many are wedged into tiny apartments stuck on uncomfortable IKEA chairs, we're all asking ourselves when we can return to the office in any capacity, and what that will look like. Are people going back to the office, and if so, where? How has the coronavirus impacted primary and secondary coworking markets in North America? Are some cities rebounding faster? According to Upsuite data, market recovery is uneven – while some markets are starting to rebound, others are not. So let's unpack that.
Coworking Locations are Reopening
Demand, or "shopping," for coworking spaces bottomed out in April, and is now on the rebound (we covered this here). As companies are coming to grips with near-term uncertainty, their real estate strategies are evolving to include temporary, decentralized solutions (did someone say "coworking"?). With that, the number of online searches for new spaces is growing monthly. However, due to the variation in COVID-responses, closures and case counts across states, coworking trends heavily market-by-market.
Some Coworking Markets are Recovering, Some Aren't
The good news is that despite a significant drop in activity by flex providers in Q2 2020, a number of markets are on the rebound, and a select few have already surpassed pre-Covid peaks. Increasingly, customers are browsing again.
No Recovery Yet
While the west coast markets are dealing with a delayed pandemic response, demand for coworking space in several east coast gateway cities and Colorado is starting to return. Monthly views on Upsuite coworking listings are growing steadily in Washington, D.C., New York City and Denver. While not yet recovered, the uptick is steady. Since bottoming out at 60% of peak search volume in April, D.C. has recovered 13%. New York City took a huge hit, losing 75% of its peak search volume, and has recovered almost half of it, or 42%. Denver, on the other hand, has recovered only 20% of its pandemic loss in search demand.

On the Rebound
Remarkably, the four coworking markets in Chicago, Houston, Miami and Boston not only fully recovered from a drop in search views since COVID-19, but actually managed to reach new monthly peaks since. Chicago is an interesting market in that it never significantly dropped due to the pandemic. April search volume dropped a mere 7% from its March pre-COVID peak, and 42% from its pre-covid peak to a new post-covid peak in May. It has fluctuated with pandemic changes, but has generally remained higher than pre-pandemic levels. The same is true for Houston and Miami. Post-covid peaks increased from pre-covid peaks by 42.5% for Houston and 18% for Miami. Boston has rebounded to its pre-pandemic peak and will likely surpass this in September, based on its current rate of growth in search views on Upsuite.


Denver's Moment
According to Google, Colorado has the highest interest for coworking space in the U.S. On Upsuite, locations in Denver receive 20% more monthly views than NYC. Denver is also the third most popular market, behind Toronto and Chicago. Markets like Denver are currently attracting high levels of shopping activity.
However, to date, Denver has only recovered within 50% of Pre-Covid peak search volume, despite interest steadily rising since April. Conversely, NYC search levels have spiked since tentatively reopening in May, and are now on par with Denver. What's causing this uneven recovery? The reason could be cultural. People in Colorado do not identify as closely with their place of work as New Yorkers do. And, while big-city workers may be eager to leave their sardine-can sized apartments and return to commercial A/C and ergonomic furniture (ahh space), Coloradans already have space. While New Yorkers are quick to bring back the hustle, Denver can take it slow.

Of the Top Five Coworking Markets, Not all are Recovering
The real estate market is organized into primary (NYC, LA, Chicago, SF, Boston, and DC) and secondary markets (Houston, Dallas, Denver, Miami, Seattle, Charlotte, etc.). On Upsuite, the top five most active markets in order of average monthly listing views are:
Toronto (Primary)
Chicago (Primary)
Denver (Secondary)
Los Angeles (Primary)
New York City (Primary)

This ranking has been a moving target through the pandemic, as search demand rebounds in some cities but not in others. In February (pre-pandemic), Toronto, New York City and Denver were most active. Post-pandemic, Toronto and Chicago are still on a downward curve after an initial spike, whereas LA, Denver and NYC are on a tentative upward trend. None have recovered to pre-pandemic listing search levels yet. Geography, density and case loads may play a factor. While hyper-dense cities grapple with reopening policies, secondary, less dense markets are attracting more attention from operators.
Coworking Trends Vary Between Primary and Secondary Markets
Coworking: how metropolitan!…Right? Well, if you're picturing an office tower in the heart of Manhattan, with a WeWork/Convene/Industrious and a looong elevator line right now, then some of this may be surprising. Some markets are investing more into the future than others. One indication of this is new coworking operator leasing activity, and the locations in which activity concentrated in Q2 2020 deviate from the norm. With the coronavirus pandemic lengthening, we're starting to see a shift in deal activity from gateway cities to secondary markets. While operators slowly continue to sign deals in NYC and Chicago, mid-pandemic transactions have focused on secondary markets.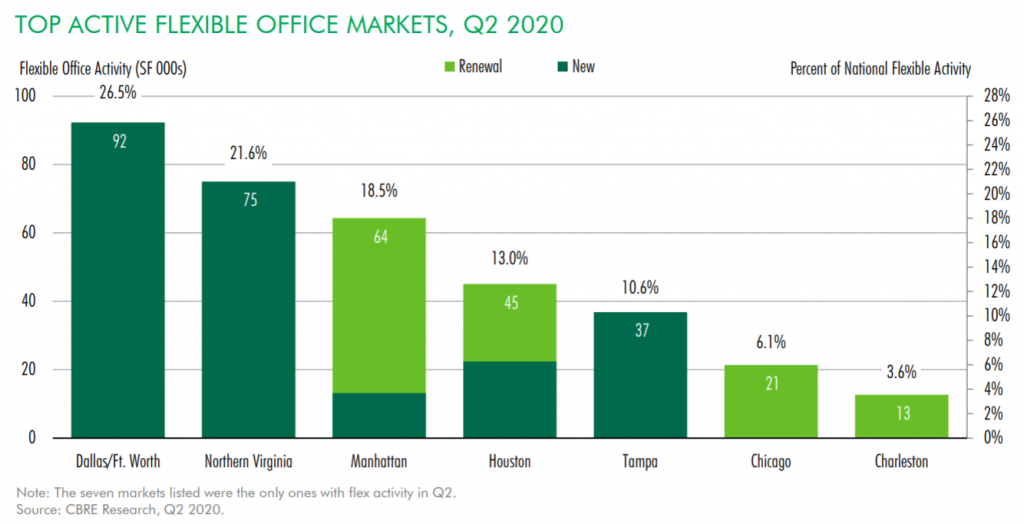 According to CBRE, flexible office activity fell by 90.6% year-over-year to only 350k sf in Q2 of 2020, with operator deals in only 7 markets. Historically, Manhattan has the most flexible office activity per quarter, but Dallas/Ft. Worth topped the chart in Q2, followed by Northern Virginia. Manhattan, for the first time, comes in third, with Houston, Tampa, Chicago, and Charleston following behind. Of all coworking deals struck between landlords and operators in Q2 2020, 75% of activity happened in secondary markets (go ahead, let that sink in).
Coworking Demand Trend Is Sinking in Secondary Markets
While coworking deal activity between operators and landlords has temporarily shifted to secondary markets, demand from the occupier side has not. At Upsuite, coworking listings in secondary markets sunk from 47% of all searches in March to 33% in August. This may be a result of a shift in epicenter of the pandemic from the Northeast to the South and California. It may also be that while major cities are pushing a return to office, and have short-term needs for stop gap solutions (client meetings outside of HQ to transfer liability, team off-sites, etc), secondary markets are leaning into the remote lifestyle.

Is Coworking Pricing Being Affected?
In the real estate world, when supply outpaces demand, it's a buyer's market. Is this affecting the cost of coworking spaces, and if so, how much? What are changing coworking demand trends doing to asking price per seat? Stay tuned for our next article, where we're unpacking pricing trends, costs per seat by market, and the behind-the-scenes of coworking deals mid-pandemic. Can't wait? You can start by viewing Upsuite's interactive map to explore coworking pricing per seat for specific markets here.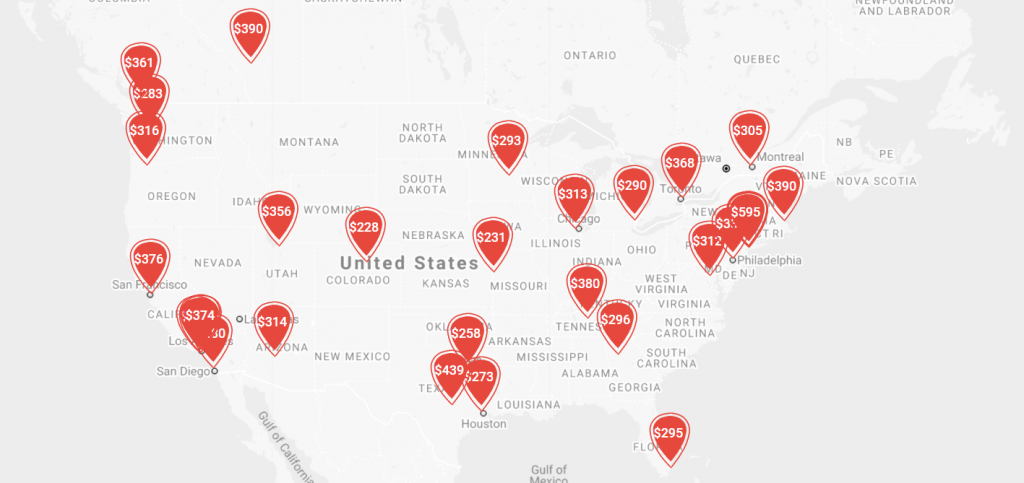 How to Stay Competitive
While office strategy is still evolving amidst the pandemic, one thing is certain: people in various markets are shopping for coworking space again. Listing searches are recovering in several markets, and reaching new heights in Chicago, Houston Miami, and Boston. The reasons for this uneven coworking trend recovery vary, but are likely tied to city reopening strategies and local lifestyles. The challenge that remains is rebooting transactions. People are slow to make the decision to buy in the current economy. If you're a coworking operator, our team of experts can help you navigate market-specific coworking trends, product pricing and the right incentives. Uncover new opportunities and position your listings competitively with Flex Office Pro by Upsuite.