Over the past few months, WeWork has dominated the headlines in the coworking and flexible office industry, and sentiment has mostly been negative.  Our take: WeWork's business clearly satisfies the increasing demand for flexible office space in today's evolving workforce.  And that will continue.  
Why WeWork Works
WeWork provides entrepreneurs and companies of all sizes hundreds of options when choosing flexible workspace. While the company's recent announcement to delay its initial public offering (IPO), sell non core businesses and change leadership has the proptech sector concerned about potential disruptions, WeWork is well positioned to continue as a significant player in the coworking and flexible office industry.
WeWork 101 Marietta, Atlanta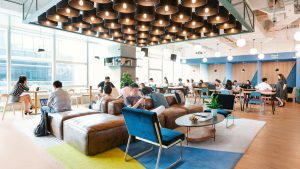 Meeting the Need for Flexible Office Space
Remote work and satellite offices is on the rise, with 4 million employees working from home at least half of the time. Yet many employees still enjoy the camaraderie of an office environment and the convenience of in-office amenities. WeWork's provides a solution to this growing trend, while providing the option for a mix of collaborative and concentrated work. Having flexible office space that accommodates both allows teams to grow and flourish.
WeWork understands that companies want flexible space, either for a primary workspace for small companies or as a satellite office for large companies. It also meets the needs of entrepreneurs and businesses of any size that may desire flex space during a particular lifecycle in the company.
WeWork 625 West Adams Street, Chicago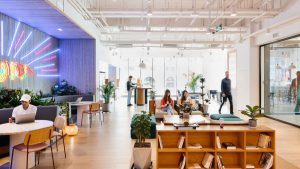 Premium Convenience and Location
As an office space leasing company, WeWork purchases long-term leases and real estate outright, then transforms it into flexible and shared office space with common areas. WeWork accomplishes this by providing state-of-the-art office space in desirable neighborhoods, which are often close to restaurants, cultural centers, local amenities, and mass transit in exciting cities that match the vibrancy of today's evolving workforce.
WeWork 424 Fifth Ave. New York (former Lord&Taylor Flagship)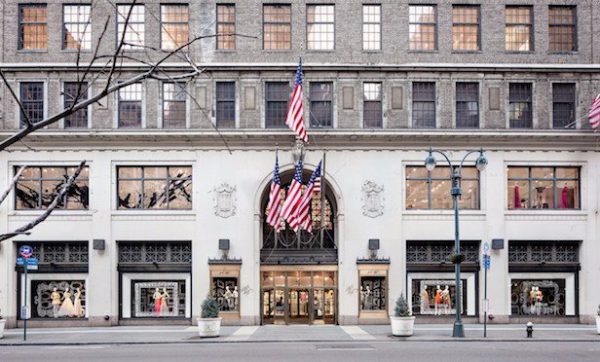 Setting a New Aesthetic Standard for Offices
WeWork's innovative fusion of hospitality with residential and commercial office aesthetic has set a standard for other coworking spaces to emulate, follow, and tweak. In addition to providing state-of-the-art office space, WeWork has evolved its properties beyond just workspaces with the ultimate goal of providing a sense of community.
Each location is equipped with common areas, meeting rooms and even cafeterias, where members can feel like part of a community even if working solo. WeWork members also have access to discounts on professional services that support business growth and a work-balance lifestyle, such as gym memberships and discount health insurance.
WeWork 350 Lincoln Road, Miami

Innovative Solutions that Serve Today's Workforce
The U.S. economy is increasingly shifting toward startups and small businesses, and the traditional 9-to-5 workplace is evolving as more and more companies rely on a remote workforce. The WeWork business model proves that commercial real estate can be innovative by meeting the needs of modern companies.
Today's workforce wants and needs greater mobility, especially as employees are located across the world and business becomes increasingly global. Until recently, commercial real estate has struggled to respond to corporate America's changing needs. WeWork's innovations have been a game changer for the industry.
WeWork 1920 McKinney Avenue, Dallas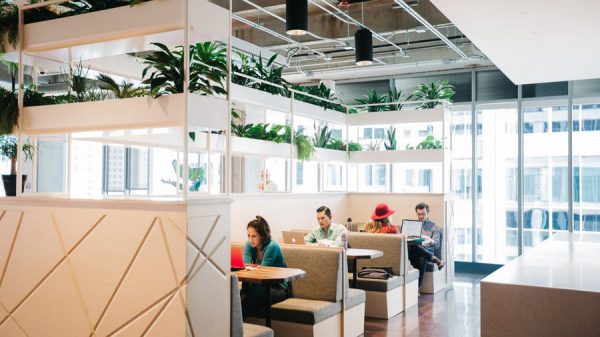 Conclusion:  Investors and the public markets will wet WeWork's valuation.  All you need to decide is if you like their product for your team.
Former CEO Adam Neumann is credited with turning WeWork into one of the most valuable startups in the world. His replacements, Artie Minson and Sebastian Gunningham, have been tasked with stabilizing WeWork's operations and focusing on the company's core business. Despite the recent correction in the company's valuation, the bottom line is that WeWork understands the shift in the U.S. economy toward more startups and small businesses and its long-term valuation comes in recognizing and accommodating this shifting American Dream. It is up to the markets to decide how much, but WeWork and it's contributions to real estate markets, cities, businesses and employees, are here to stay.
How do I find the right office space for me (and my team)?
Upsuite is the easiest way to office.
Upsuite offers modern, well appointed offices that are conveniently located for all your employees, that meet your business' budget, and on your terms.
To find your business' next office, you could hire a broker, do time consuming internet searches,  negotiate terms, sign a lease, buy furniture, all at your expense.
Or, your company can partner with Upsuite.  With one contract, Upsuite gives you and your team access to more flexible and modern office choices than other company, all fully furnished, and ready for your company to be up and running.
Ready to learn more? Connect with one of our coworking advisors today!
Contact Author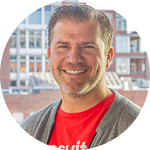 BEN WRIGHT
Founder and CEO

e. benw@upsuite.com