10 of the Best Coworking Spaces in Toronto [2021]
You're looking for the best coworking space in Toronto for your high-performing team. Maybe you want a space to foster collaboration and provide networking opportunities with Toronto's startup talent. Or perhaps you need a  coworking space that's modern, quiet, and designed for maximum productivity. Each team has its own set of unique needs, and each coworking space offers something different.
The good news is that with all the great coworking spaces in Toronto, you will find the right office for your team. The flip side is that because there are so many great spaces to choose from the search can be time-consuming and frustrating. To help you sort through the numerous options and find the right space, we've created a list of the 10 best coworking spaces in Toronto.
Welcome to Workhaus Castle: The gateway to King West. 
Address: 212 King St. W. Toronto, ON M5H 1K5
Perks: Workhaus is known for it's great locations, and tremendous value.  Workhaus Castle, located across King Street from the Toronto Symphony, does not disappoint.  Occupying the top floor of a classic building, Workhaus castle gives teams of various sizes a great location, and a great affordable place to work.  Take the elevator up top, then one flight of stairs, and you are there!
Price: Starting at $395/person
Nestled into the top floor of a century-old building at the corner of King and Bathurst, our King West space is pure brick and beam glory and the closest workspace to the Toronto Island Airport.
Address: 73 Bathurst Street, 4th floor Toronto, ON M5V 2P6
Perks: Up first we have Project Spaces King West, the perfect coworking space for collaboratives. When you work there, you notice a strong sense of community and a host team that values collaboration. People work together, sharing ideas, networking, and growing personally and professionally.
Project Spaces King West is located within the seventh floor of the original Canadian Biscuit Company building, which was built in 1900 and is reminiscent of Warhol's Factory. This cowork space is a beautiful, open, and airy. Throughout, Project Spaces King West is adorned with gorgeous artwork, green plants, and luxurious furnishings, providing the perfect coworking office environment in the entrepreneur-friendly, tech-focused neighborhood of King West.
Coworkers at Project Spaces enjoy a robust community event schedule, filled with workshops, panel discussions, happy hours, family feasts, and community outings. The Project Spaces King West blog also features regular community member spotlights to foster the feeling of connectedness their members love. For all these reasons, Project Spaces King West is the best coworking office for collaboratives.
Price: Starting at $495/person
From Verk, the Icelandic for labour, business, work and job. A space to get work done and make things happen.
Address: 8500 & NE223, 675 Ponce De Leon Ave NE Suite 7500, Atlanta, GA 30308
Perks: When you walk into Verkspace Coworking, you immediately feel the magic and uniqueness of this space. With a gorgeous front entryway that is tastefully appointed and extremely welcoming, you'll feel at home the minute you arrive.
Verkspace at 410 Adelaide resides in what used to be a west side garment factory. The building features a ground floor cafe, windows in nearly every office, and a bicycle facility complete with storage and individual shower suites.
High concrete ceilings provide an industrial loft feel, and the clean, modern furnishings set you up perfectly for whatever sort of work you need to accomplish. Verkspace at 410 Adelaide takes inspiration from the Scandinavian way of life, where balancing hard work with passion, a sense of community, and a connection to the environment creates a workplace where everybody thrives.
This is the sort of space you need to see for yourself to truly appreciate, but trust us when we say it's exceptionally deserving of its best front reception honor.
Price: Starting at $495/person
Housed in a eight-story brick and beam retail office building on the iconic Queen Street corridor, Spaces Queen West is formerly the home of one of the city's most treasured businesses, Urbane Cyclist.
Address: 180 John Street Toronto, ON M5T 1X5
Perks: If you need to plan or host an event, look no further than Spaces Toronto Queen West. From team meetings, black-tie events, start-up kick-off parties, or happy hours, this Spaces coworking location has you covered.
It's well-designed and sophisticated, housed on the seventh floor of a brick and beam retail office building. Incorporating the trendy, artistic vibe of the Queen West neighborhood, this coworking office is hip, yet sophisticated. Spaces Toronto Queen West showcases elements of Toronto's cycling culture, high-end finishes, and comfortable workstations.
Start your day with coffee on the rooftop patio, where you'll enjoy spectacular city views, then work for a while and have lunch at one of the nearby trendy cafes and restaurants. Spaces Queen West is one of our favorite places to work in the city, and it stands out as Toronto's best coworking office for events.
Price: Starting at $272/person
Office146's spaces are designed to provide a sense of community while being able to maintain optimum productivity.
Address: 180 John Street Toronto, ON M5T 1X5
Perks: When it comes to hospitality, owner-operators Alex and Christa and Office 146 come in at the top. They say their mission is to create a coworking office space where you feel excited about arriving to work, and they deliver that and more for their members.
Featuring beautifully appointed and spacious community work areas, traditional tables, and glass-walled private offices, there's a place for everyone here. At the end of the day when you feel like relaxing and talking to a few friends, there's room for that too – in the lounge area and adjoining fully-stocked kitchen. Enjoy coffee, tea, or a free beer on tap as you kick your shoes off and unwind.
This lovely coworking space is just west of Toronto's downtown core and east of the bustling sprawl of Mississauga, which means it's the perfect place to work if you don't feel like heading into the city. The warm and welcoming community and beloved operators who provide best-in-class hospitality add to the many reasons we declare this spot a best coworking office in Toronto.
Price: Starting at $250/person
Agile Offices is the first business centre in Toronto to design significant, dedicated, Co-Working space along side private offices and team rooms right from the start.
Address: Suite 2201, Eaton Centre, 250 Yonge Street Toronto, ON M5B 2L7
Perks: If privacy and professionalism are what you're after, Agile Offices is where you should be. With private offices, suites, and conference rooms, many of which are city facing with stunning views of Lake Ontario, this coworking space meets the needs of Toronto's urban professionals.
Often described as "high-tech" and "modern," this space is perfect for working, impressing out-of-town clients, and networking with like-minded professionals.
Centrally located within Eaton Centre, Agile Offices is perfect for commuters needing an office near public transportation or those wanting to be in the center of Downtown Toronto.  Moreover, Agile Offices gives their community a prestigious, world-renown address associated with high-end merchandise and urban affluence, perfect for Toronto's discerning professional.
Price: Starting at $500/person
Workplace One provides premier boutique office space in the most vibrant and innovative neighbourhoods of Toronto and Kitchener-Waterloo.
Address: 111 Peter Street Toronto, ON M5V 2G9
Perks: Focus and productivity come easily at our next coworking office, Workplace One Peter Street. With a bright and airy eclectic contemporary style and stunning features like live moss walls, hanging plants, and gorgeous furnishings, it's easy to see why we've included this spot on our best of Toronto list.
No matter the work you need to do, Workplace One Peter Street has the spot to support you in doing it. From traditional tables and desks to cafe booths, modern glass-walled private offices, inspiring meeting spaces, plush lounges, outdoor patios, and a wellness room, this coworking office has it all.
Located in Toronto's central downtown Entertainment District, Workplace One's Peter Street location is an uplifting, professional space designed with productivity in mind.
Price: Starting at $350/person
Ideally located in Toronto's Financial District in the exclusive Richmond-Adelaide Centre, our newly built, 18,000 sq ft elegant workplace has ultra-modern amenities, spectacular views and an accommodating professional administrative staff.
Address: 120 Adelaide St W Toronto, ON M5H 1P9
Perks: Rounding out our list of best coworking office space in Toronto is The Professional Center 24th Floor, the place to work if you prefer a quiet atmosphere. This coworking space is clean and bright, with ultra-modern amenities, spectacular views, lots of sparkling glass and strikingly modern design. Best of all, with piped in, subtle white noise, it's quiet in a soothing, productivity-enhancing way.
There's a spot to do your best work for everyone at The Professional Center 24th Floor. From sunlit private office suites to hot desks and large collaboration areas, this space is thoughtfully designed and a joy to work in.
The Professional Center 24th Floor is conveniently located in the exclusive Richmond-Adelaide Centre, at the heart of the financial district and just one block from Bay Street, with upscale shopping, dining, and entertainment steps away. The next time you need a modern, attractive, and best of all, quiet workspace, check out The Professional Center 24th Floor, one of our best coworking office spaces in Toronto.
Price: Starting at $399/person
We know the important role that environment plays in productivity, comfort and overall work satisfaction
Address: 1460 The Queensway, Etobicoke, ON M8Z 1S7, Canada
Perks: Located in the heart of the Albion Islington Square shopping district, a diverse hub for jewelers, boutiques, salons, and international cuisine, you'll find this innovative workspace. Here you'll work with an active community of colleagues and be part of one of the region's most creative professional communities. This office environment offers flexible spaces, dedicated concierge services, and upscale design and aesthetics to bring inspiration to every day.
Price: Starting at $199/person
Situated in an iconic heritage building in the Toronto Financial District, EQ Offices Toronto's newly renovated interior coupled with personalizable office furnishings is the perfect space for those looking for a simple, connected, and ready for use workspace.
Address: 350 Bay Street, Suite 700
Perks: EQ Office Toronto features market-leading technology for all of your professional needs. High-speed internet, number portability, and VOIP telephony are just a few on a long list of reasons why EQ Office has it all. Not to mention the professional support team that is dedicated to managing your office needs so that you can focus on your professional pursuits.
EQ Offices Toronto is located just steps away from the PATH, TTC, 15 minutes to Billy Bishop Airport, and 30 minutes to Pearson Airport. If you are looking for an easy commute, EQ Office Toronto is the right place for you. If you don't believe me, visit the space in suite 700 and see for yourself!
Price: Starting at $500/person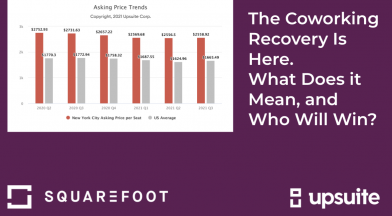 Coworking Trends: The Coworking Recovery Is Here.  What Does it Mean and Who Will Win?…
The average cost per person for a coworking space in 2021 is $424. Find more about coworking space costs.