10 of the Best Coworking Spaces in Denver [2021]
You need to find the right workspace. You need one that's functional, inspirational, and able to serve your high-performing team. Maybe you want the space to help you attract and retain the best talent, or perhaps your goal is to foster collaboration and productivity while outsourcing the unnecessary office management tasks. With all the great coworking spaces in Denver, you can be sure you'll find one to meet your needs.
The problem is there are so many great spaces to choose from, and the search can be confusing. To help you sort through the numerous options, we've created this list of the top coworking spaces in Denver.
Adjacent to the popular 16th Street pedestrian mall and just two blocks from the Colorado Convention Center
Address: 1630 Welton St, 16th St Mall, Boulder, CO 80305
Perks:
When value is what you're after, Expansive Workspace – 16th Street is the coworking space you need to be in. With a great 10-story location near 16th Street Mall in Downtown Denver, Expansive Workspace owns the building, and passes savings and flexibility on to its members.  With prices often as much as 20% less than nearby spaces, Expansive Workspaces provides a great option for teams on a budget.
With a range of coworking spaces and incredible views, Expansive Workspace is also perfect for companies who want to customize their buildouts or spaces. This building also used to be a Colorado Athletic Club location.
Price: Starting at $362/person
CTRL Collective is more than just a coworking space.
Address: 1800 Wazee St Floor 3, Boulder, CO 80305
Perks: Creativity must be nurtured, but many coworking spaces are uninspiring, boring, and often stifle creative inspiration. That's where CTRL Collective comes in. CTRL Collective is a haven for Denver's creative talent. With a clean and contemporary design and features like a suspended rope wall and steel encased fireplace, CTRL Collective delights your senses and provides the perfect atmosphere for doing your best creative work.
CTRL Collective's spaces for coworking are furnished with lush leather and live edge wood tables, and the walls are adorned with spectacular art from local arts. The warm and welcoming community and beloved management team add to the many reasons we declare this spot the best workspace for coworking creatives.
Price: Starting at $199/person
Enterprise Coworking is a shared workspace in Denver's RiNo district that empowers members to achieve their goals.
Address: 3000 Lawrence St, Denver, CO 80205
Perks: Finding the perfect spot for an event is time-consuming and often frustrating, but it doesn't have to be that way. When you need to book any type of event space, Enterprise Coworking Denver is the answer. With a large classroom that serves equally well as a training room or a theatre, and the adjoining kitchen and lounge with beer on tap, it's the perfect space for team meetings, award banquets, and social events.
However, the options don't stop there. Our favorite space in this coworking building is the rooftop deck where you can see the sparkling city lights at night or soak up the warm sun on one of Denver's beautiful blue-sky days. This rooftop space is perfect for everything from small team happy hours to big startup kick-off parties.
Price: Starting at $450/person
Beautiful office space in Denver. Coworking, dedicated desks, and private offices.
Address: 1801 California St Suite 2400, Boulder, CO 80305
Perks: Imagine working in a space that feels like home. Better yet, home with Mom serving breakfast each morning, healthy snacks in the afternoon, and networking-perfect happy hours in the evening. While this might sound a little too good to be true, it's not. You can find this blissful workplace at Industrious.
When people describe Industrious, they use words like "unique," "welcoming," "inviting," and "a dream," all of which are well-deserved distinctions. Industrious is open and bright, and the furnishings are luxurious and comfortable. It's a place where you can settle in for some quiet productivity or hang out with friends and collaborate on projects.
No matter the type of work you need to do, the hosts at Industrious provide best-in-class hospitality that puts Industrious on our top coworking spaces in Denver list.
Price: Starting at $450/person
Conveniently located in Denver's fast-growing Lower Highlands area, WeWork LoHi is two floors of workspace space in a brand-new brick building with an industrial vibe.
Address: 2420 17th St, Boulder, CO 80305
Perks: You might be thinking all WeWork spaces are created equal, but that couldn't be further from the truth. Each WeWork space has its own culture and community, which means each space best serves different industries and workers. If you're part of a startup organization in Denver, the WeWork The Lab in LoHi is where you need to be.
The WeWork The Lab is a true team space where collaboration happens. There are plenty of meeting rooms, common areas, and outdoor spaces for teams to work. WeWork The Lab is hip, vibrant and full of Denver's best startup talent, so there's always an opportunity to network and collaborate with like-minded people.
Of course, where there are startups, there must be beer, and WeWork The Lab has that covered too. The Denver Beer Company is downstairs and consistently serves as an end of the workday meeting point for Denver's startup crowd.
Price: Starting at $360/person
Experience the cultivation of community chemistry to nurture healthy business growth, worthy impact & increased well-being. 
Address: 66 S Logan St, Denver, CO 80209
Perks: We already talked about a workspace that fosters creativity, but what about one that delivers inspiration? Inspiration for big ideas, out of the box solutions, and game-changing innovation. Well, look no further than Alchemy Creative Workspace in Wash Park.
This coworking space has a stylish and open interior, with high ceilings and lots of natural light. There's plenty of open space for working in a group, but you'll also find an equal amount of small quiet spaces to tuck yourself into. When you work at Alchemy Creative, you're immersed in a high energy vibe that inspires big thinking and bold ideas. That's why this coworking space deserves the title of "best space for innovation."
Price: Starting at $265/person
Placed between the Ballpark and LoDo districts, Spaces Denver offers an exclusive, historic location in the oldest and original settlement of the city.
Address: 2301 Blake St Suite 100, Denver, CO 80205
Perks: When you walk into Spaces, you immediately feel the magic of this coworking space. It's breathtakingly bright, wide open, and visually stunning. With 4300 square feet of open workspace for you to choose from, you'll find the perfect spot for the work you need to do. Some of the many seating and workspace options include architect desks, couches, traditional tables, lounge areas, and restaurant style booths in the cafe.
This unique space was inspired by workspaces in Amsterdam, and it's spectacular. The community is energetic and collaborative. Working at Spaces makes you feel like anything is possible. You're ready for new opportunities and able to achieve great things.
Price: Starting at $226/person
With the Mile High city quickly becoming a mecca for tech entrepreneurs and growing startups, our second Denver campus provides a home for this amazing community to thrive.
Address: 1644 Platte St, Boulder, CO 80305
Perks: If you work in technology in Denver, chances are you've already been to the coworking space that's at the heart of the city's newest tech scene, Galvanize Platte. With neighbors like Pivotal Labs, Slack, and Xero, it's no wonder tech teams call this space home.
The workspaces in Galvanize Platte are clean, modern, and bright. Galvanize Platte provides the perfect setting for tech-based innovation and collaboration. Galvanize also offers the largest selection of programming, web development, and data science courses in Denver. So, if working, networking, and collaborating with tech talent is what you're after, Galvanize Platte is the place for you.
Price: Starting at $300/person
Situated in the heart of Cherry Creek North, Thrive Cherry Creek transformed a vacant furniture store into a unique coworking community
Address: 201 Milwaukee St Unit 200, Denver, CO 80206
Perks: This special community coworking space thoroughly deserves its "best for collaboration" distinction. This workspace, Thrive Workplace – Cherry Creek, is both a workspace for professionals to conduct business and a curated community focused on growing in the Cherry Creek area.
As you would expect, the space is well designed and modern. It's located in Cherry Creek, with upscale retail and dining options nearby. Thrive is family owned, and community minded, holding events designed to foster professional development, mentorship, and of course, collaboration.
Price: Starting at $450/person
Featuring incredible views and a location just steps from the Capitol, you'll find office space that's contemporary, comfortable, and perfectly suited to you and your team.
Address: 110 16th St Mall Unit 1300, Boulder, CO 80305
Perks: The last coworking space on our list offers a host of perks, from the exceptional location to the extraordinary hospitality. Here you'll work with everyone from entrepreneurs and startups to established businesses for a focused and friendly work environment.
The building is located just a stone's throw from the Capitol and features some of the city's best views. With floor-to-ceiling windows, high ceilings, and an industrial loft design, this is the perfect backdrop for both individual work and group collaboration. Event space and high-tech meeting rooms make it work for clients and colleagues as well.
Now that you know more about Denver's top coworking spaces, you're probably ready to book one. We can help with that too. Upsuite helps teams find the coworking office that is the perfect fit for their business. Whether you want to book a free day or something long term, we can help you secure the right spot.
Price: Starting at $199/person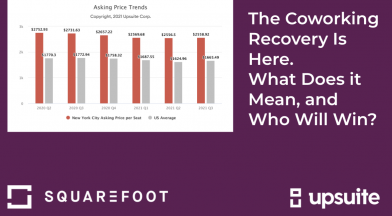 Coworking Trends: The Coworking Recovery Is Here.  What Does it Mean and Who Will Win?…