7 of the Best Coworking Spaces in Tampa [2021]
There are a variety of ways to work when you become a member of one of the best coworking spaces in Tampa FL. Here you'll find a variety of amenities, along with distinctly different workspaces, cultures, and convenient locations. 
Finding the right coworking or flexible office space depends on a variety of factors. Where does your team want to be located? What is your budget? Are you more focused on networking and collaboration or privacy? Do you need event space for hosting clients and guests? Do you need an inspiring space for creative work or are you recruiting top-notch tech talent?
You know that you'll need more than a Google search to find the right Tampa coworking space. You'll need expert knowledge and boots-on-the-ground experience. That's where Upsuite comes in. We've been to the spaces and compared the options to find the best coworking space for teams and solopreneurs in Tampa.
When you're just starting out, you need flexibility and coworking space that can grow with your company. That's why CoWorkTampa offers four different membership levels for teams and startups of all shapes and sizes. With high-tech conference rooms and event space onsite, there's nothing you can't accomplish here.
Welcome clients, colleagues, and new team members into this elegant space high above Tampa in the SunTrust Financial Center building. Collaborate and cultivate your professional network while providing your team with best-in-class amenities and features including dining options and a fitness center.
Take advantage of this spectacular setting for team building and collaboration, plus a location near some of Tampa's best dining and entertainment options. Here you'll enjoy a variety of workspaces and membership options along with a dedicated support staff and top-of-the-line amenities.
Establish your company's Tampa presence at one of the city's most enviable addresses. Located close to both the expressway and the airport — and offering an airport shuttle service for even more convenience — this is the place to be in Tampa, whether your client base is local or international. Located in a mixed-use development, this Class-A, Energy Star-rated building provides an impressive backdrop to your team's achievements.
You'll find everything you're looking for in this spectacular waterfront building located close to the convention center, Amalie Arena, hotels, and restaurants. Boasting a 3000 square foot deck, you can host a variety of events and enjoy the assistance of exceptional in-house support staff.
Sometimes you need spaces to spread out and collaborate, and sometimes you need a place to get away from it all. This flexible office environment boasts dozens of fully furnished private offices, as well as meeting and conference spaces. That means you and your team can keep up with the changing needs of your business. 
Pipeline offers a high-design environment with an emphasis on inspiring spaces that bring out the best in members. Here you'll find a variety of space solutions for teams both large and small. Pipeline offers everything from private space for quiet, focused work to meeting rooms and high-tech conference rooms for training and presentations.
What makes an ideal flexible office environment? Only you and your team can answer that question. Take stock of the way you like to work then talk to an Upsuite Coworking Advisor so you can find the space that checks off every item on your wishlist.
Looking for the best coworking spaces in Tampa? We've got all of the information you need. Check out our map of the best spaces in North America. Are you a Tampa coworking operator looking for more member teams to fill your space? List it with Upsuite. Are you a Tampa commercial real estate broker who wants to work with Upsuite to find your next client?  Register as an Upsuite Broker partner.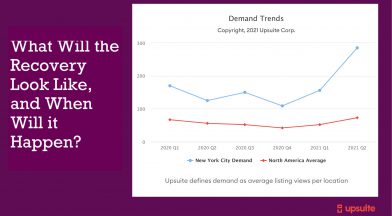 Coworking Trends: What Will the Recovery In the Coworking and Flexible Office Markets Look Like,…
The average cost per person for a coworking space in 2021 is $372.4. Find more about coworking space costs.