7 Best Coworking Spaces in Raleigh-Durham
The Raleigh-Durham metropolitan area offers a host of great coworking offices, along with a variety of amenities and convenient locations throughout the region. In addition, you'll find coworking spaces for a wide range of budgets and space allocation needs. 
Depending on the size of your team and the way they like to work, you may be more focused on private offices, multi-function suites, and collaborative environments. That can make it difficult to determine which space is best from a simple Google search. That's why we offer boots on the ground insight to help you find the best coworking spaces for your team, small business, or startup in Raleigh-Durham.
Venture X Durham – Frontier RTP is a modern coworking space offering its members a shared, flexible workspace with a community of like-minded business professionals.
Address: 600 Park Offices Dr Suite 300, Durham, NC 27709
Perks:  This bright, cheerful space offers a host of options for all types of businesses. Whether you're a startup, a team, or a growing established company, you'll find a variety of spaces that work for you. With high-tech conference rooms and event spaces, this is a great option for teams who host client presentations, training sessions, and collaborative events.
Price: Starting at $99/person
Perched in a 10-story glass tower on one of the highest elevations of the city, our first Raleigh location stands above the rest, redefining downtown office space. 
Address: 1 Glenwood Ave #5, Raleigh, NC 27603
Perks:  Looking for the ultimate in convenience for your team or small business? You'll find it in this lofty spot, perched on one of the city's highest elevations and offering exceptional panoramic downtown views. You're just minutes from the bus and train, plus on-site bike storage and nearby parking. Enjoy a convenient commute via Route 401 and take advantage of the many dining, shopping, and entertainment options available right on your doorstep.
Price: Starting at $350/person
Spark your creativity in an inspiring work environment at Spaces Centre Green.
Address: 5000 Centregreen Way Suite 500, Cary, NC 27513
Perks:  Working together is easier in a space that is designed for collaboration. That's what you'll find in this soaring and open space, offering a variety of configurations and suite sizes for all kinds of teams. In addition, you'll be up close and personal with a an exciting professional community composed of the area's top teams, entrepreneurs, and innovative professionals.
Price: Starting at $226/person
At Intelligent Office, we champion the needs of the modern business owner.
Address: 555 Fayetteville St #201, Raleigh, NC 27601
Perks: Here you'll find a new LEED-certifiied building offering a variety of private offices and meeting rooms, providing a perfect setting for your next client or team meeting. Explore the productivity possibilities offered by stellar support, including phone answering, front desk reception, and virtual assistant services to ensure that everything on your to-do list gets done.
Price: Starting at $1,100/person
Turn Key Office Suites offers a wide variety of services which will allow you to operate your business at its true potential.
Address: 5540 Centerview Dr STE 200, Raleigh, NC 27606
Perks: Enjoy a variety of private, lockable office suites with a budget-friendly selection of amenities so that you and your team can get down to business. Here you'll find a free conference room allowance each month, either here or at an affiliated location, along with professional reception services and a full-time in-house manager to greet your guests and facilitate your team's productivity.
Price: Starting at $335/person
Meridian Parkway is modern, professional office space in the renowned Research Triangle Park that houses research, development and hi-tech companies.
Address: RTP Meridian, 2530 Meridian Pkwy Suite 300, Durham, NC 27713
Perks: With its location in Research Triangle Park, its high-tech infrastructure, and the world-class professionals you'll work alongside, this coworking space offers everything you're looking for. You'll enjoy a variety of office suite sizes and configurations, in a convenient location and a bright, cheerful environment. This space is filled with extras including an on-site cafe and in-house support services.
Price: Starting at $180/person
Located on famed Fayetteville Street in bustling downtown, this space puts you in the center of it all.
Address: 555 Fayetteville St Suite 300, Raleigh, NC 27601
Perks: Your whole team will feel right at home from the first day you walk into this sophisticated space. Located on the bustling Fayetteville Street corridor, you'll enjoy exceptional amenities including daily breakfast and craft coffee, office supplies, a wellness room, and community events. Ready to host clients and colleagues? Onsite event space and dining options make it easier than you ever imagined.
Price: Starting at $730/person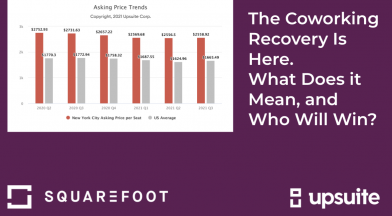 Coworking Trends: The Coworking Recovery Is Here.  What Does it Mean and Who Will Win?…