10 Best Coworking Spaces in San Jose
Teams, small businesses, and startups looking for coworking offices in San Jose have a variety of options. Here they can choose from private offices with an emphasis on high-tech infrastructure or collaborative spaces with a focus on events and networking. Add in upscale amenities and optimal locations and there are coworking spaces for teams and companies of all shapes and sizes.
Finding the right coworking space requires more than a Google search or a casual selection process. You need the insight of someone with the expertise and experience to evaluate the options and find the space that fits your needs best. That's where we come in with our list of the best coworking spaces serving San Jose's professional community.
Situated at 18 S. 2nd Street in Downtown San Jose, our newly renovated CommonGrounds location boasts a light-filled entryway, open layout with exposed ceilings and concrete floors, while featuring the latest in modern design touches.
Address: 18 S 2nd St, San Jose, CA 95113
Perks: This newly renovated downtown office environment is a light, bright space featuring an open-concept layout with an emphasis on modern design. Here you'll find a workspace that's designed to facilitate collaboration, with communal areas and whiteboard huddles, along with Hackable Architecture™ for on-the-go space optimization and maximum productivity.
Price: Starting at $475/person
Featuring a prime location in North San Jose, this Expansive location offers proximity to key corporate campuses such as Apple, PayPal, and eBay, as well as easy access to San Jose International Airport.
Address: 2150 N 1st St, San Jose, CA 95131
Perks: There's so much to love in this North San Jose location, offering convenient proximity to area heavyweights like the campuses of Apple, PayPal, and eBay plus SJC. In addition, you'll find a variety of office options, including customized SmartSuites with direct fiber internet, plus an on-site fitness studio with showers and an expansive outdoor patio.
Price: Starting at $287/person
OnePiece Work San Jose is our first location, and it centrally located a block from Santana Row.
Address: 3165 Olin Ave San Jose, CA 95117
Perks: Location and infrastructure make this an ideal home base for San Jose's tech community. It features a central location a block from Santana Row, across the street from light rail, and close to multiple parking garages. The space itself is inspiring and conveniently close to popular local hangouts and a diverse community of creative tech professionals, so you can build your professional network.
Price: Inquire For Pricing
The Silicon Valley Center is located in one of the most exciting and entrepreneurial locations in California. 
Address: 2570 N First Street 2nd Floor, San Jose, CA 95131
Perks: When you're first starting out, you need a workspace that works as hard as you do. You'll find it in this Class A building offering a prestigious address in The Silicon Valley Center. Here there is meeting space for clients and colleagues along with the support services you need to make your team more productive every day.
Price: Starting at $551/person
The North San Jose Center is five minutes from San Jose International Airport and has good access to all parts of Silicon Valley. 
Address: 2880 Zanker Road North, Suite 203, San Jose, CA 95134
Perks: Be in the center of it all in this North San Jose flexible office location, nestled amid a host of high-tech and financial services companies, entrepreneurs, and professional teams. You'll put your best professional face forward with in-house support and reception services along with meeting spaces and high-tech conference rooms for optimal virtual and in-person collaboration.
Price: Starting at $480/person
Spaces By Santana Row is a unique and inspiring working environment located in the thriving Silicon Valley and West Valley neighborhoods right in the heart of Santana Row.
Address: 3031 Tisch Way, 110 Plaza West, San Jose, CA 95128
Perks: This colorful and creative office environment is located in the desirable Santana Row residential and commercial corridor in West San Jose. Here you'll find room for teams of all sizes, along with scalable support for every stage of your development. Choose from a variety of add-on amenities and extras so that your workspace can adjust to the changing needs of your business.
Price: Starting at $226/person
Step inside WeWork Valley Towers and experience firsthand why San Jose is quickly becoming the area's creative corridor.
Address: 75 E Santa Clara St, San Jose, CA 95113
Perks: Occupying five full floors of WeWork Valley Towers, this soaring space features views of Silicon Valley and convenient proximity to its world-renowned creative and tech community. This light, bright office environment offers everyday inspiration to fuel your team and their best ideas. Downstairs, your team can socialize at ISO Beers and get to know other members of the area's professional community.
Price: Starting at $380/person
In one sense, we are a space for work – simple.
Address: 453 W San Carlos St, San Jose, CA 95110
Perks: You'll have everything you need to keep your team moving forward in this startup studio. Here you'll find access to equipment for projects and presentations along with event space for hosting clients and colleagues. You and your team will love the laid-back atmosphere and the convenience of an office environment where everything has been thoughtfully planned for your productivity.
Price: Starting at $199/person
There's always something going on at ZED. ZED Silicon Valley is a office space that provides sophisticated office service and focus on maximizing work productivity.
Address: 690 Saratoga Ave 1st floor, San Jose, CA 95129
Perks: Located conveniently close to Apple HQ, ZED offers a variety of configurations so that your space can work for you. What's more, ZED provides events and programs including startup pitch training so that you can refine your delivery and learn how to introduce yourself — and your business — to the Silicon Valley movers, shakers, and decision-makers you meet.
Price: Starting at $269/person
If you need furnished private temporary office space for rent in San Jose, schedule a visit and we will show you around.
Address: 111 N Market St #300, San Jose, CA 95113
Perks: Whether you need temporary space for a standalone project or transitional space while you decide on your next move, this office environment provides the flexibility you need. Here you can avoid long-term commitments and contracts while taking advantage of the professional infrastructure, services, and amenities you require for your day-to-day operations.
Price: Starting at $149/person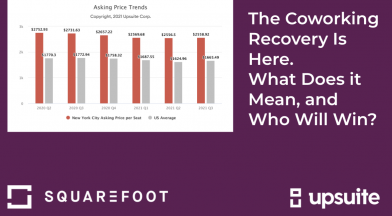 Coworking Trends: The Coworking Recovery Is Here.  What Does it Mean and Who Will Win?…