5 Best Coworking Spaces in Pittsburgh
Finding the right coworking office in Pittsburgh can be a challenge for team leaders, small business owners, and startup founders. Each group has its own unique way of working just as each office or workspace has unique layouts, cultures, and amenities. In addition, your needs may vary depending on whether you're hosting clients, holding meetings, or spending most of your time on hands-on creative projects and collaborative endeavors.
With so much riding on your decision, you can't leave it up to a simple Google search. You need in-person knowledge of coworking spaces throughout the Pittsburgh metro. The good news? Our specialty is helping you find the right space — whether your business is buttoned up or casual, tech-focused or creative.
The Regus Proscenium office space in is located in the cosmopolitan district of Midtown.
Address: PPG Place, One, # 31, Pittsburgh, PA 15222
Perks: Finding a beautiful space makes a difference in how you and your team approach your workday. Located in Pittsburgh's iconic PPG Place, this gorgeous space offers you luxe features, exceptional service, and amenities that are second-to-none, including event space that you'll be proud to show off to clients and colleagues. 
Price: Starting at $840/person
Ascender is a vibrant community of innovators that helps entrepreneurs start and build their companies by offering educational programming, mentorship, expert coaching, incubation, and a collaborative coworking space.
Address: 6401 Penn Ave, Pittsburgh, PA 15206
Perks:  There's so much to learn when you're just starting out, and this workspace provides the community that you're looking for. Here you'll always find someone to connect with when you have a question or challenge thanks to in-house mentoring, expert coaching, bootcamps, and incubators. With 50% female or minority or minority founders, you'll be part of a diverse community and enrich your professional network.
Price: Starting at $200/person
Built in 1900 at the heart of Pittsburgh's Golden Triangle, the historic Liberty Ave. 
Address: 606 Liberty Ave., Pittsburgh, PA
Perks:  This stunning space keeps your team more productive with a bright, beautiful space located in an historic landmark building in the heart of Pittsburgh's downtown. Begin working in one of the existing private or collaborative office spaces or customize your own space for teams from 10 to 100 with features like private entries, kitchenettes, and conference rooms.
Price: Starting at $299/person
Discover your next great idea in creative workspace with Spaces in Pittsburgh's burgeoning East End.
Address: 6425 Living Pl Suite 200, Pittsburgh, PA 15206
Perks: Taking its name from its location in the former historic Nabisco factory, this workspace is custom-made for creative teams and startups. When it's time to get down to business, your team will have everything they need with a variety of private and collaborative spaces, breakout areas, and networking opportunities. Need a break? Step outside to an open-air retail, dining, and recreation complex offering everything you need to recharge.
Price: Starting at $226/person
The North Shore Place II Regus center at 322 North Shore Drive puts your business in one of Pittsburgh's trendiest neighborhoods.
Address: Building 1B, 322 N Shore Dr Suite 200, Pittsburgh, PA 15212
Perks: You're in the heart of it all at this cheerful coworking space, offering a host of amenities and a location in one of the city's trendiest and most exciting neighborhoods. You're just steps from iconic city landmarks and the best dining and shopping in the area along with the businesses where your colleagues, clients, and competitors are located. Just a block from the Allegheny River, this is a truly exceptional setting for your professional home base.
Price: Starting at $180/person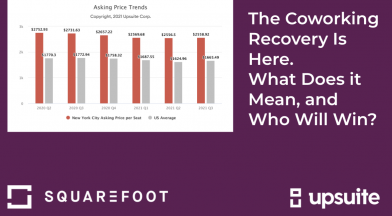 Coworking Trends: The Coworking Recovery Is Here.  What Does it Mean and Who Will Win?…