Coworking trends are all over the map as we open 2022.  Demand for coworking and office space changed in a big way over the last couple of years due to COVID-19 and will quickly evolve in 2022. Many employers are moving from study to action, transitioning their workforce back to the office, moving to hybrid models, or gravitating toward fully remote workforces. Will they butt heads with employees who wish to skip the daily commute and work remotely? If companies mandate that workers return to the office, will they lose top talent? 
Companies must confront these questions and make tough decisions regarding the return to in-person work, but none have the ultimate answer. Generally, employers fall into three main camps:
Allow employees the flexibility to decide if they want to work from home or in the office. 

Set flexible guidelines for a hybrid model, with eligible employees working from home on certain days and from the office on other days of the week. This method may require experimentation to see what works best for each company.

Mandate that workers return to work with fixed guidelines, similar to how the office operated before the pandemic. 
Coworking Trends Will Follow Office Demand in 2022
There are many data sets that show that coworking trends are now correlated with overall office trends.  Data from Kastle Systems shows that office occupancy (based on card swipe data) is around 40% in America's largest cities as of November 2021, and rising in a slow march. Office occupancy has steadily increased since April 2020. However, there is still an extreme underutilization of office space, even among offices leased. Tenants believe they have the power and ultimate choice in leasing negotiations.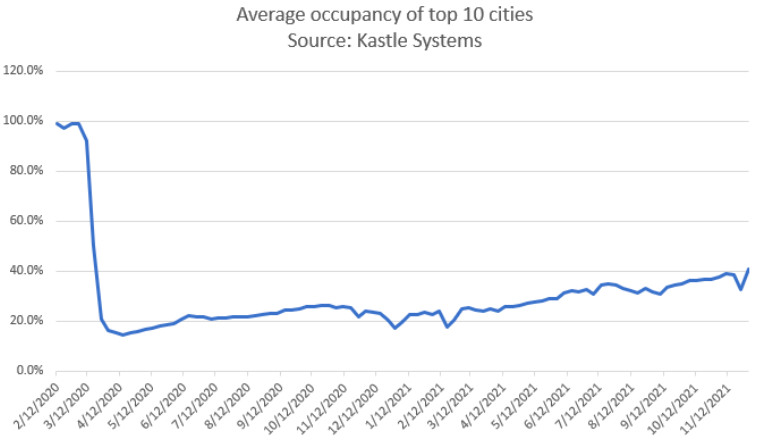 In April 2020, SquareFoot's President Michael Colacino wrote a great paper on how the rise in remote work will affect office demand. In it, he outlined the drivers moving companies toward remote work, and the constraints that will slow change down. Almost two years later, there is still tremendous uncertainty in the flexible office industry, and the future is yet to be written. 
As more employees return to the office, workers will work full-time, work remotely permanently, or follow a hybrid model. In a short two-minute video, Squarefoot's Ben Wright and Patrick Braswell discuss this phenomenon, using data from Stanford economist Nick Bloom. Ben estimates that up to 20% of office workers could transition to full-time remote work, compared to just 4% before the pandemic.
So Where Are Coworking Trends for Demand Headed in 2022?
One clue indicating demand is online search data provided by Google. This data shows lower online search volume on Google for coworking space across North America, in both the United States and Canada. While there's promising touring activity, a lot of it is tire-kicking. 
Data aggregated on the Upsuite.com platform seems to indicate that coworking shopping activity in the US is currently in a period of volatility, as demand was down in Q3 but rose again in Q4. Volatile shopping activity led to similar outcomes in touring and contracting. We also found that time-to-close and win-rates were sensitive to COVID, which forced many employees to work remotely in December and January. 
Upsuite data shows that strong fundamental job markets and large traditional markets experienced growing demand for coworking in Q4 of 2021. For example, Atlanta posted a strong 118% growth in Q4.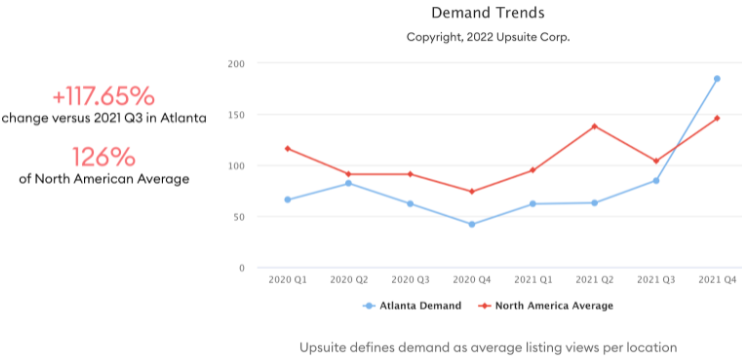 Demand and shopping activity within markets is not spread equally across geography. Consider sprawling Los Angeles, which saw a strong 91% growth rate in Q4. The introductions that SquareFoot and Upsuite made are heavily concentrated west of downtown LA, in Hollywood and Culver City.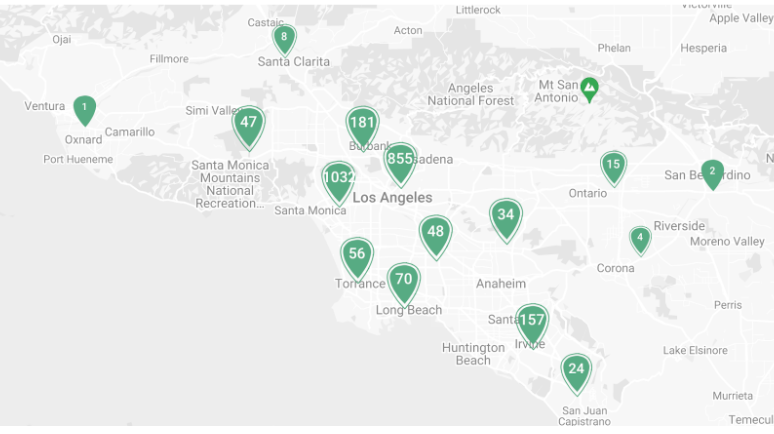 Other large markets experienced substantial growth in Q4:
Houston: 91% Growth 

Manhattan: 74% Growth 

Nashville: 64% Growth 
However, some historically high growth "techie" cities headed in the opposite direction in Q4: 
Seattle: -21% Decline

Toronto: -31% Decline

Boston: -33% Decline

Silicon Valley: -38% Decline

San Francisco: -46% Decline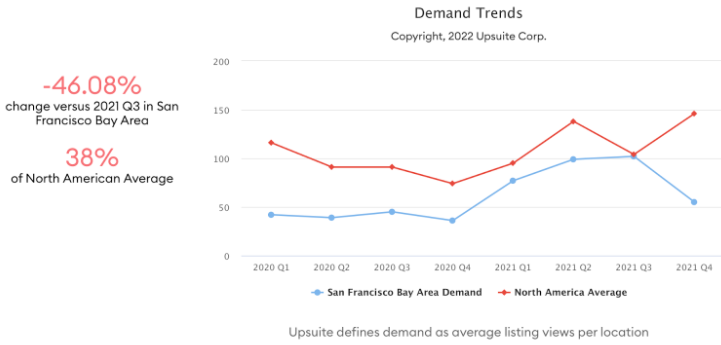 What Do These Coworking Trends Mean for the Office Industry in 2022?
We are clearly in a period of significant oversupply of office space. Occupiers will drive demand, but many of them haven't figured out what they want from their future office, which casts a shadow of uncertainty over the industry. 
We predict that there will be growth in office occupancy over the course of the year, but that there will be shrinkage in overall occupancy (leased space), as some companies reevaluate their current space. The decline in occupancy could range between 5% and 20% lower than current levels.  
However, there are wide variations in how occupiers currently act depending on the market and industry they are in. 
Even though the flexible office industry is in a period of extreme uncertainty, operators have a chance to provide new products and innovative solutions to help occupiers navigate the flexible office market in 2022 and beyond. Those that do will be winners. Those that don't will have a tough time succeeding.
You can do all the legwork yourself, but Squarefoot's Flexible Solutions Team, armed with our deep expertise and data, can help you navigate the flexible office market in 2022 and beyond. 
About SquareFoot
SquareFoot is a new kind of commercial real estate company that helps businesses solve all of their real estate needs. With a tech-enabled listings platform, extensive flexible office inventory, and a dedicated brokerage services team, SquareFoot creates a transparent, user-friendly office search experience for tenants. Headquartered in New York City, SquareFoot serves 30+ markets across North America. 
Flexible Office Solutions by SquareFoot
SquareFoot's Flexible Solutions Team offers businesses a tech-powered network of private office suites, shared offices, and meeting spaces, all with flexible terms.  Available through SquareFoot.com, Upsuite.com, and PivotDesk.com, and serviced by the company's dedicated Flexible Solutions Team (FST), SquareFoot's network of 50,000+ spaces allows businesses to identify and rent spaces that suit their unique and evolving needs — all while getting the best deal available.  SquareFoot's Flexible Solutions Team saves you 90% of the time you'd otherwise spend sourcing, contracting, and managing your real estate and up to 50% off of asking rents.
About Upsuite 
Acquired by SquareFoot in spring 2021, Upsuite offers coworking and flexible offices in 35+ North American markets that are conveniently located, meet your budget, and on your terms.
Unlike doing time-consuming Google searches and tours yourself, Upsuite helps you find and secure an office in 90% less time, and save as much as 50% on rental costs by providing 99% of the market inventory, actual suite availability, and pricing, and a helpful Advisor.
After buildout is over, consider the ongoing costs of maintaining a coworking space, such as taxes and maintenance.