Living in Chicago gives you access to Lou Malnati's deep dish pizza, Portillo's hot dogs, Millennium Park, Wrigley Stadium, and the Cubs. Now you'll also be able to find and book the right coworking space at the lowest price and greatest ease because Upsuite is serving the Chicago market.
If you're a coworking operator, this is good news for you too since we'll help you connect with qualified coworking teams looking for office space. Before we dive into the ways our entry into the Chicago market will help coworking in the city, let's look at how coworking is flourishing in Chicago.
Coworking in Chicago
In the Chicago metropolitan area, there are currently 3.76M actively employed people. Specialized industries concentrated in Chicago include transportation and warehousing, science, technology, finance, corporate management, and judicial services. Chicago is also home to large healthcare, social assistance, and education service organizations.
With an ever-growing demand for coworking options, Chicago's coworking operators have tripled their available space, adding 1.8 million square feet of shared office space in just four years. Chicago's coworking offices are located in the city's most in-demand commercial real-estate markets, so the success of these spaces contributes to the continued success and desirability of these areas.
However, due to non-compete clauses restricting competitors from moving into a space that's already occupied by one operator, experts note that the available options for new coworking spaces in Chicago are diminishing. This is especially true for the Class-A buildings, which are the highest quality office buildings in the city.
Concentrated in the downtown and Near North Side areas, coworking operators like WeWork, Industrious, Serendipity Labs, Novel Coworking, and Regus are meeting the needs of Chicago's workforce.  WeWork, the global leader in coworking offices, is also the dominant player in the Chicago market with about 23% of all coworking space in the city. Regus and Spaces come in at second and third in terms of overall available coworking office space in Chicago.
The Benefits of Shared Workspaces
From freelancers to small teams, and large corporations, everyone can find a coworking space to meet their needs. Coworking options are popular for many reasons. Teams that use coworking spaces find they are usually more productive, collaborate, and able to attract and recruit top talent. Freelancers and solopreneurs enjoy abundant networking, complete office services, and a professional address for their business.
Teams and companies alike enjoy the amenities associated with coworking offices at a lower cost than required for a traditionally leased office. By not having to lease dedicated meeting and common space, companies reduce the average space requirement per employee from 200 sq ft to about 75 sq ft. This reduction results in a significant cost savings without compromising privacy, convenience, perks, and benefits, or the company culture.
Upsuite Helps Teams Find the Perfect Coworking Office Space
Upsuite is an online marketplace for coworking space. We help teams find the perfect fit coworking office from the entire market so they can do their best work. We provide access to the largest coworking inventory available, providing detailed descriptions, reviews, maps, and insight into the unique culture of each space.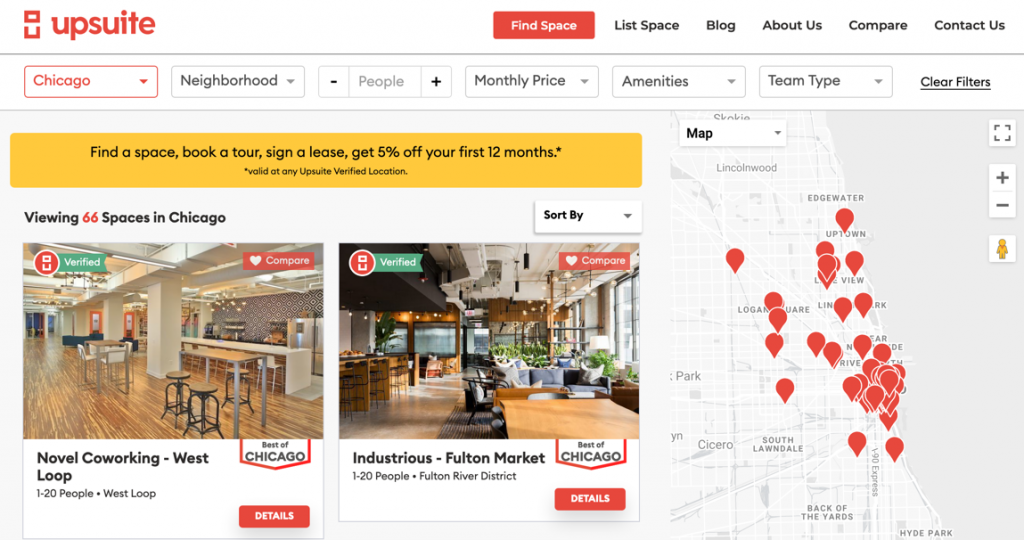 What was once a time-consuming process of internet searches, email inquiries, and tours all over town is now as simple as a single search on the Upsuite website. With our advanced search and matching algorithms, teams can make decisions about coworking offices in minutes not days. Upsuite's Chicago coworking market data contains over 70 different coworking spaces.
Upsuite Helps Operator Partners Connect With Teams
With more coworking spaces now than ever before, operators are finding that occupancy can be a concern. We help operator partners solve this problem by connecting them to great teams who need a coworking office.
We provide our teams with detailed information about each unique space, then we pre-qualify them before sending them to an operator for a tour. This unique fit process helps operators save time and find teams that become long-term tenants.
Upsuite's Growth
Upsuite was created during an entrepreneurship accelerator called 101010 Cities, and was one of ten companies to complete the Colliers Proptech Accelerator powered by Techstars in 2018. Headquartered in Denver, Upsuite now serves Toronto and Chicago, with service coming soon to Seattle and Vancouver.
Read about Upsuite's growth in 2018 here: Upsuite: A year in the life of a coworking marketplace startup
Ready to get started?
Looking for coworking in Chicago? Click here.
Are you a coworking operator in Chicago who needs more member teams? Click here.
Are you a Chicago CRE broker that wants to register with Upsuite? Click here.