If you're not from Los Angeles, it's easy to think life in the city revolves around the Hollywood Walk of Fame, Rodeo Drive, and the many theme parks in the area. However, locals know that's far from the truth. Instead, life in the Los Angeles area is more like hiking Griffith Park or Runyon Canyon, grabbing some fresh produce at the West 3rd and Fairfax Farmers Market, dining at one of the great neighborhood restaurants, and of course, planning your commute to avoid the worst of the traffic.
People living and working in Los Angeles are also able to find and book the right coworking space at the lowest price and greatest ease because Upsuite is now serving Los Angeles. This announcement is excellent news for teams and coworking operators alike because Upsuite connects verified teams with the right coworking office quickly and easily.
Before we explain how Upsuite transforms the process of finding and booking a coworking space, here is an overview of the thriving coworking industry in Los Angeles.
Coworking Space in Los Angeles
According to California's Employment Development Department, there are currently  4.87M people employed in Los Angeles County. Some of the largest industries include health services and biomedicine, aerospace and technology, education, legal, government, trade, transportation, agriculture, and utilities. With so many people working in so many diverse industries, it is no surprise that there's a massive demand for coworking office space. Accordingly, Los Angeles is the second biggest coworking market in the country, coming at a close second only to Manhattan.
For the last decade, demand for coworking space in Los Angeles has grown drastically, and the supply has kept pace with the demand. Since 2008, inventory of leasable shared office space has grown 500% and currently stands at about 3.54M SF of office space. Demand that used to be primarily driven by smaller companies and freelancers has accelerated sharply now that shared workspace is embraced as a smart business move by larger companies too.
The three largest coworking office suppliers in Los Angeles are We Company (aka WeWork) with 1.2M SF, Regus, with 935,413 SF, and Premier with 495,929 SF. All three are Upsuite Verified operators, and they are among the best in the business. Although much of the inventory is concentrated in the Downtown and Westside of Los Angeles, the urban sprawl and heavy traffic have prompted the expansion of space in some submarkets like Santa Monica and Brentwood. However, no matter where you are in the Los Angeles, you can find the right coworking space with Upsuite's available inventory of over 200 locations more than 500 office suites.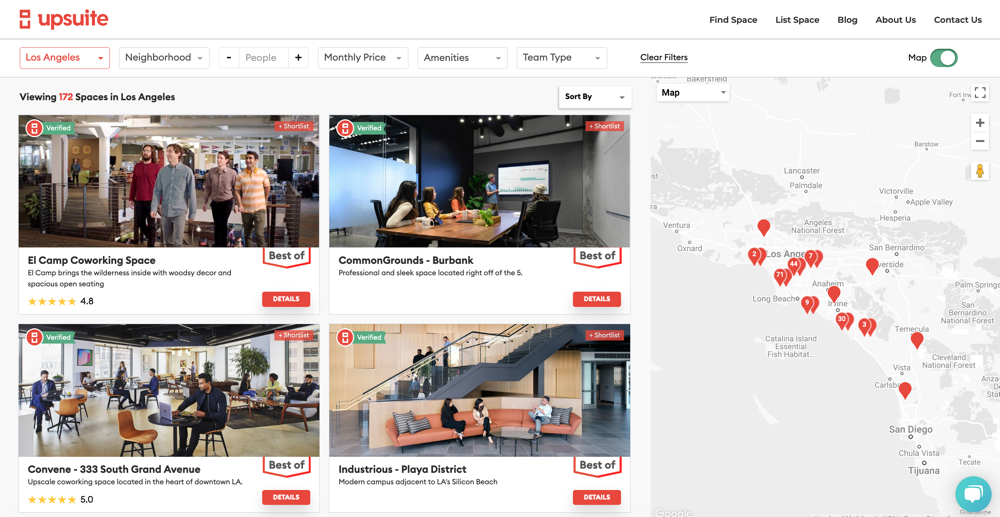 The Benefits of Coworking Spaces
For many reasons, leasing a coworking space is a better option than leasing a traditional office. Coworking spaces foster productivity, collaboration, networking, and they are amenity-rich. Solopreneurs who work from coworking spaces appreciate the abundant opportunities for growing their business, the ability to use on-site office services, and a professional address that lends credibility to their business. Teams enjoy the benefits already mentioned but also flock to coworking space because they can recruit and retain top talent.
The atmosphere and amenities associated with coworking are available at a lower cost than required for a traditionally leased office. Coworking office space relieves companies of the need to pay for dedicated meeting and common space, which results in significant cost savings without compromising convenience or privacy. Teams and companies that lease a coworking space also see enhanced employee culture without shouldering the cost of popular perks and amenities like snacks, rec rooms, onsite gyms, and beverages on tap.