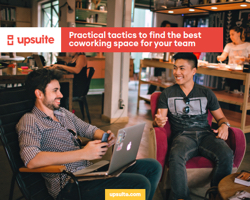 We have recently launched a significant update to our coworking eBook titled "Practical tactics to find the best coworking space for your team" and think it will provide a great resource for anyone that is exploring coworking options for their company.
In the eBook you'll learn:
Understand your needs and whether or not coworking is right for you and your team(s)
How to conduct extensive online research using Upsuite and other online tools
Prepare for tours of coworking spaces
What to look for when you have a trial day at a coworking space
How to negotiate pricing that works for your budget
Whether you have a small team of 2-3 people or an entire department, careful consideration needs to be given to your coworking decision and we hope you'll download this eBook and use the information to help you make the right choices.
We're always looking to improve the content we provide and welcome your feedback about this eBook.
To download the eBook, just click here to get started: