Why Choose Serviced Office Space?
Think about all that it takes to run and operate a professional office environment. A serviced office space provides all of it — the space, staffing, amenities, and logistics — in an affordable and easy-to-manage package. 
-First: How do serviced office spaces work?
Serviced office spaces may feel very much like a traditional office environment. However, here you'll find more flexibility without the need for expensive commercial property ownership and management or long-term, multi-year leases. In addition, you'll leave the hiring and management of support personnel to the office operator.
– Serviced Offices vs Coworking Spaces
Unlike coworking spaces, which may be more geared toward solopreneurs and freelancers, a serviced office can provide a setup much like a traditional commercial office. In addition, the administrative and tech support of a service office space far surpasses that of most coworking spaces.
– Key Benefits of Serviced Offices
In most cases, you'll be able to move into your serviced office more easily and quickly than you could build out a commercial space. In addition, as your needs change, you may be able to grow your serviced office configuration or staffing support.
– Who is a serviced office best for?
A serviced office works well for teams, startups, and small businesses that are ready to move into an office environment but don't want to commit the resources to create their own space. In addition, it works well for those who need support but are not yet ready for full-time administrative or tech employees.
– How to find serviced office space?
When you work with us, you'll find spaces, amenities, and services that are geared to your specific needs and professional requirements. Contact us to learn more about serviced office space and find out whether it is right for you and your business.
Why Use Upsuite?
Largest Selection of Coworking and Private Workspace
No Cost Advisor
Save 90% of Time Looking for Space
Save 15 to 50% on Rent
Upblog: Coworking, Private Workspace, and the Future of Work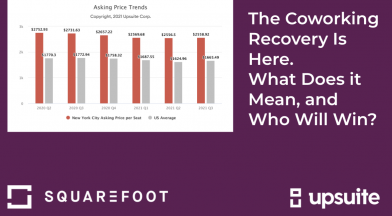 Coworking Trends: The Coworking Recovery Is Here.  What Does it Mean and Who Will Win?…
Thanks so much! Straightforward and a pleasure to work with.
Thanks for all you did in helping Techstars secure a facility in Denver. The process was seamless.
Had a really great experience working with Upsuite! Very professional, fast service – Upsuite helped me find the perfect space within days.