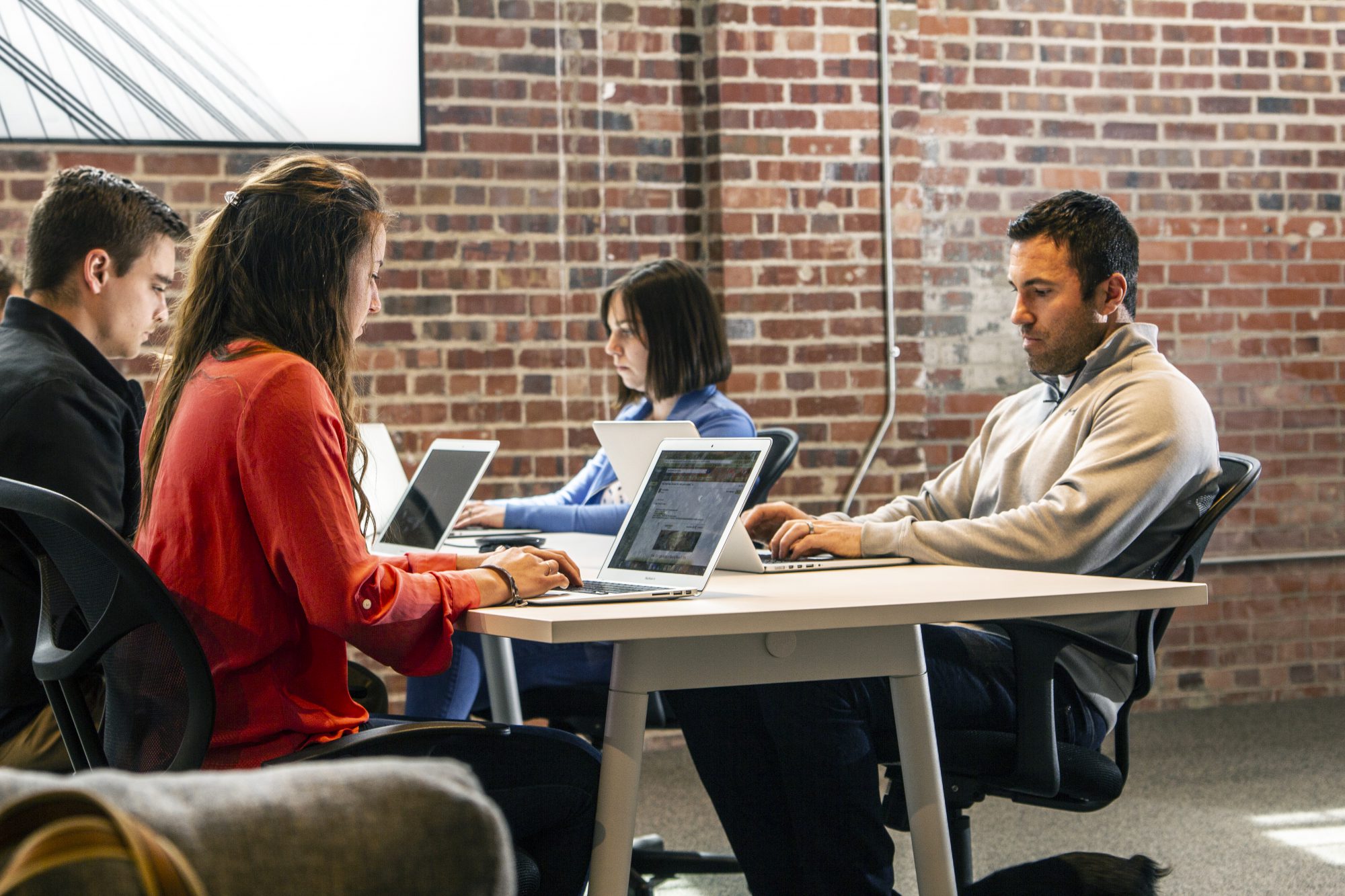 Coworking spaces are providing a better alternative to the traditional business office for many entrepreneurs, startups, and small business teams in Denver. Even with creative, amenity-filled spaces at popular downtown locations, coworking companies offer attractive membership rates by sharing the space across more members and teams.
Known for its startups and young professionals, it's no surprise that the Denver business community is leading the national charge for coworking spaces. Small businesses of all types are rethinking their workspace. There's a new generation of entrepreneurs. The gig economy. Lean startups. Self-employed contractors. It's has become clear that those work-from-home arrangements didn't quite get the efficiency they promised.
There are coworking spaces in Denver for just about anything. Some spaces cater to women or working parents. Some lawyers. One just for the construction industry. Another for outdoor companies. And of course, many designed with software developers in mind. Whatever you're into or about to get into, there's likely a coworking space crafted with your game in mind.
The target for many these days is to assemble the right team, Ocean's 11 style, all in the right place, and get farther, faster. Often, this comes down to the right team under the right leadership. But an interesting thing we have found from talking to so many companies is that some spaces are very social, and can even be distracting. Others have incredible settings but aren't walkable for lunch or coffee. These things drag down efficiency.
With high-productivity in mind, we found 11 Denver coworking spaces with high-performing tenants who create a "get-it-done" atmosphere.
Community: Innovation Pavilion likes to talk about "productive collisions" amongst a community of "inspired disruptors." Sounds about right to us, especially for this location in the heart of the DTC. IP has a network of investors for young companies who are also looking for funding.
Cost and Amenities: Depending on the size and furnishings, a private office costs $850-$2000/month and comes with 10 conference room credits.
Community: Enterprise aspires to empower collaboration and culture between members. They offer a range of workspace environments, including sun-filled rooms and heads-down libraries, to better suit their members' needs. This RiNo District space can host events, rent conference rooms, and provide networking and social opportunities for its members.
Cost and Amenities: Entrepreneur groups and companies with more than ten people can access spaces to accommodate 12, 35, or 100 individuals (exact pricing upon request). Amenities include everything from a full kitchen and coffee stations to a rooftop patio and up to 1GB Fiber Internet.
Community: Level Office was created to cultivate a dynamic community of innovators and collaborators. Perfect for small businesses, entrepreneurs, and collaborative professionals, this space is designed to maximize work potential through high-quality amenities and a supportive culture. Right on 16th Street—close to transit and the Convention Center.
Cost and Amenities: Full office suites for start at $2,999 and Virtual Office options. Featured amenities include direct fiber Internet & WiFi, fully furnished spaces, paid utilities, mail service, and complimentary refreshments.
Community: GRID understands that launching a business and working virtually can be isolating. They created their space to foster a community and professional network among the city's most innovative individuals. GRID has several attractive options for everything from startups and small businesses to freelancers and creatives.
Cost and Amenities: Private office leasing begins at $600 per month. All membership levels have equal access to community amenities, which include events and mixers, workshops and seminars, WiFi Internet connectivity, A/V services, fully furnished spaces, and a range of refreshments.
Community: Home to a variety of artistic innovators, entrepreneurs, and cooperative businesses, Cluster Studios' 22,000-square-foot facility was a pioneer of the mixed-use creative workspace. Cluster Studios inspires the best artists and professionals with everything creative types could need including an art gallery, event space, and photo studio.
Amenities: Members can choose from a variety of office suites—from retail-forward and garage-inspired spaces to corporate offices and art studios. All Cluster Studios memberships include access to a loading dock, a furnished conference room, lounge areas, a game room, high-speed bandwidth, and a modern kitchen.
Community: Located north of City Park, Women in Kind is founded, funded, and designed for women—by women. Created to meet the social, life, and professional needs of women in and around Denver, this community is invested in the support and growth of women-led businesses. They want to facilitate an environment of kindness and support among the women who utilize their workspace.
Cost and Amenities: Women in Kind's fees are determined by monthly rates or the number of visits incurred. A private office is $1,200 each month, a dedicated desk is $515 per month, and an open desk access is $295 per month. Event space rental starts at $500.
Community: Union27 is a unique collaborative space focused on bringing together professionals in the wedding and events industries. Through the exchange of ideas, skills, and business opportunities, members of the Union27 community work together on creative events. From catering and photography to event space rental and floral design—Union27 helps create better events throughout Denver.
Cost and Amenities: Photo studio, meeting space, and common room rentals begin at $75 per hour, but members receive significant discounts. Workshop tables are $65 per hour, and event space rental starts at $175 each hour. Collective membership offers a combination of daily desk space, client meeting space, and workshop space, as well as high-speed Internet, a small gym, and local refreshments. Dedicated desks are $350 per month, but open workspace access is $250.
Community: This downtown Denver collaborative workspace prioritizes productivity in a modern, professional atmosphere. Sleek, minimalist furniture and hassle-free spaces allow start-ups, businesses, and freelancers to focus on their creative output without distraction. To that end, Modworks' networking events allow members to utilize each other's services in a collaborative community setting.
Cost and Amenities: Modworks' most inclusive option is a private office, which begins at $800 per month. Dedicated desks are $395 per month. All memberships include bicycle storage, free copying and printing, high-speed internet, complimentary food and beverages, and phone services.
Community: Created for entrepreneurs, small businesses, and freelancers, Union Stanley provides a unique chance for internal partnerships and mentors. In joining over fifty locally-owned businesses, community members have unparalleled access to hyper-local networking and collaborative opportunities. Located in the Stanley Marketplace, no time is wasted hunting for meals or coffee.
Cost and Amenities: Dedicated desks start at $450 and private offices starting at $1,000. Member amenities include unlimited free coffee, WiFi access, a Fiber Optic Network, copying and printing, access to union network and events, conference room time, phone booths, and free parking.
Community: Backyard on Blake's spaces are designed for retail, creative, and professional use. Housed in a stunning 1930's warehouse on (you guessed it) Blake Street, this workspace is a community of small businesses working together to grow and thrive. All tenants are owner-operated businesses reflecting the frenetic start-up energy of the RiNo neighborhood. With private offices and community event spaces, Backyard on Blake functions as a start-up and small business incubator.
Cost and Amenities: A private office will start around $1,000 per month. Permanent desks are $350 and floating desks are $175. Members have unlimited access to the conference room. All members have access to the lounge, café bar workstation, high speed internet, and printer, copier, and scanner resources.
Community: Just around the corner from Denver's Santa Fe Arts District, Battery 621 serves as both a physical and spiritual gateway to the city and mountains. Battery 621 began as a grassroots collaborative and creative workspace, and their tenants include everyone from soil scientists and rheumatologists to media companies and animation studios. The space is also excellent for hosting events, and they cater to corporate functions, private parties, non-profit fundraisers, and dinners/luncheons.
Costs and Amenities: Space rates differ dramatically, but all are private offices and suites designed for both privacy and collaboration. Members have access to complimentary beer and coffee, an event space, conference rooms, networking opportunities, high-speed WiFi, free parking, a rooftop deck, and a photo studio. Battery621 is a dog-friendly workspace.