Q4 2021:  Demand is Up, Way Up.  Will Profits Follow? 
In Q4, overall demand sharply increased in the United States, but some markets struggled to recover. Demand in Canada fell, along with historically strong markets with educated workforces, such as Boston and San Francisco. After reviewing our Q4 data, we found that there are six notable trends worthy of attention. 
1. Revenue was up modestly
Revenue was up modestly, but there were many reports of delays at the end of Q4 due to the Omicron variant, which limited revenue potential. While we don't have revenue figures for all operators, there were noticeable increases in lead volume, shopping activity, and asking prices. 
2. Lead volume was up sharply
Despite Omicron-induced delays at the end of the quarter, our data shows a 62% increase in lead volume in Q4. This trend indicates substantial interest in space, even if some of it is only window shopping. 
3. Shopping activity per location was up 
United States demand increased 40% from Q3 to Q4, up more than 50% from Q1 2021 and 26% from Q1 2020. Demand not only substantially increased over 2021 but is now noticeably higher than pre-Covid levels recorded at the beginning of 2021. Not all markets experienced an increase in demand, though. As you can see from the chart below, demand in Boston kept trending downward, even as national demand spiked.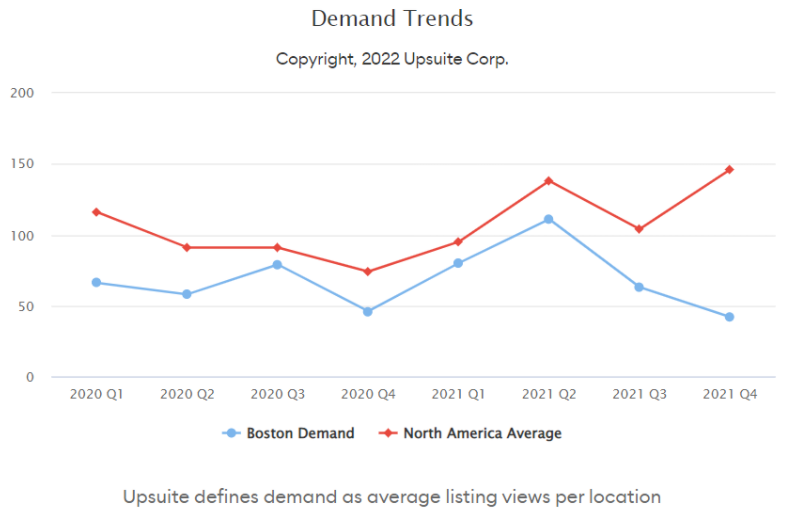 4. As a result of increased demand, asking prices are now on the rise  
Asking prices rose 2.5% quarter over quarter, representing the largest rise since Q1 2020, just before the pandemic. Asking prices were 5.8% higher in Q4 2021 compared to Q1 2020.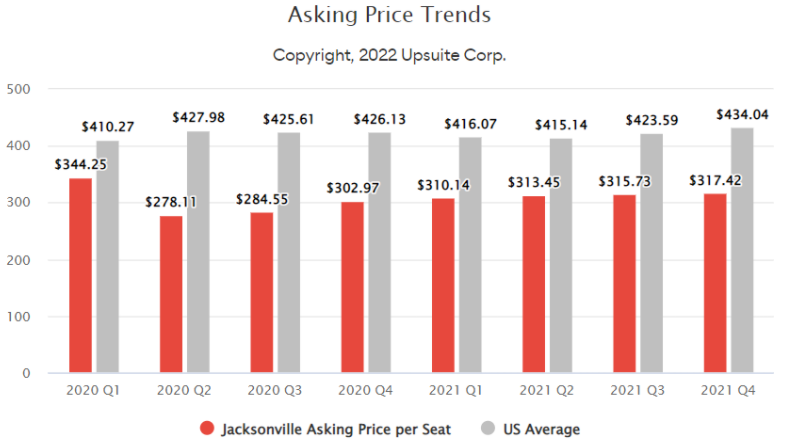 5. Inventory is growing again
Closures of coworking and flexible offices outnumbered the opening of new locations during the pandemic, but this trend reversed itself in Q3 2021 when there were 24 opens and 21 closures. Q4 saw similar numbers, with 20 opens and 17 closures. New York City was by far the strongest performer in this category, as the market absorbed more than a third of all new openings nationwide, despite no recent closures.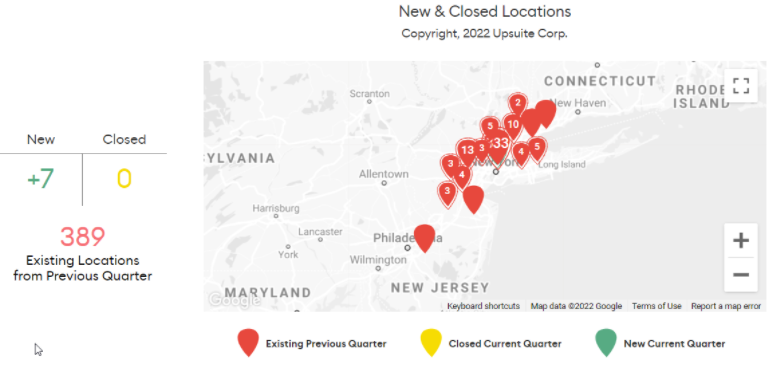 6. Some markets are recovering, while some are not quite there yet. 
Top Markets
Atlanta

had the highest increase in shopping activity, up an impressive 118%. Asking prices increased 2.9%, slightly higher than the national average.

Los Angeles

, the second-largest market in the country, experienced a 91% increase in shopping activity, but asking prices stayed around the same.

Houston's performance mirrored Los Angeles, with a 91% increase in shopping activity, with prices increasing a modest 0.65%

Bottom markets 
Calgary

experienced the sharpest decline (47%) in shopping activity, resulting in a 1.0% decline in asking prices. Overall, demand across Canada fell by almost 30% (compared to a sharp increase in the United States). Other major Canadian markets had a substantial decrease in demand, including Toronto (-31%) and Montreal (-15%).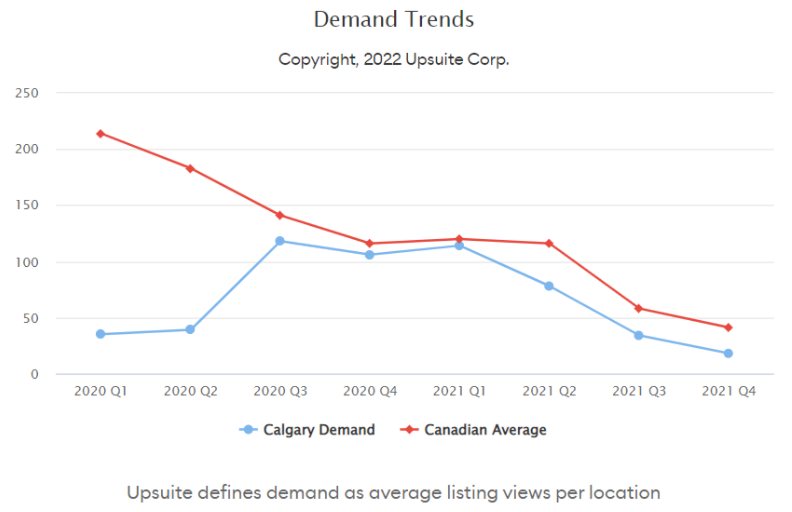 San Francisco

had the highest decline (-45%) in shopping activity in the United States, although asking prices remained around the same.

Boston

's asking prices remained level, although demand in the market declined by 33%.
What does this mean for coworking trends in 2022?  
Q1 2022 should be a solid quarter for gains in revenue and occupancy. An increase in cash flow will follow.

The pandemic was a major crisis for the industry.  But with recovery well under way, operators should be scouting new locations and planning for growth. In short, the operators who survived should not waste a crisis – they should accelerate out of it.

Despite a net positive increase in inventory, new openings aren't enough to absorb the number of closures because most new locations are takeovers. Expect hundreds of takeovers in 2022 for operators who can get in at below-market/replacement cost. A handful of these takeovers will go to single tenants. 
What should you do with this information?
Lead volume and shopping activity is way up, so It's time to spend more on marketing.

There are hundreds of available takeovers, so If you plan on expanding in 2022, the time is now.

About SquareFoot
SquareFoot is a new kind of commercial real estate company that helps businesses solve all of their real estate needs. With a tech-enabled listings platform, extensive flexible office inventory, and a dedicated brokerage services team, SquareFoot creates a transparent, user-friendly office search experience for tenants. Headquartered in New York City, SquareFoot serves 30+ markets across North America.
Flexible Office Solutions by SquareFoot
SquareFoot's Flexible Solutions Team offers businesses a tech-powered network of private office suites, shared offices, and meeting spaces, all with flexible terms.  Available through SquareFoot.com, Upsuite.com, and PivotDesk.com, and serviced by the company's dedicated Flexible Solutions Team (FST), SquareFoot's network of 35,000+ spaces allows businesses to identify and rent spaces that suit their unique and evolving needs — all while getting the best deal available.  SquareFoot's Flexible Solutions Team saves you 90% of the time you'd otherwise spend sourcing, contracting, and managing your real estate and up to 50% off of asking rents.
About Upsuite 
Acquired by SquareFoot in spring 2021, Upsuite offers coworking and flexible offices in 35+ North American markets that are conveniently located, meet your budget, and on your terms. Unlike doing time-consuming Google searches and tours yourself, Upsuite helps you find and secure an office in 90% less time, and save as much as 50% on rental costs by providing 99% of the market inventory, actual suite availability, and pricing, and a helpful Advisor.