There continue to be positive signals in the coworking market in the wake of the Covid pandemic, which had caused understandable anxiety among many stakeholders in the flex industry. In Q1 2022, we can now say that those anxieties are no longer warranted.  Demand for flexible offices in the United States is now higher than it was in Q1 2020, before the Covid pandemic shut down workplaces across North America.  In Canada, coworking trends in demand per location are only half of what it was pre-Covid, but between Q4 2021 and Q1 2022, demand grew a whopping 121%.   You can read our Q4 2021 Post here. 
Because of the increased demand, there is now a scramble for market share among coworking operators. Upsuite and the Flex Office Pro Market Data and Insights Platform can give owners and operators an edge in an industry with increasing competition, making the process of evaluating potential coworking locations easy. Using location scores, Flex Office Pro allows users to compare any area or submarket in the 35 largest markets in North America and analyze properties with underlying real estate costs to choose the best location.
There is no doubt that the flexible office market is in recovery.  Overall US demand for flexible office per location is up 4% since Q1 2020.  In New York, flexible office demand is up 75% over the same period.  – Ben Wright, Head of Flexible Office Solutions at SquareFoot
Coworking Trends:  North American Demand is Up Overall, But Not Everywhere
In Q1 2022, overall demand was up, but there were seasonal slowdowns in demand within markets that were high flying in Q4 2021. Here are some of the markets that experienced substantial decreases in demand in Q1:

In Atlanta, seasonal shopping activity fell by nearly 50% in Q1. 

In Nashville, shopping activity fell by nearly 45% in Q1. 

In New York, shopping activity fell by 39%.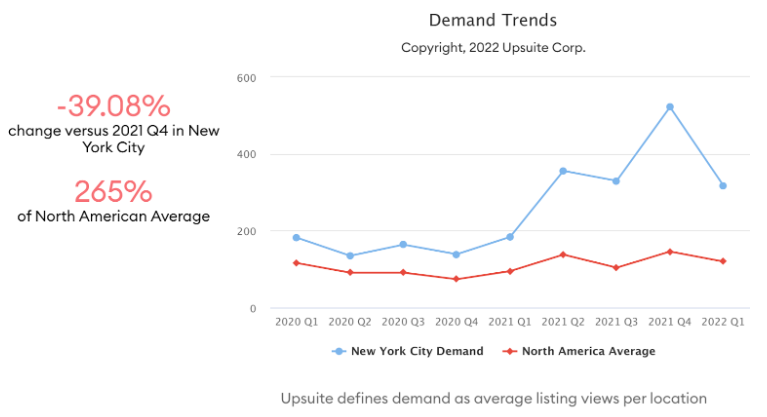 Oh, Canada! America's neighbor to the north isn't close to bouncing back to pre-pandemic levels, but demand in Canadian markets spiked in Q1 2022. Easing Covid restrictions allowed more workers to return to the office, resulting in increased shopping activity. In Calgary, shopping activity grew by 205%, while shopping activity grew by 133% In Toronto.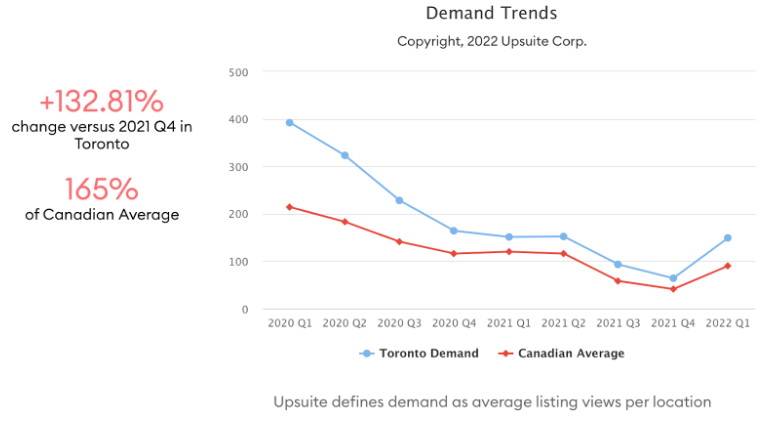 In the U.S., there is some real strength in second-tier markets. This is because tenant/member preferences are changing faster than ever. Flexibility is king, as many companies transition to a hybrid model, where employees work from home and the office on different days. The size of tenants' requirements is larger than pre-Covid, and enterprises continue to make changes as their portfolio allows it. 
In Seattle, shopping activity grew by 113%

In Austin, shopping activity grew by 112%

In Tampa, shopping activity grew by 66%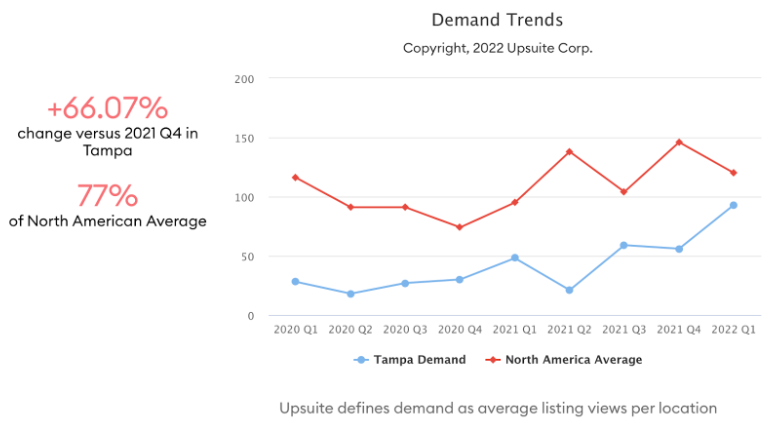 Coworking Trends:  Asking Prices are Rising in Many Markets
Increased shopping activity has a correlating effect on rents. Pricing is on the rise in many markets as occupancy increases, led by the following cities: 
Nashville

Toronto

Dallas, driven by the suburbs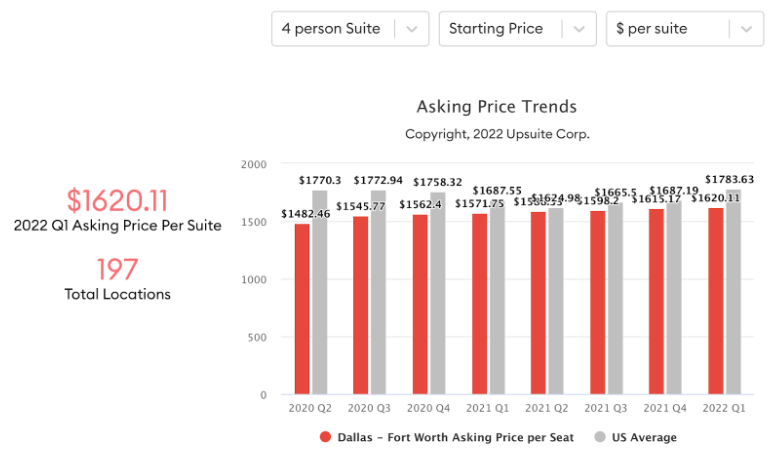 New Locations are Opening
Though many operators are still cash poor, they are opening new locations at an increasing rate, as demand for space increases. We counted 12 markets where we saw new locations opening. New York, the largest market in North America, had the most new locations open in Q1.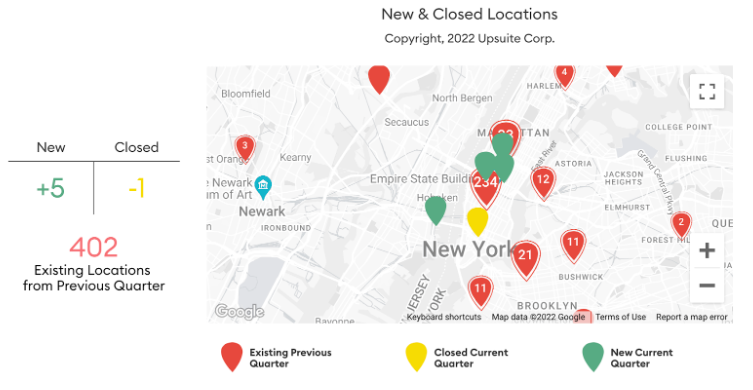 Coworking Trends:  Where is the Flex Office Market Going?
We've watched closely as markets continued to recover over the last year, and noticed a few patterns and coworking trends that operators should take note of. 
Increased shopping activity leads to touring.

Increased touring drives occupancy.

Increased Occupancy drives price increases.

Increased Occupancy drives the search for new locations. 
We are working with coworking operators who plan to open 200 new locations in the next 12 months alone.  All of these operators are looking to grow, but want to add locations only where they can succeed in the long term   – Patrick Braswell, Senior Managing Director, SquareFoot
While many markets struggled throughout most of 2020 and 2021, we are confident that every North American market is on an upward trajectory now. In certain hot markets, such as the following, we will see new net locations:
New York

Atlanta

Nashville

Miami
About SquareFoot
SquareFoot is a new kind of commercial real estate company that helps businesses solve all of their real estate needs. With a tech-enabled listings platform, extensive flexible office inventory, and a dedicated brokerage services team, SquareFoot creates a transparent, user-friendly office search experience for tenants. Headquartered in New York City, SquareFoot serves 30+ markets across North America. 
Flexible Office Solutions by SquareFoot
SquareFoot's Flexible Solutions Team offers businesses a tech-powered network of private office suites, shared offices, and meeting spaces, all with flexible terms.  Available through SquareFoot.com, Upsuite.com, and PivotDesk.com, and serviced by the company's dedicated Flexible Solutions Team (FST), SquareFoot's network of 50,000+ spaces allows businesses to identify and rent spaces that suit their unique and evolving needs — all while getting the best deal available.  SquareFoot's Flexible Solutions Team saves you 90% of the time you'd otherwise spend sourcing, contracting, and managing your real estate and up to 50% off of asking rents.
About Upsuite 
Acquired by SquareFoot in spring 2021, Upsuite offers coworking and flexible offices in 35+ North American markets that are conveniently located, meet your budget, and on your terms.
Unlike doing time-consuming Google searches and tours yourself, Upsuite helps you find and secure an office in 90% less time, and save as much as 50% on rental costs by providing 99% of the market inventory, actual suite availability, and pricing, and a helpful Advisor.
After buildout is over, consider the ongoing costs of maintaining a coworking space, such as taxes and maintenance.