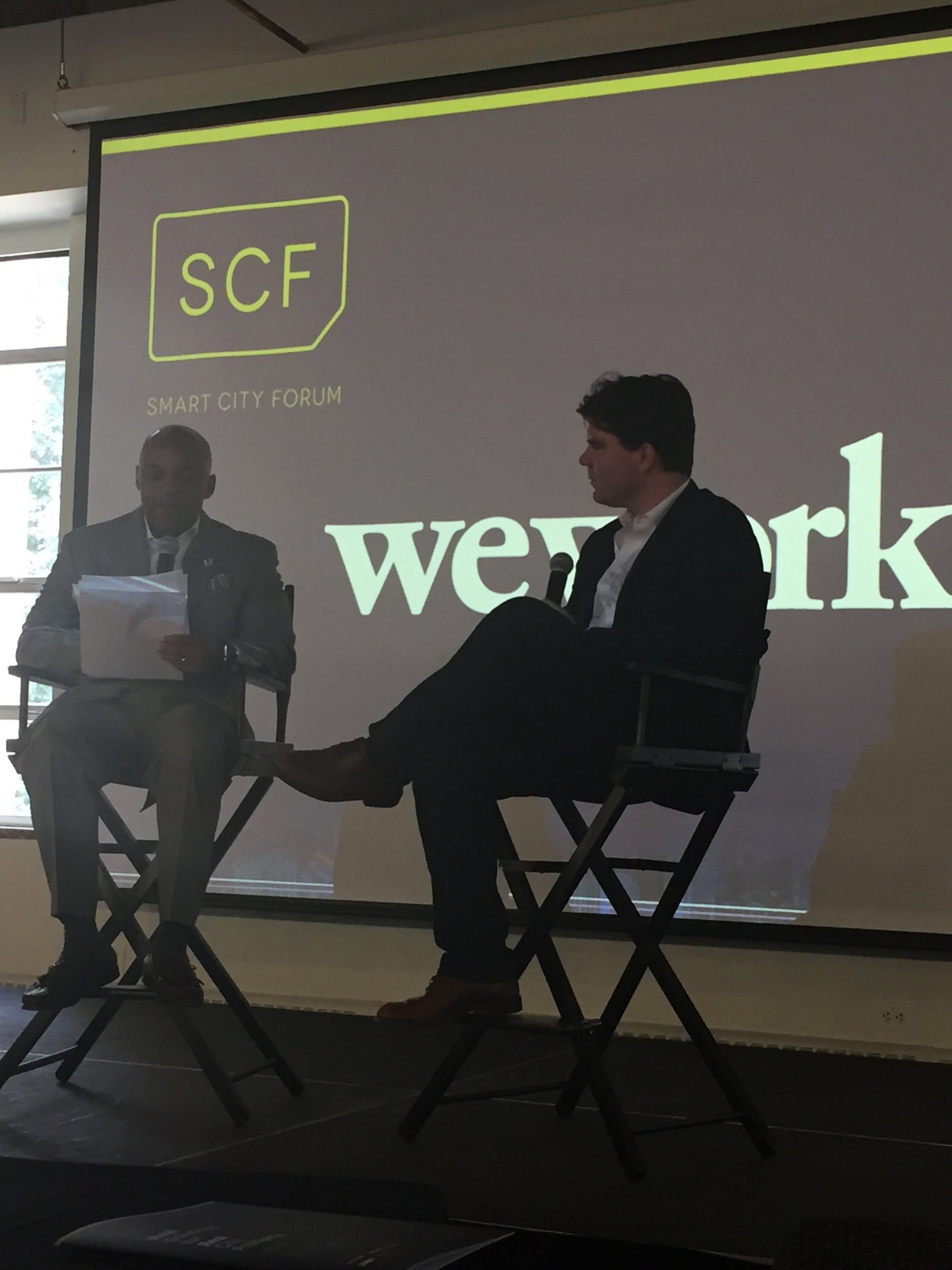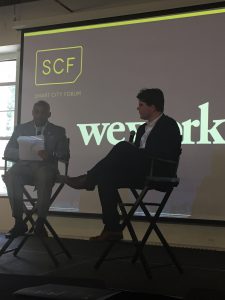 We attended the Smart City Forum in our hometown of Denver, Colorado this week and had the fortunate opportunity to hear from phenomenal thought leaders across the country.
One of these leaders was Padden Murphy, Global Head of Public Policy & Social Impact at WeWork.
Padden had some great thoughts about coworking that we thought we would share with you.
4 Thoughts on coworking from Padden Murphy of WeWork
Coworking is like an economy in a box. With both solopreneurs and teams between 5 and 500 people in a space, the access every company has to other products and services that will help them grow is unreal. This network or micro-economy is unlike any other. At WeWork in particular, there is an average of 165 companies in each location, creating a powerful place to do business.
Teams are 12% more likely to survive from a coworking space. WeWork had some interesting statistics that applied to their operations specifically:

A four-person suite costs an average of $18,000 per year at WeWork. When you consider all of the amenities and services that WeWork handles so that their members don't have to, there are significant savings to each business.
The savings are so great that after an economic impact study was analyzed, WeWork discovered that their members are 12 percent more likely to survive than if they were to work from a traditionally leased space.
Lastly, Murphy mentioned that 45 percent of their members credited WeWork for accelerating their company's growth. For more coworking data, see WeWork's 2018 economic impact study that was published just two months ago.

Every city has a unique network. There are both local and national coworking operators in tier one, two and even tier three cities across the globe. For example, there are three WeWork locations in Denver and they have offices in 75 cities and several continents. Other national operators in Denver include Industrious, Galvanize, Thrive, CTRL and a few others. What makes a city unique, however, might be its local operator partners (did you know there are more than 100 locally-grown coworking spaces in Denver?). In cities everywhere, there are unique micro-communities that have developed around the needs of different demographics (think women and families) and industries (like marijuana, construction, IoT, tech, etc.).
Coworking connects cities to each other. When you work from a national coworking space like the ones mentioned above, you often have an added benefit of being able to work from any location when you visit the cities in which they operate. With an increasingly digital economy, travel has become more leisure-based, but having the capacity to stop by your office in a city that you are vacationing in, is a loved perk by many coworkers.
•••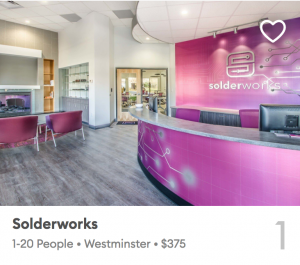 We also met local founder and coworking operator, Rich Walsh, at the Smart City Forum. Rich recently started an innovation lab and makerspace called Solderworks in Westminster, Colorado. Its bright and energizing design is an exciting place for Denver makers and hackers alike to work together.
Upsuite just launched and already we are loving the big task of helping teams find their office spaces. As we prepare to launch in San Francisco in the coming months, we are thrilled to see how coworking has impacted Denver teams and can't wait to support both teams and operator partners in this rapidly-growing market.